Clemson Nursing Expansion Program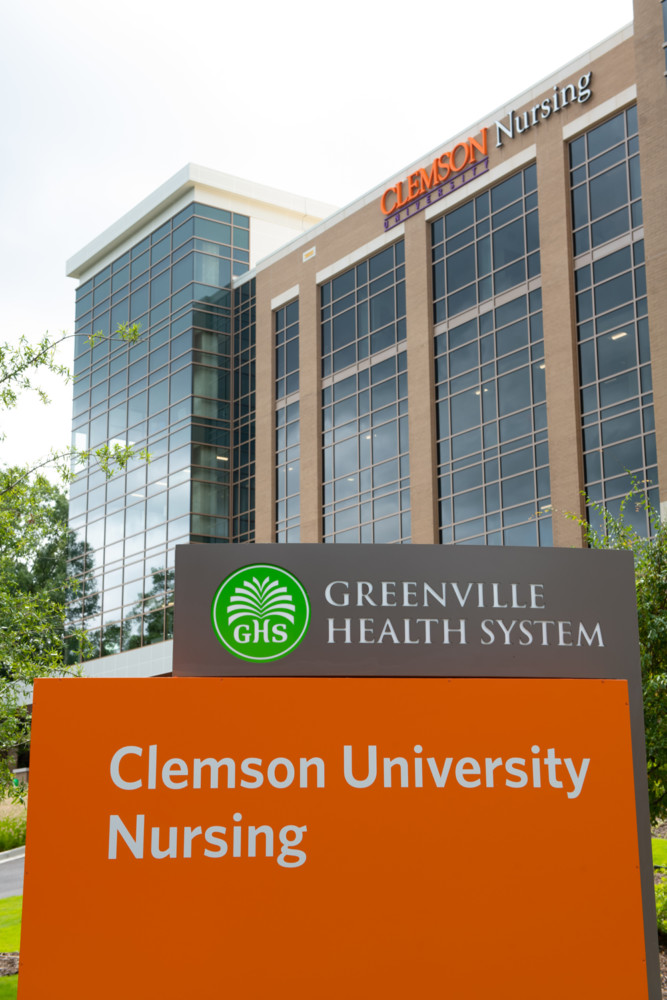 The Need for Nurses
As the U.S. population ages and the treatment of illnesses and chronic health conditions becomes more complex, the National Academies of Sciences, Engineering and Medicine's Health and Medicine Division (formerly known as the Institute of Medicine) recommends that 80 percent of nurses have a bachelor's degree by 2020.
A High-Tech Collaboration
In collaboration with Prisma Health-Upstate, Clemson University has expanded its nursing program in the Clemson University Nursing building in Greenville – an effort that has more than doubled enrollment in Clemson's traditional Bachelor of Science with a Major in Nursing program. This expansion is helping meet the growing need for nurses and bolstering health innovation and research efforts in upstate South Carolina. The collaboration has also expanded student clinical placements within Prisma Health-Upstate.
About the Cohorts
With this collaboration, students are part of one of two clinical cohorts – a Clemson-based traditional cohort or a Greenville-based accelerated cohort. Students express their cohort preference during their first two years of study, allowing time to fully explore both options. Whenever possible, students are matched with the cohort of their choice. While cohort preference is not guaranteed, all students are guaranteed a clinical space in their junior and senior years. Students in both cohorts take general education and nursing foundation courses on Clemson's main campus their freshman and sophomore years.
In their junior and senior years, students in the Clemson-based traditional cohort continue coursework at Clemson's main campus and complete clinical rotations at various area health care systems. Students in the Greenville-based accelerated cohort take courses at the Clemson University Nursing building located on Greenville Memorial Medical Campus and complete clinical rotations at one or more of Prisma Health-Upstate's participating campuses. Transportation is provided between the two sites of instruction. Click here for more information
Students in the Greenville-based accelerated cohort take the three Senior 1 nursing courses – Women's Health and Developing Families, Pediatrics, and Mental Health – during the summer semester after the junior year allowing them to graduate in December, one semester early. Both cohorts have eight semesters of coursework and tuition. Students in the program expansion cohort can use South Carolina's LIFE and Palmetto Fellows scholarships for summer semester tuition.
Student Life
Students in both cohorts have the same opportunities to take part in campus activities all Clemson students enjoy – athletic events, campus recreation, varsity sports, sororities and fraternities, Clemson University Honors College, Nursing Departmental Honors, honor societies, Creative Inquiry, service learning, and other student organizations.
Students in both cohorts can take advantage of on-campus student housing, Academic Success Center, Watt Family Innovation Center, Cooper Library, Fike Recreation Center, Michelin Career Center, Center for Career and Professional Development, Redfern Health Center, Student Financial Aid, and all other campus services.
Additional Clemson Nursing Partnerships
Clemson is also collaborating with Tri-County Technical College and AnMed Health, Cannon Memorial Hospital, Prisma Health Oconee Memorial Hospital, and Prisma Health Baptist Easley Hospital to develop a working solution to the nursing shortage. Together, we have created a program to advance your educational level no matter where you are in your nursing career. With LPN or RN programs at Tri-County Technical College, you can work and earn a bachelor's, master's or even doctoral degree at Clemson University. These collaborations allow you to:
Meet the educational requirements needed for advancement
Enjoy flexible schedules that complement your busy lifestyle
Participate in Web-enhanced courses that meet your needs
Obtain one degree while working toward the next degree