Outreach and Education at The Bob Campbell Geology Museum
There are fun things to do all year at the Bob Campbell Geology Museum. We offer adult education classes, children's programs, nature walks, fossil-collecting trips and guided museum tours—the Geology Museum offers something to suit most every persons' interest. Check the SC Botanical Garden Calendar, see the BCGM Facebook page, or call us at 864-656-4600 for more information or to register for a program.
Our educational and outreach programs are designed to inspire stewardship of the natural world by developing and extending awareness, appreciation, and deeper understanding of our state and regional natural history, and the global interrelationships of all natural systems.
The Museum provides a variety of educational outreach programs including the following:
Special Events and Educational Programs 
Guided Museum Tours
School Visits (to schedule an outreach program at your school, please contact curator Dr. Adam Smith at bcgm@clemson.edu)
Schedule a Guided Museum Tour
Guided tours of the museum are available Monday through Friday 10:30am to 3:30pm for a fee of $4 per person (maximum ~20 people; minimum 10 people or $40.00). However, for every 8 students that pay for the tour, we grant free admission to one teacher or chaperone. There is no charge for children under 4 years old (e.g., younger siblings of students taking the tour), unless it is a pre-school class in which most of the children would be 4 or under. Tours must be scheduled in advance. Larger groups can be accommodated with multiple tours of 20 or fewer people in a single day. Guided tours are available for school groups (K-12, college, homeschool), gem and mineral clubs, fossil clubs, or any interested group. See below to download a tour scheduling form.
Self-guided (free-of-charge) tours of the museum and the gardens are also always welcomed. Just as for general group tours, we request a maximum of  20 people per group at a time. A ratio of at least 1 chaperone or teacher per ~8 students will also aid the learning process.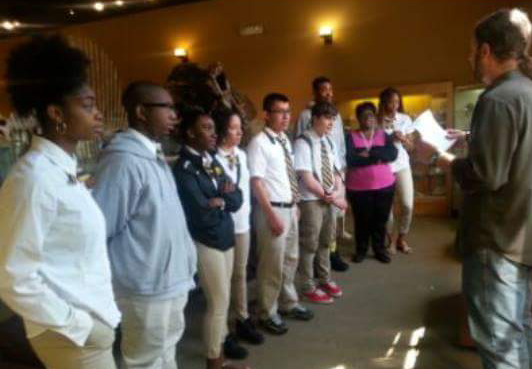 School Tours
The museum can be a valuable educational resource for your students. Last school year over 300 K-12 and home schooled students took guided tours of the museum and many more visited and took self-guided tours. In the summer months, daycare and Summer camp groups visited as well. Thank you for your support. We are happy to be part of the upstate educational community and to serve local schools and teachers. Teachers, please let us know in advance if you would like us to tailor the tour to your curriculum. We can adjust the tour content to focus more or less on geological or paleontological topics. Teachers, please allow your students the time and opportunity to purchase items in our gift shop. The revenue from our gift shop is an important source of funding that allows us to maintain and expand our exhibits and to offer regular admission for free. Additionally, 100 % of gift shop proceeds are used for educational and research purposes.
Pre/Post Trip Resources:
Preparing the students in advance of the trip so they know a little about what they might expect to see and how they are expected to behave is recommended. Teachers are welcome to preview the museum.  Guided tours usually last ~1 hour, and include interpretation of popular exhibits and an educational scavenger hunt in the museum. The students are also usually allowed some free time to study the exhibits on their own and to purchase items in the museum gift shop.
During Your Visit:
Please observe and assist your students during their museum field trip. We request that students WALK while they are in the museum and generally follow GOOD behavior as they would in their classroom. There are tables of samples that the students may touch: we hope that the samples will provide educational fun for many groups yet to come.
Visitor Services:
Parking is free and plentiful. Full-size school buses can be easily accommodated and handicap parking is also available. Those with disabilities can park adjacent to the museum by driving through the lower parking lot and up the hill to the west side of the museum. The main parking lot is large enough to accommodate buses and RVs. Large groups that plan to begin their visit near the front of the garden (i.e., by the caboose) are encouraged to drop-off/pick-up their passengers and then park their buses below the geology museum as only 2 bus parking spots are available in the front parking lot and buses and RV's are not allowed in car spaces.
The museum does not have a public restroom. A public restroom is provided at the entrance to the SC Botanical Garden and also in the lower floor of the Betsy Campbell Carriage House, which is located directly behind the museum (i.e., between the museum and the Garden Visitor Center).
Contact Information:
If for some reason you must cancel the tour or will be late, please remember to call us at 864-656-4600.

We hope you enjoy your visit. Please let us know what we can do to make your museum experience even better. Watch for postings on our website and Facebook page regarding new exhibits and programs. Your comments and suggestions about what is most effective and helpful in achieving the learning goals for your class are appreciated.
To schedule a guided tour please email a completed tour scheduling form with the words "tour request" as the subject title to bcgm@clemson.edu.
Scout Groups
Earn Your Badges Here!
Designed just for Boy and Girl Scouts, these programs include various projects that satisfy most of the requirements for a geology activity.  Leaders will need to let the museum know the group's specific requirements so that activities can be tailored for each level.  It is always a good idea to make sure scouts have a general understanding of, and interest in geology, and understand the requirements so that they are prepared before the program.  Scouts are welcome to bring any specimens they would like identified.
The cost is $15.00/scout for this 2-hour program, ($90.00 or 6 scout minimum) which is limited to 10 students (no exceptions).  Pre-registration is required. To schedule a scout program contact Curator, Dr. Adam Smith, at bcgm@clemson.edu.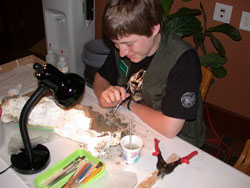 Activities may include: 
A guided tour of the museum with emphasis on fossils, rocks and minerals from the Carolinas
A hunt for geological building materials in the museum
Discussion of the three types of rocks and the rock cycle
Identification and organization of a mineral collection, including 8 rocks/minerals and fossils that the students/scouts get to take home
Creation of impression fossils in clay using real fossils
Discussion of basic geological principles, such as mountain-building, volcanoes and plate tectonics
Discussion of the basic principles of faunal succession and biological evolution
Jr. Paleontologist Program
Periodically, the Bob Campbell Geology Museum offers a program focused on the science of paleontology (check the calendar here). These programs are led by curator and vertebrate paleontologist, Dr. Adam Smith and museum educator Allison Jones. The Jr. Paleontologist program includes a tour of the museum's fossil exhibits, a behind the scenes viewing of our fossil preparation laboratory and collections area, and hands-on paleontology-themed, educational crafting activities. This program is designed for children ages 7-12. The cost is $18.00/child for this ~2.5 hour program, ($108.00 or 6 child minimum) which is limited to 10 children (no exceptions).  Pre-registration is required. To schedule a Jr. Paleontologist program contact Curator, Dr. Adam Smith, at bcgm@clemson.edu.
Activities may include: 
A guided tour of the museum with emphasis on dinosaurs and other extinct animals
Hands-on examination of real fossils from the BCGM collection
Creation of impression fossils in clay using real fossils
Making "fossil-imprint" t-shirts
Discussion of the basic principles of faunal succession and biological evolution