Luke Chwala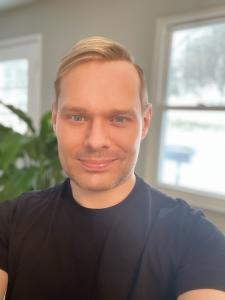 Lecturer
Contact
Department of English
Office: 517 Strode
Email: gchwala@clemson.edu

Education
Ph.D. English Literature and Criticism, Indiana University of Pennsylvania (2017);
M.A. English, Brooklyn College, City University of New York (2007);
M.A. Public Communications, Fordham University (2003);
B.A. English, Concordia College (2001);
A.A. Business Administration, Robert Morris University (1999)
Courses
19th-Century British Literature, Gothic Studies, LGBTQ+ Literature, Dystopian Environmental Fiction, World Literature.
Research Interests
queer and trans theory, postcolonial and decolonial studies, environmental humanities, ecocriticism and queer ecologies.
Luke Chwala has published work on queer, postcolonial, and gothic literature, including in the Victorian Review, eTropic, and a forthcoming chapter on queer gothic slash fiction in The Queer Gothic: An Edinburgh Companion. He is currently working on a monograph entitled Decolonial Queer Ecologies in Fantastic Fiction, and he is developing a second project that explores how trans embodiment in steampunk fiction can open up new spaces for conversations about gender and sexuality.
Awards
Holman Teaching Award, Department of English, Clemson University, 2020.
Selected Professional Works
Journal Articles & Book Chapters (Published)
"Ruins of Empire: Decolonial Queer Ecologies in Cliff's No Telephone to Heaven." Tropical Gothic, special issue of eTropic, vol. 18, no.1, 2019, journals.jcu.edu.au/etropic/article/view/3690/3561.
"Emerging Transgothic Ecologies in H. Rider Haggard's She." Trans Victorians, special issue of the Victorian Review, vol. 44, no. 1, 2018, pp. 69-81. Project Muse, doi:10.1353/vcr.2018.0010.
"Reinventing and Renegotiating a Queer Nigerian Identity in Chris Abani's GraceLand." Ways of Queering: Ways of Seeing, edited by Jillian E. Cox and Jo Grzelinska, Inter-Disciplinary Press, 2015, pp. 189-204.
"In a 'hall of mirrors': A Phenomenology of Heteronormative White Double Consciousness in James Baldwin's Giovanni's Room." Images of Whiteness, edited by Clarissa Behar and Anastasia Chung, Brill, 2013, pp. 15- 25, doi.org/10.1163/9781848882225_003.
Reviews & Interviews
Review of Neo-Gothic Narratives: Illusory Allusions from the Past, edited by Sarah E. Maier and Brenda Ayres. Victorian Review, vol. 47, no. 1, 2021, pp. 163-165.
Review of Aliens in Popular Culture, edited by Michael M. Levy and Farah Mendlesohn. Journal of the Fantastic in the Arts, vol. 30, no. 3, 2019, pp. 422-424.
College of Architecture, Arts and Humanities
College of Architecture, Arts and Humanities | 108 Strode Tower, Clemson, SC 29634