Michael L. Meng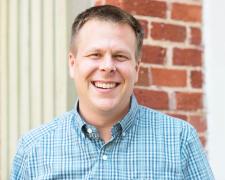 Associate Professor; Graduate Studies Director
Contact
Office: 116 Hardin Hall
Phone: (864) 656-3153
Email: mmeng@clemson.edu

Education
Ph.D., University of North Carolina at Chapel Hill (2008)
Courses
Modern Germany
Michael Meng is a historian of modern European history with specialties in German, Jewish, Polish, urban, and intellectual history. He is currently writing a book, History, Death, and Salvation in European History, that explores history as comprised of different attitudes towards death and salvation.
Selected Professional Works
Books (Published)
Rebuilding Jewish Life in Germany. Rutgers University Press, 2020; co-edited with Jay Howard Geller.
Modern Germany in Transatlantic Perspective. Berghahn Books, 2017; co-edited with Adam Seipp.
Jewish Space in Contemporary Poland. Indiana University Press, 2015; co-edited with Erica Lehrer.
Shattered Spaces: Encountering Jewish Ruins in Postwar Germany and Poland. Harvard University Press, 2011.
Journal Articles & Book Chapters (Published)
"Writing on Death: Plague Narratives" (forthcoming 2022 Comparative Studies in Society and History).
"Freed from Sadness and Fear: Politics, COVID-19, and The New Germany," German Politics and Society (fall 2021); co-written with Adam R. Seipp.
"Rousseau and Heidegger's Philosophy of Origins," Kronos (2020); co-written with Jeff Love.
"Heidegger's Silence," Kronos (2019); co-written with Jeff Love.
College of Architecture, Arts and Humanities
College of Architecture, Arts and Humanities | 108 Strode Tower, Clemson, SC 29634