In 2006, the Registry of Interpreters for the Deaf (RID) found that 60% of the K-12 school districts sampled had unfilled Educational Interpreter positions.  One respondent in this study commented, "I cannot find anyone to fill the position," and stated that students were struggling in the classroom (National Center on Deafness, July 2007).   School districts cannot allow these positions to go unfilled.  This situation is often resolved by hiring unqualified interpreters (Commission on Education of the Deaf, 1988, p. 104).  In fact, the RID (2007) findings indicate when a school district must fill a gap in coverage most (54.3%) reported filling requests with non-certified interpreters.
In 2016, the South Carolina Department of Education and Clemson University partnered to create the South Carolina Educational Interpreting Center, (SCEIC) in order to undertake four cornerstones of service for in-service educational interpreters, school districts, the South Carolina Department of Education, and most importantly Deaf students and their parents.  From 2016-2020 the SCEIC demonstrated a significant track record of improving the  skills and knowledge competencies of educational interpreters across South Carolina.  In 2021, the SCEIC funding was renewed through the South Carolina Department of Education, will allow the South Carolina Educational Interpreting Center (SCEIC) to continue to offer assessments, professional development, mentoring and technical assistance for all in-service interpreters in order to achieve a higher level of excellence in education of all Deaf students in South Carolina. 
Stephen Fitzmaurice, Ph.D.
Principal Investigator, sfitzma@clemson.edu
Dr. Stephen Fitzmaurice is an Associate Professor in the Department of Languages and the Principal Investigator for the South Carolina Educational Interpreting Center (SCEIC). Stephen received his Ph.D. in Interpretation and Translation from Gallaudet University, a Masters of Interpreter Pedagogy degree from Northeastern University and has worked as a professional ASL-English interpreter for over thirty years. Dr. Fitzmaurice also holds several national interpreter certifications and is the recipient of the National Association of the Deaf Golden Hands Award. Dr. Fitzmaurice currently chairs and serves on several national committees, serves on the Board of Directors for the Conference of Interpreter Trainers, and formally served as President of South Carolina RID. Dr. Fitzmaurice lectures extensively on developing interpreting skills for in-service ASL-English interpreters and has scholarly interests spanning: second language acquisition; metacognitive processing of interpreters; ASL linguistics; literacy development of Deaf children; and educational access via interpreting services.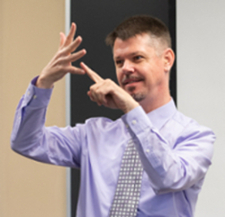 Jennifer Place-Lewis, M.S., NIC: A
Project Director, jplacel@clemson.edu
A licensed deaf educator and nationally certified interpreter, Ms. Place-Lewis began her educational career at Ball State University in Muncie, Indiana. From there, Jennifer obtained her Master's Degree from McDaniel College, formerly Western Maryland College, where she diligently pursued her passion for teaching deaf children in their native language of ASL within a Bi-Lingual/Bi-cultural philosophical environment. With experiences taking her from the classroom to interpreting in government, higher education, VRS and VRI and designing curriculum, Jennifer has always maintained a hand in the Educational Interpreting Field. Ms. Place-Lewis' continued passion for Deaf Children's Rights to communication and educational access, via interpreting services, is paramount with the most important example we can provide as exceptionally dedicated and professional interpreters is our willingness to develop ourselves.
Cameo McCarroll
Administrative Support, cameom@clemson.edu
Ms. McCarroll was born and raised in New York City and became Deaf at the age of two. She learned sign language while attending St. Francis de Sale School for the Deaf in Brooklyn, New York. Cameo attended her elementary school years mainly at JL Mann Academy here in Greenville, South Carolina but moved to Virginia as a sophomore in high school and graduated from the Virginia School for the Deaf and Blind in 2008. Having moved back to the Upstate, she currently resides with her husband of 14 years in Spartanburg, South Carolina Currently, Ms. McCarroll is utilizing her well-earned Associate of Applied Science Degree in Administrative Office of Technology as the Administrative Assistant at the South Carolina Educational Interpreting Center.