Course Transfer Information
Clemson accepts several different college credits that students earn before arriving on our campus — including IB and AP credits. We also work to make the process of transferring into the University as seamless as possible.
The evaluation of academic credits from other institutions is processed through the Office of Admissions. Final approval for use of these credits in your degree program is determined by your major adviser at Transfer Orientation.
View the Transfer Course Equivalency List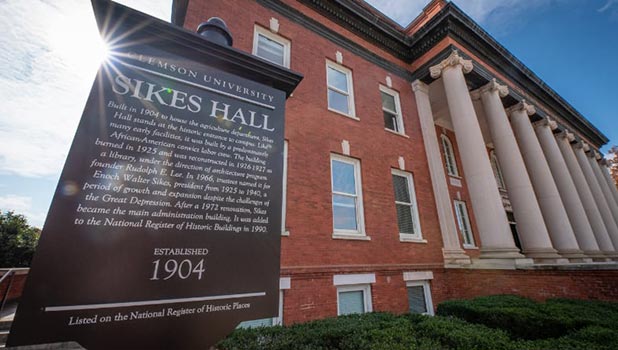 Transferring Credit Hours
Only credits transfer to your Clemson transcript, not grades. Therefore, you will enter Clemson without a grade point ratio. Your class standing will be determined by the number of credit hours transferred when you enroll.
| Class Standing | Credit Hours |
| --- | --- |
| Freshman | 0-29 |
| Sophomore | 30-59 |
| Junior | 60-89 |
| Senior | 90+ |
Generally, transfer credits are applicable toward degree requirements if the courses taken are:
Earned at a school accredited by a regional accreditation association, such as the Southern Association of Colleges and Schools.
Similar in description to the corresponding course at Clemson.
Required or permitted as an elective in a student's curriculum.
Graded at least one letter grade above minimum passing mark, usually a C or better.
Not a duplication of credits already earned.
If you have specific questions regarding your major at Clemson, you may communicate with a faculty adviser by choosing the adviser contact by major.
Transfer Course Equivalency List
The Transfer Course Equivalency List (TCEL) is a database containing the Clemson University course equivalencies for approximately 1,200 accredited colleges and universities nationwide. Course equivalencies are evaluated through the Office of Admissions.
The TCEL represents courses that have transferred credit to Clemson before.
The TCEL is not comprehensive. Please be advised that the TCEL is only a history of how courses have transferred to Clemson, and it does not represent a comprehensive list of transferable coursework for any school. If there is a course you have previously taken that is not showing up on the TCEL, the course will have to be evaluated once you apply and are admitted to Clemson. The listing for each college shows course equivalencies only and does not reflect any differences in credit hours between institutions.
The TCEL is regularly updated by the Office of Admissions.
The TCEL is subject to edits by the Office of Admissions. It is a living document to which changes are continually being made. Evaluations for transfer credit by the Office of Admissions are based upon the best available information at the time. Revisions to a course evaluation may be made based on receipt of new information.
Visit the Clemson TCEL
How a transfer course is evaluated
Your transfer course will be evaluated as a direct Clemson equivalent or as elective credit.
Credit that has been evaluated as elective credit will be posted at ELEC 0001.
Subject-area electives will be posted as 1999, 2999, 3999 or 4999 credit.
Courses that do not have direct Clemson University equivalencies (e.g., ELEC 0001 or SOC 3999) may possibly be substituted for required courses in your degree program with approval by your major adviser. A course substitution form may be completed at that time if your major adviser approves. Substitutions of courses are processed through the Office of Enrolled Student Services.
If you have a question about how a course has been evaluated, you may see the department responsible for teaching that course after enrolling at Clemson. A course syllabus may be necessary for further review.
The following abbreviations are used when a course does not have a direct Clemson equivalency:
NCT 0001 =

Not College Transferable


ELEC 0001 =

Free elective credit


1999, 2999, 3999 or 4999 =

Subject-area elective
Cambridge International A Level, AP and IB Credits
As a nationally ranked research university, Clemson welcomes students with AP, IB, Cambridge International A Levels and transfer credits. The University recognizes the academic value of earning college credits before even setting foot on campus, and we encourage students with credits to apply and transfer to Clemson.
View Credit Transfer Charts
Dual Enrollment
Dual-enrollment courses enable high school students to take college-level courses and earn college credit before graduating from high school. Students should have official transcripts(s) sent directly to Clemson's Office of Undergraduate Admissions from the registrar of each college or university where credit was earned. A transcript that states "issued to student" is considered unofficial. Courses that have previously been evaluated are listed on our "Transfer Course Equivalency List (TCEL)". If there is a course you have previously taken that is not listed on the TCEL, the course will be evaluated by the Office of Undergraduate Admissions once you have been accepted to Clemson. Students will be notified of the credit they will receive at Clemson before enrolling in the Fall.
View College of Engineering, Computing and Applied Sciences Dual Degree Programs
College Board College-Level Examination Program
This program has very limited recognition at Clemson. A few departments accept credit or CLEP subject-matter examinations; however, CLEP general examinations are not recognized. Credit can be awarded for introductory-level courses according to criteria established by the following departments: chemistry and English (composition only). Numerical scores plus essays, required when offered as part of a CLEP examination, will be evaluated by the appropriate department. CLEP is designed primarily for adults with nontraditional learning experiences. CLEP credit cannot be used to meet admission requirements.
Once You're Admitted — Viewing Transfer Credits
Accepted students with transferring credits from another institution, AP/IB credit and dual-enrollment credit will be able to view transfer credits through the iROAR Web portal. In order to access the transfer credit summary, you will need your Clemson University ID and password. You may want to print a copy of your transfer credit summary for your records.
It is recommended to bring a copy of the transfer credit summary when attending Orientation at Clemson. If you are still enrolled in classes, your current courses will be added when we receive your official transcript. The Office of Admissions must receive final transcripts from each college you have attended before your enrollment at Clemson.
If you have received a "Satisfactory" or "Passing" grade for prior coursework and the grade is not reflected on your transcript, you will need to have an official statement from the registrar's office of the institution you attended stating that the "S" or "P" grade is equivalent to a C or better in order to receive credit for the coursework. Clemson accepts courses for transfer only if earned with a grade of C or better.