Excellence
Clemson Libraries celebrated the grand opening of its new branch library in the automotive engineering department at the Campbell Graduate Engineering Center, and it is already making an impact.
The library recently won the grand prize in the SAE Mobilus Discovery Contest, held by SAE International, to promote the use of the SAE Mobilus database. Clemson's automotive engineering students earned the most points of any library in the contest. Library specialist Sarah Fisher, who manages the branch, also received the All-Star Librarian Award in the contest. Earlier this year, the library partnered with the United Way of Pickens County to host a tax preparation workshop for students, with more than 50 students receiving assistance with their tax returns at the event.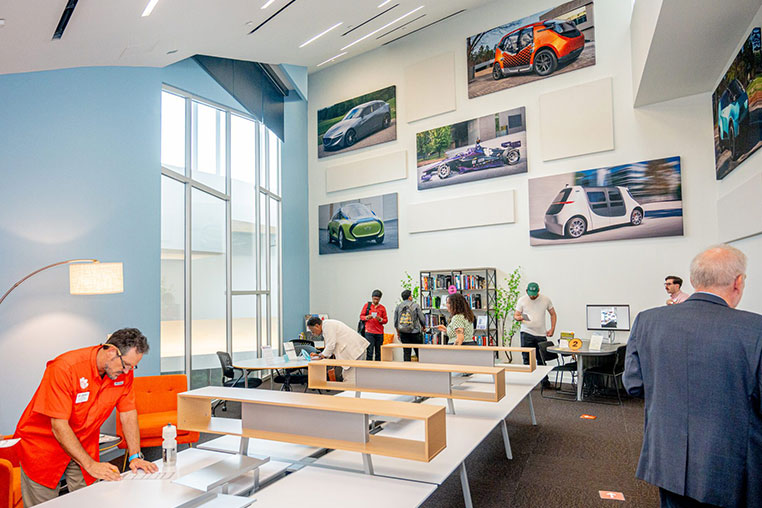 Global Impact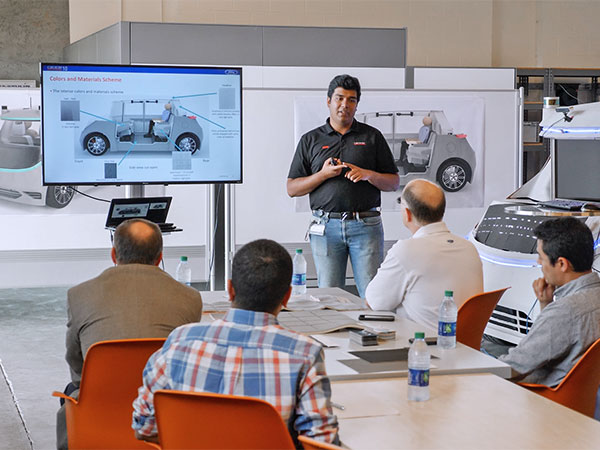 Power the Future
When it comes to industry, we get it. We are training the next generation of engineers and developing cutting-edge technology for the world's industry leaders—through research and our partnerships. When paired with our award-winning 250-acre campus and translational research, this proves that CU-ICAR is helping to power the industry into the future.
The Department of Automotive Engineering's (AuE) cutting-edge M.S. and Ph.D. programs have continued to receive national & international recognition, resulting in a record number of applicants for a limited number of spots. Our programs' focus on industry needs continues to produce highly sought-after graduates who go on to represent CU-ICAR at major carmakers, Tier 1 suppliers, and non-traditional players in the automotive industry.
Our Research
Beyond the Classroom
Career Outlook
The technological impact of research, education and economic development has opened new avenues in mobility, ranging from clean propulsion to revolutionary manufacturing. Increasingly digital and automated manufacturing will significantly increase manufacturing efficiency and quality, all while lowering costs. The job market, closely tied to mechanical engineering, is projected to grow by 4% from 2018 to 2028.
Our graduates have earned high praise from employers and become true ambassadors of the Automotive Engineering program over time. Carmakers and Tier 1 suppliers in S.C., the nation, and abroad visit us annually to recruit, and we maintain full placement of our graduates in competitive industry jobs.
Smart Systems Programming
Battery Cell Engineering
Vision Automation Engineering
Software
Robotics
Automation
Manufacturing and Production
Vehicle Design
Aerospace
Motorsports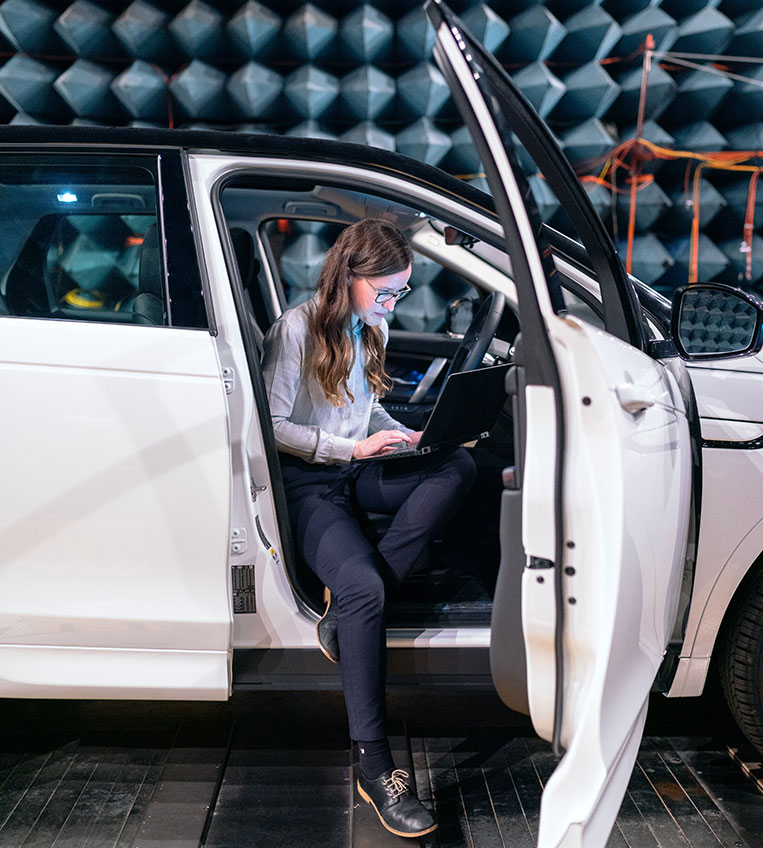 95% 
Career
in Automotive Field
Curriculum blends in-depth technical study and a modern approach to system engineering with the leadership and business acumen needed to thrive in a global economy.
Excellence in Hands-on
Professional Development
Clemson's Center for Career and Professional Development consistently rates high nationally for career services, internships, and co-op opportunities.
Career Services
Research
Sponsored by Industry
Research centered around advanced powertrains, advanced manufacturing & materials, design & integration of complex systems, connected & automated vehicles, and human factors
Academic Pursuits | Influential Research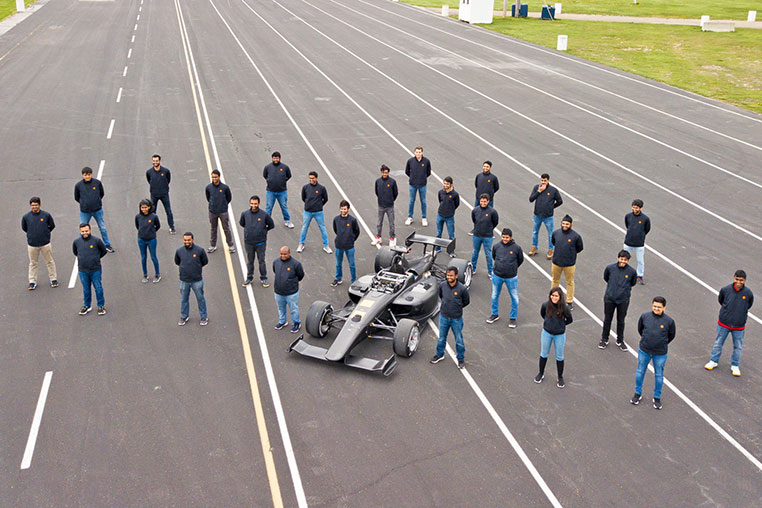 Find Your Path
Leaders of the Future
A 40-student team unveiled their finished self-driving racecar in Indianapolis, wrapping up a whirlwind 18-month design cycle resulting in one of the most advanced self-driving projects ever attempted. Every year, a team of automotive engineering students is tasked with designing a prototype vehicle to answer a grand challenge. Known as Deep Orange (DO), the long-running program has brought in major OEMs and global suppliers to guide students through the vehicle design process. For DO 12, students had to design an autonomous system prototype that operated at high speeds, followed complicated race control procedures and fit into a tightly-constrained, aerodynamic package.
---
Automotive Engineering Academics

AUE Academic Majors

| Programs | B.S. | M.S. | Ph.D. | Cert |
| --- | --- | --- | --- | --- |
| Automotive Engineering | X | X | X | |
| Undergraduate STEM-Related | | | | X |
| Graduate Specialized Area | | | | X |
Beyond the main campus, we have state-of-the-art facilities in the heart of Greenville, SC. Beginning with their junior year, students at the bachelor's level will transition to a mix of classes in Clemson and Greenville at the CU-ICAR campus. At the master's level, students can choose a thesis or internship-based degree - online or in person. Our Graduate Certificate Program features courses at the 6000 or 8000 level, allowing them to apply toward an Automotive Engineering Master or Ph.D. degree.
Advanced Manufacturing
Lightweighting Manufacturing Costs
SUVs tip the scales at about 4,000 pounds, but researchers are aimed at knocking at least 160 pounds off while maintaining affordability and ensuring automakers can mass produce it without retooling their facilities. A lighter vehicle requires less energy to travel; thus, the idea is to reduce the number of fossil fuels burned in gasoline- and diesel-powered vehicles and increase the range of electric vehicles.
The team will focus on a skeleton-like part of the SUV, called the glider or body-in-white. A big part of the challenge will be incorporating various materials, including metals and carbon-fiber-reinforced polymer composites, and figuring out how best to join them.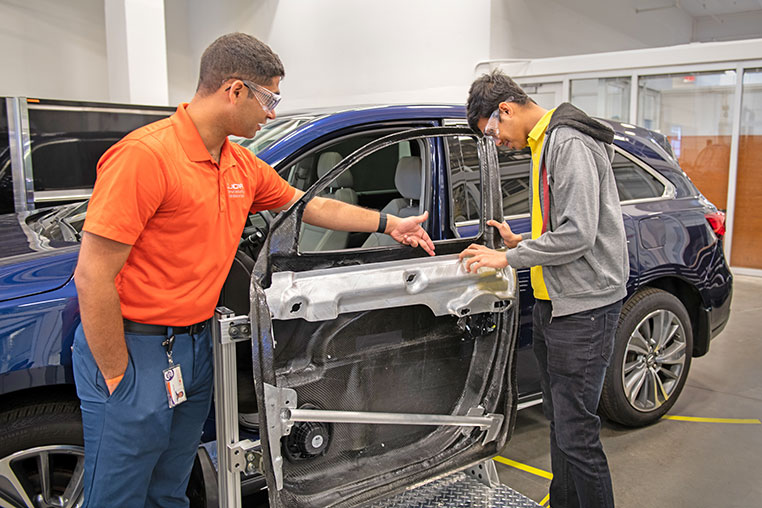 Faculty Excellence
Award-Winning Educators
The department comprises 22 tenured/tenure track faculty and 4 full-time and part-time lecturers who contribute significantly to developing knowledge and educational innovations in Automotive Engineering. With the support of technical and administrative staff, we welcomed our largest graduate enrollment since the program began.
Department of Automotive Engineering
Department of Automotive Engineering | 4 Research Drive, Greenville, S.C. 29607