B.S. Program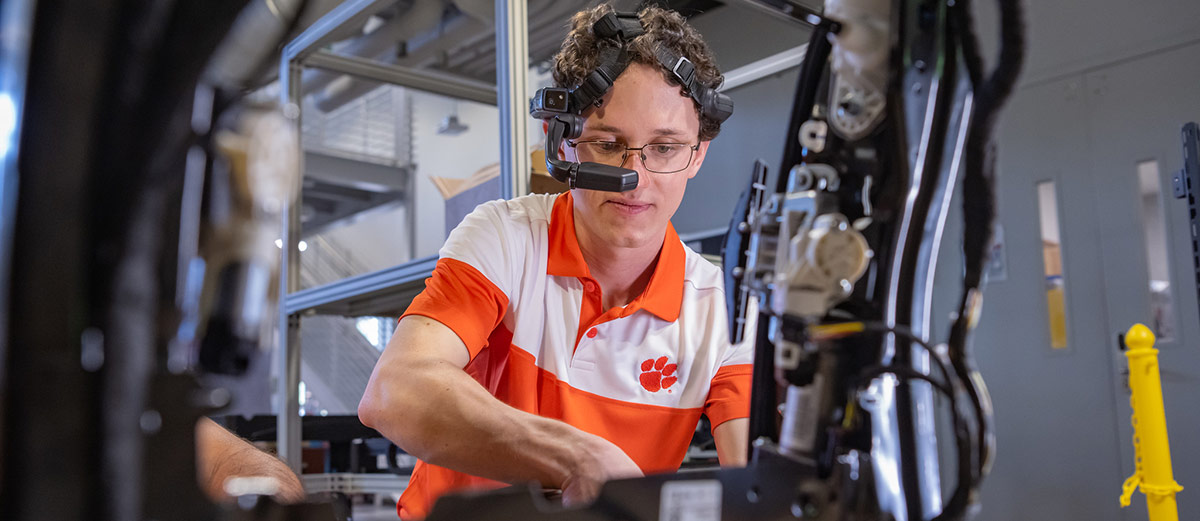 Accelerate your future.
Automotive companies have never been in greater need of people who can innovate in this rapidly changing environment – and our programs prepare you to do just that. With a Bachelor of Science in Automotive Engineering, experience the latest trends in the ever-shifting area of mobility, including but not limited to: AI Computing & Connectivity, Autonomous Vehicle Sensors, AV Software & Mapping, Batteries, Cybersecurity, E-Hailing, Electric Vehicles & Charging, HMI & Voice Recognition, and Telematics & Intelligent Traffic. Most graduates flow into industry, research and development, or government agencies, but others continue to graduate programs.
Our Senior Capstone experience helps mold students into capable engineers ready to shape the megatrends in the auto industry. That is what spurred us to develop and integrate the forward-looking Deep Orange process into our graduate curriculum over a decade ago – and now undergrads get to be a part of that process during their senior capstone.
Undergraduate Automotive Engineering majors who have completed their junior year with a grade point average of 3.4+ can begin work toward a combined B.S./M.S. in Automotive Engineering. Students can count up to 12 hours of graduate credit (6000- and 8000-level courses).
Career Outlook
A bachelor's degree in Automotive Engineering can be a springboard to a Master's or Ph.D. degree in Automotive Engineering or open the door to many opportunities that you may or may not be aware of:
Smart Systems Programming
Manufacturing Engineering
Battery Cell Engineering
Vision Automation Engineering
Software
Robotics
Automation
Manufacturing and Production
Vehicle Design
Research and Development
Project Engineering
Process Engineering
Controls Engineering
Tooling Engineering
Aerospace
Motorsports
Automotive Engineering Curriculum

First Semester Curriculum

All Engineering students begin their first term in General Engineering with the same courses, regardless of their intended major. Coursework in the second term varies.

CH 1010 - General Chemistry (3)
ENGL 1030 - Composition and Rhetoric (3)
ENGR 1020 - Engineering Disciplines and Skills (3)
MATH 1060 - Calculus of One Variable I (4)
General Education Requirement - (3)

B.S. Automotive Engineering credit hours: 124

Combined B.S./M.S.

Qualified Automotive Engineering students can reduce the time to earn a master's degree by applying graduate credits to both the bachelor's and master's program requirements. Undergraduate Automotive Engineering students who have earned a grade-point average of 3.4 or above and completed their junior year can begin work toward a master's degree. Students are eligible to count up to twelve hours of graduate credit (6000- and 8000-level courses) toward bachelor's and master's degrees. Approval by the department will be needed.

Apply to Automotive Engineering

Undergraduate Degree

Applicants will apply to Clemson as a first-year (General Engineering) student if they are a student without college credit or if they earned college credit prior to high school graduation. Completion of the first-year General Engineering curriculum is needed to begin the Automotive Engineering program.

Application Overview & Deadlines

Automotive Engineering is a limited enrollment major. To be eligible, you must complete the General Engineering core curriculum by the end of the Spring term and apply by the deadline. Ideal candidates will also have completed MATH 1080 and PHYS 1240 or equivalent. Students will be selected based on factors including space availability and competitiveness of their short application. The application process differs for students already enrolled at Clemson in either General Engineering or an engineering major and students transferring to Clemson in the Fall.

Registering for Fall: You should follow the Mechanical Engineering curriculum while you are waiting for your application to be reviewed. If accepted into the program, you will be notified by email. The Automotive department will email you instructions on how to adjust your schedule to accommodate the two automotive classes for the Fall term.

Current Students: Applications for change of major are available February 1 of each year and are due by May 1 each year. Decisions are made by May 25 following the application deadline.

Transfer Students: Applications for change of major are available February 1 of each year and are due by July 31 each year. Decisions are made by mid-August following the application deadline.

---

Bachelors-to-Graduate Program

Application for this combined degree program should occur at the end of the junior year to meet the academic standing and GPA requirement. Application details are available in the Academic Regulations section of the Graduate School Announcements.

The GS6-Bachelor-to-Graduate Plan form will serve as your application to the automotive engineering graduate program – no additional application is required. However, while the Graduate Record Exam (GRE) is not mandatory, some fellowship applications may require GRE scores.

Graduate Plan