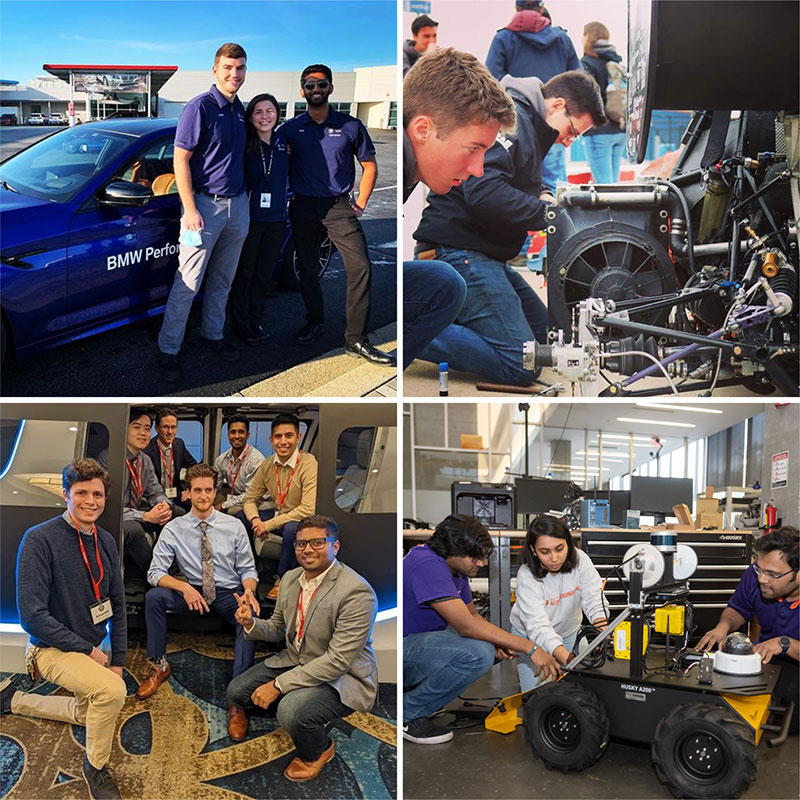 Getting involved in student and professional organizations not only grows your networks but it helps you apply classroom lessons to real-world scenarios, setting you apart for future employers. Automotive Engineering students can choose between several engineering-focused clubs and organizations to join to enrich their time at Clemson.
Engineering Organizations
Student chapters and professional societies hold regular meetings throughout the fall and spring semesters, providing students the opportunity to engage with one another, faculty and practicing professionals.
Clemson Formula SAE is a student-run organization dedicated to enriching Clemson students' education. Membership is a great way to learn, network, and put your education to the test. New members do not need experience in racing, design, or fabrication, as veteran team members are always willing to share skills.
Each year the team designs and builds a new vehicle from the ground up, pushing the bounds of innovation. The vast majority of each vehicle is produced in-house. Afterwards, they travel to competitions around the world held by the Society of Automotive Engineers (SAE).
---
When Jonathan Vogel arrived at Clemson, he quickly found a home in Clemson Formula SAE. With a passion for vehicle dynamics, Vogel became the team's Rookie of the Year in his first year.
"There's nothing quite like driving the cars we design and build. For safety reasons, we run on tight autocross courses, laid out by cones in a parking lot. The cars we make can corner and one and a half Gs. It's a little bit frightening. It's very, very fun, though, once you're in the seat."

Jonathan Vogel

Former chief engineer

Clemson Formula SAE