Combined B.S. to M.S. Program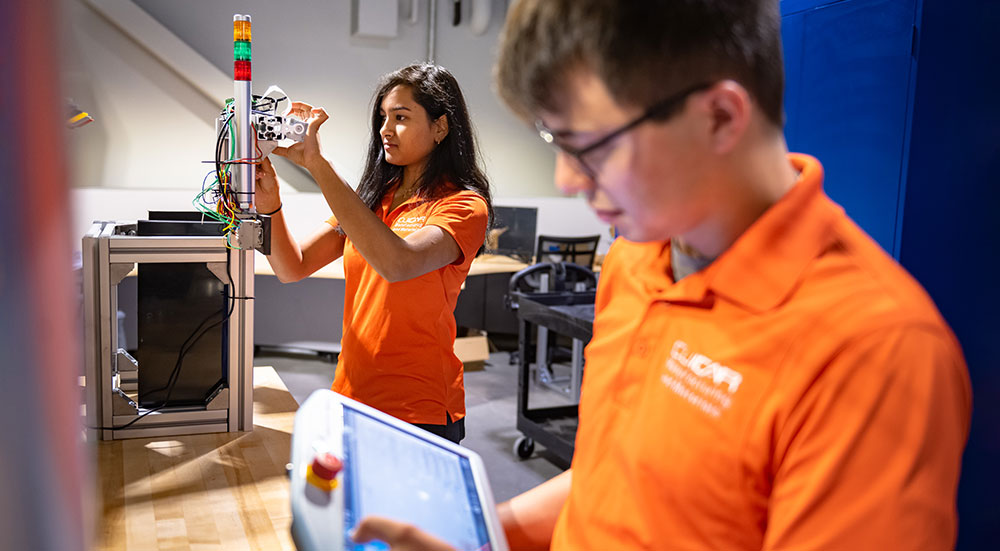 The B.S./M.S. program in Automotive Engineering provides eligible undergraduate students with the opportunity to get a head-start on graduate studies by allowing them to use a limited number of graduate courses to satisfy requirements for both the B.S. and M.S. degrees.
Clemson undergraduates in the BS-MS program can have up to four 6000-level CECAS courses that they take as undergrads to count as technical electives towards their M.S. degree requirements in AuE. That means you only need to take 3 more technical electives with the thesis option and 5 more with the non-thesis internship options.
The GRE is not required for admission to the B.S./M.S. program.
Program Guidelines

Consult with an advisor in your intended graduate study area before taking graduate-level courses.
The graduate courses taken as an undergraduate student will be listed in your graduate Plan of Study.
Students in the B.S./M.S. program are conditionally accepted to the graduate program, pending the B.S. degree's completion.
An overall 3.4 GPA is needed for eligibility in the fast-track program.

Requirements to Complete Both Degrees

Up to 12 semester credit hours from any 6000-8000 level Mechanical Engineering courses may be used to satisfy the B.S. degree and M.S. degree requirements. Technical electives may be used.
Since the approval of the plan of study (GS2 form) by the student's graduate advisory committee is required, students should consult with their academic advisors before selecting courses to be included in their graduate program.
Students in the combined degree program are conditionally accepted to the M.S. degree program until their B.S. degree requirements are completed. Students with this conditional acceptance are not eligible for a graduate assistantship until the conditional acceptance is removed.

Applying to the B.S. to M.S. Program

Undergraduate students interested in the combined program discuss it with their undergraduate academic advisor and receive the approval of the program coordinator and the department chair. Applications for this program should be made during the junior academic year. Students should apply through the regular graduate school process. The application for the B.S./M.S. program, along with further details and instructions, can be found on the Graduate School's website.

How to Apply

The GS6-Bachelor-to-Graduate Plan form will serve as your application to the mechanical engineering graduate program – no additional application is required. However, while the Graduate Record Exam (GRE) is not mandatory, some fellowship applications may require GRE scores.

Additional information concerning deadlines and program contacts can be found on the Automotive Engineering Graduate Admissions page.

Apply | Graduate Plan