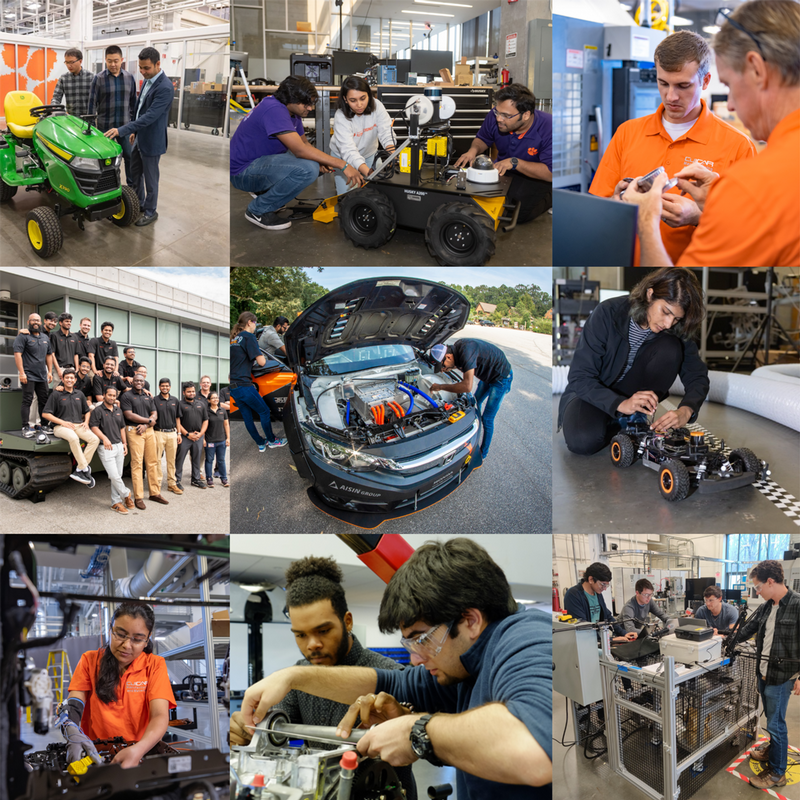 CU-ICAR is an advanced research campus where education, research and corporate engagement create a global venue for public/private partnerships. Our internationally recognized $250 million campus was developed in collaboration with BMW, Michelin, Timken, and the state of South Carolina. The campus includes full-scale automotive testing equipment, graduate education programs in automotive engineering and facilities that bring industry and Clemson University researchers together to provide solutions for sustainable mobility.
Focus Areas
We continuously analyze the market and survey industry leaders to identify future trends and R&D focus. Based on this knowledge, our research clusters and "technology identity" are centered in five research areas.
The Department of Automotive Engineering encourages undergraduates to engage with their instructors for opportunities to work on research projects in their labs and participate in Creative Inquiries. Students in their senior year can participate in a project that mirrors the Master's level, Deep Orange. Deep Orange is a vehicle prototype program that provides an exceptional educational experience with extensive industry collaboration during the M.S. degree program in automotive engineering.
Within the graduate program, our students develop sustainable mobility solutions balancing environmental, social and economic aspects. Each project incorporates breakthrough product innovations and new processes, providing each automotive engineering student with hands-on experience in vehicle design, engineering, prototyping and production. The degree programs emphasize engineering practice and the advancement of engineering knowledge through research.
"My research experience at CU-ICAR helped to increase my interest for new automotive technologies. At CU-ICAR, I worked to find new ways to optimize the energy consumption of hybrid-electric vehicles and develop eco-driving systems that help drivers improve their 'green' driving skills; these efforts aimed to reduce the amount of energy consumed by vehicles. Furthermore, I had the opportunity to work in cooperation with different research groups and professors and to share experiences with exceptional women who were also pursuing their graduate studies in the automotive field."

Jackeline Rios-Torres

Automotive Engineering, Ph.D.
Department of Automotive Engineering
Department of Automotive Engineering | 4 Research Drive, Greenville, S.C. 29607