Automotive Engineering Graduate Certificate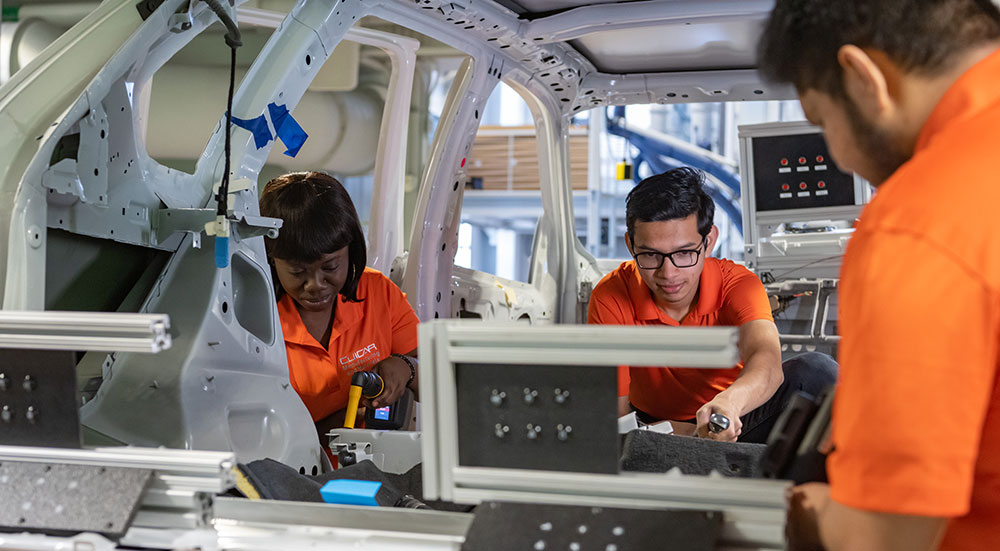 Advance your career by earning a graduate certificate in automotive engineering at Clemson University. Choose from over 30 courses in Advanced Powertrains, Vehicle Automation & Electronics, Vehicle Performance, Vehicle Manufacturing & Materials, Systems Integration, and Human Factors. Whether a recent university graduate or an industry veteran, earning a certificate in automotive engineering increases your competitiveness, enhances your performance, and helps equip you for the ever-changing nature of the industry. This certificate is a specialized graduate-level credential reflecting knowledge of the most up-to-date research in the field.
Students can complete the Graduate Certificate in Automotive Engineering in either a traditional, in-person format OR fully online! Online courses will be offered in an asynchronous format so that you can complete them without interruption to your current work schedule and with no geographic limitations. The in-person program is offered from the CU-ICAR campus in Greenville, SC.
Course offerings will vary slightly for the online certificate; please see the CURRICULUM STRUCTURE section for more information.
Why a Certificate?
Created with professionals in mind, Clemson's Automotive Engineering Certificate is your competitive edge in an ever-changing world. Build your skills, learn from industry experts, and stand out to employers with a certificate from the premier automotive engineering graduate program. This graduate-level certificate provides industry-relevant instruction in an affordable, customizable package you can complete at your own pace.
Curriculum Structure

Prerequisites

Applicants should be familiar with the following concepts:

Analytical and numerical problem solving
MatLab or other computational software
Computer-aided drafting (SolidWorks, AutoCAD, or similar)

Courses

Students without formal instruction in the above may require special permissions for specific courses.

Students choose any four (4) courses from the Automotive Engineering graduate catalog. Visit the Course of Instruction filter for full course descriptions (students looking to do the online certificate, please view Course Schedules in the Graduate Handbook to see which of these courses are available asynchronously online). Note that at least 3 of the 4 courses must be selected from the 8000-level. Students may take up to one course at the 6000 level.

Students have the option of specializing in an area of interest or choosing a sampling from multiple areas.

Courses may be completed on a timeline that fits with the student's schedule. For example, a student may complete the program in one semester by taking four courses simultaneously; they may choose to spread out over two years by taking a single course each semester or any combination that suits (1 + 3, 2 + 2, etc.)

Grading

Some companies that offer tuition reimbursement for professional development require their employees to receive letter grades for the courses. Students that enroll in the Automotive Engineering Graduate Certificate Program will have a transcript from Clemson University, and all courses included as program options have standard (A±, B±, C±...) grading.

Please note that a minimum grade of B or above (B, B+, A-, or A) is required in order for a course to be applied towards the completion of the certificate, per the Clemson University Graduate School. You can find a copy of the Graduate School's Policies and Procedures Handbook on the Graduate Students page.

Applying to the Graduate Certificate Program

Courses in the Graduate Certificate Program are at the 6000 or 8000 level, meaning they can be applied towards an Automotive Engineering Master's or Ph.D. degree, should a student decide to continue their education with the department. Acceptance into the Graduate Certificate program does not guarantee acceptance into the M.S. or Ph.D. programs, as the application process is separate. However, the certificate program allows for interaction with experienced faculty and the opportunity to gain the skills and experience required for graduate programs.

Eligibility

The automotive engineering graduate certificate is open to anyone with an applicable B.S. degree. Successful candidates are reviewed based on transcripts and experience and do not require an engineering degree.

Application Requirements

Unofficial Transcripts (official transcript required once admitted).
Resume/CV
Personal Statement (not required)

How to Apply

Please apply through the Clemson University Graduate School by creating an account and selecting "Certificate" programs. For students looking to do the traditional, in-person program at the CU-ICAR campus in Greenville, SC, please select program code CERTB-AUE-F). For students who would like to complete the certificate online, please select CERTB-AUE-F-AAC.

PROGRAM CONTACT: For more information, contact automotive@clemson.edu. When you are ready to take the next step, complete the Graduate Student application online.

Apply | Graduate School