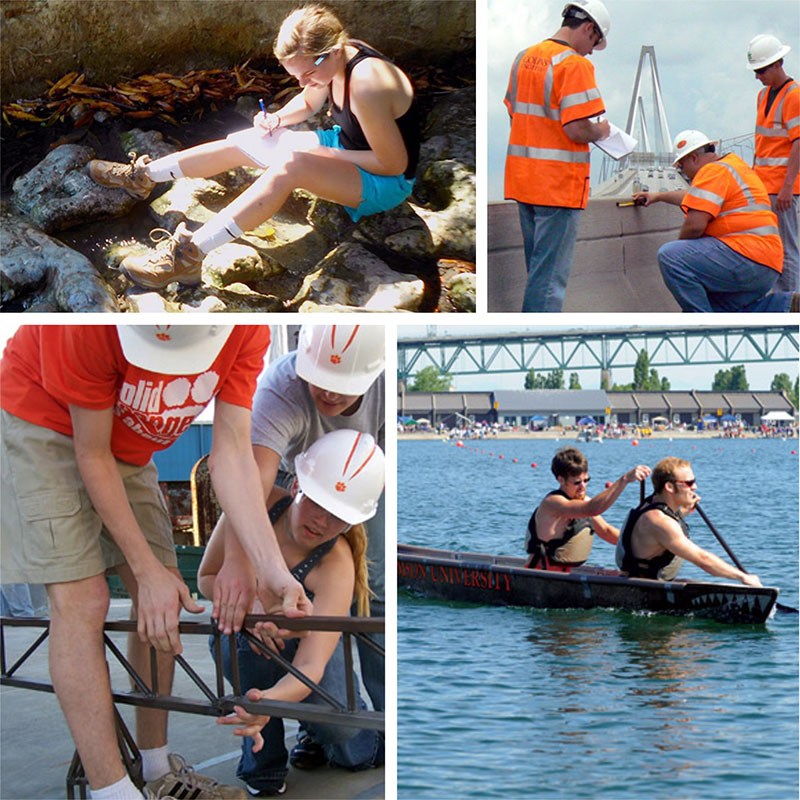 Getting involved in clubs and organizations increases your skill set, allows for collaboration and networking opportunities, and helps to set you apart for future employers. Civil Engineering students can choose between several engineering-focused clubs and organizations to join to enrich their time at Clemson.
Engineering Organizations
Student chapters and professional societies hold regular meetings throughout the fall and spring semesters, providing students the opportunity to engage with one another, faculty and practicing professionals.
The Clemson Concrete Canoe team competes regionally and nationally, gaining real-world experience using technical skills, teamwork and creativity to design, construct and race a concrete canoe. This project challenges students each year to design, model, build, and race a concrete canoe. Clemson has a very successful past, consistently reaching the national competition, including 3 national championships.
Typically, the team spends most of the academic year building the canoe. Afterwards, they travel to the regional ASCE conference and compete against other schools in a concrete canoe race.
"During my freshman year, I was involved in the Clemson Concrete Canoe team. In this club, we volunteer a few hours each week to build our canoe. Working with fellow students and the camaraderie that comes with it is one of the many reasons I'm attracted to this major. This hands-on project taught me the importance of teamwork. I strongly recommend this club to current or future students. "

Ian Stines

Civil Engineering