Ph.D. Program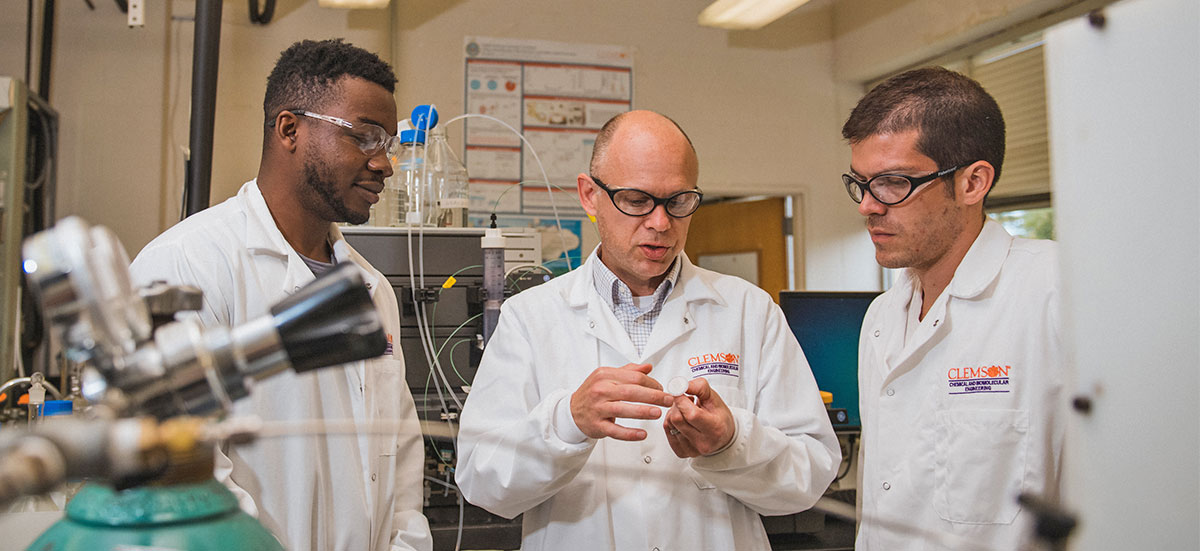 The Department of Chemical and Biomolecular Engineering offers a Ph.D. program where students develop a rigorous fundamental science base and an insight into engineering applications. The department has strong research programs that cover the spectrum from fundamental to applied and are usually highly interdisciplinary. Students with degrees in engineering or science often bring unique strengths and valuable insight to research. A Ph.D. in chemical engineering prepares students to pursue a career in academia, industrial research, and governmental research.
Graduate Research Areas
Chemicals
Polymers
Pharmaceuticals
Electronic Components
Consumer Goods
Petroleum Products
Qualified students may enter the Ph.D. program directly after completing their B.S. degree (direct entry) or receiving an M.S. degree. Full-time Ph.D. students will receive a competitive stipend, tuition remission, and health insurance.
ChBE Program Curriculum

Qualified students may enter the Ph.D. program directly after completing their B.S. degree or after receiving an M.S. degree. Full-time Ph.D. students will receive a competitive stipend, tuition remission, and health insurance.

You must also complete at least 30 credit hours of research under the supervision of one of our outstanding faculty mentors. Ph.D. students will perform cutting-edge research in of the departments' research areas. The research interests of our faculty are distributed from the purely theoretical to the deeply translational and applied, from the fully experimental wet lab to the completely computational dry lab, and everything in between.

As a Ph.D. student, you will need to pass CHE 8030, 8040, and 8050 with a minimum grade of B, maintain good academic standing, pass a written proposal, pass an oral Ph.D. comprehensive exam, and defend a research-based dissertation.

Required Curriculum

The Ph.D. in Chemical Engineering requires 30 credit hours in courses numbered 6000 or above that include:

24 credit hours of courses required for the M.S. (Thesis) in Chemical Engineering degree
6 credit hours of courses numbered 8000 or above taken at Clemson

For students entering the Ph.D. program with non-chemical engineering B.S. degrees, the following courses are also required (some requirements may be waived based on B.S. degree; additional requirements may apply):

CHE 2110 - Mass and Energy Balances (3)
CHE 2200 - Chemical Engineering Thermodynamics I (3)
CHE 2300 - Fluids/Heat Transfer (3)
CHE 3300 - Mass Transfer/Separations (3)
CHE 4500 - Chemical Reaction Engineering (3)

The written proposal is a 2-page NSF-style document that describes your broad research plan. The oral comprehensive exam consists of a more thorough presentation based on your research project. Normally this exam is scheduled in the Fall of your second year. Your final requirement as a Ph.D. student is the oral defense of your dissertation.

Applying to the ChBE Program

Degree Prerequisites

Although most students entering the Ph.D. program have a B.S. degree in Chemical Engineering, students with B.S. degrees in chemistry, physics, or other related branches of science and engineering are encouraged to apply and are considered fully for admission. Special programs are available to facilitate a transition from B.S. degrees other than Chemical Engineering. Students can enter the Ph.D. program in Chemical Engineering directly after completing a B.S. degree.

Required Documents

Unofficial Transcripts - Official Transcripts required upon acceptance. Do not send official transcripts until you have received your letter of acceptance.

How to Apply

To apply for Clemson's graduate programs in chemical and biomolecular engineering, you must submit an application, at least two letters of recommendation from faculty members or work supervisors, and unofficial transcripts of all college work - official transcripts are required after acceptance. Students who completed a B.S. or M.S. degree in the US are not required to submit TOEFL scores.

Applicants are accepted at any time, but to be considered for all financial aid possibilities, you should apply by early January for the Fall semester or early September for the Spring semester.

Information on deadlines and financial aid can be found on our Graduate Admissions FAQ. 

Apply | Graduate School