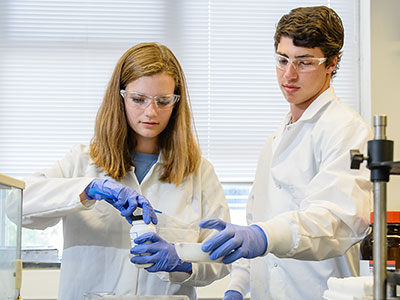 New research students or employees will be required to complete a training checklist as prescribed by the professor responsible for the research. Students or employees, in general, who are working in graduate research laboratories will have safety training appropriate to the work to be accomplished and the hazards present.
Some safety training can be received in Earle Hall, through watching videos or training online. The ChBE Safety Technician can help students and workers find the appropriate training. The Information Manual for Chemical Engineering Graduate Students contains general safety regulations and training information.
Safety Training
All Clemson employees/students who work in research labs in Earle Hall must take the appropriate safety training and be oriented by the PI ("Principal Investigator," usually the professor in charge of research) responsible for the lab. (The only exceptions are custodial and facilities, maintenance staff.)
General Information
A file in the Chemical Engineering Office (123 Earle Hall) contains safety training records for each employee/student, grouped by PI. This file should not leave the office.
Questions and In-House Training: Employees/students with questions about safety training can contact the lab PI, the Departmental Safety Technician, or the Departmental Safety Coordinator.
Environmental Health & Safety (EH&S) Training: Clemson University has a Comprehensive Environmental Health and Safety Plan. This Plan has been approved by the Clemson University Administrative Council and applies to all Clemson University Faculty, Staff, and Students, as well as all activities carried out on Clemson property regardless of Clemson affiliation. All sections of the plan, including the chemical hygiene plan, can be found online at https://www.clemson.edu/research/safety/comp_plan.html
EH&S training can be received in class form or on the EHS Training site.
Responsibilities
Departmental Safety Coordinator: The Safety Coordinator will supervise Safety Training issues and perform an accuracy audit of the file twice a year (July and October).
Departmental Safety Technician: The Safety Technician will assist the PIs and employees/students with Safety Training issues, assure the training records are in place and assist in the accuracy audit.
Departmental Student Services Administrator: The Administrator will provide training record forms for each new Employee/Student, keep the training file, and assist in the accuracy audit.
Principal Investigators (PI): The PIs are ultimately responsible for assuring the employees/students working in their research labs have the proper safety training. The PIs should determine which training is required and ensure that training is accomplished. PIs should give all new employees/students a lab-specific orientation, including safety concerns.
Employee/Student: The employee/student will receive the training and update the office file.
Training Orientation
To work in the ChBE labs at Clemson University, you must first complete and document the completion of the required safety training. This orientation will explain your safety responsibilities; outline what safety training is required, how to find it, and how to document your training properly.