At the annual State FFA Convention, the South Carolina FFA Association elects six members to serve as a State FFA Officer. The State Officers will travel across the state to be an agricultural advocate, provide leadership and career training to FFA members, build positive relationships across the state and nation and serve as the face of the South Carolina FFA Association.
Use the link below to request all visits and workshops with the 2023-2024 SC FFA State Officer Team. Only requests submitted through this form will be considered for officer assignments. Please contact Jillian Lash (jelash@g.clemson.edu) with any questions or concerns.
Request a Visit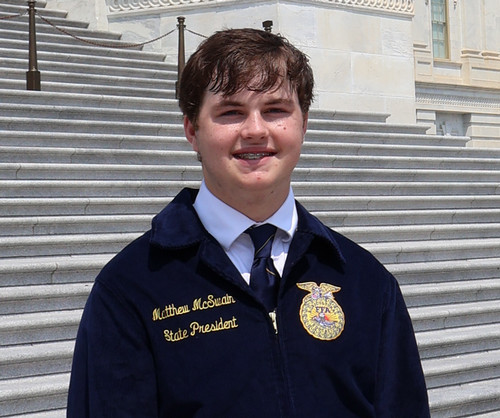 State President: Matthew McSwain
Hometown: Rockhill, SC
Chapter: Rock Hill ATC FFA
SAE: My SAE is egg production and managing laying hens. I have been responsible for managing laying hens at the Rock Hill Applied Technology Center and selling their eggs. I am responsible for feeding and watering these chickens. I chose this SAE because I wanted to grasp a general sense of what it was like to manage livestock to see if it was something that I wanted to do with my life.
Education: Freshman in the Clemson Bridge Program, majoring in Agricultural Mechanization and Business
Career Goal: I plan on graduating from Clemson University with a degree in Agricultural Mechanization and Business and moving back to York County where I plan on starting a beef cattle operation.
Biography
Before my tenth grade year I had no idea what the FFA was or the opportunities that it held. All I wanted to do was join the AirForce. I had no intentions of getting involved in agriculture, however, during my tenth grade year my dad suggested that I take agricultural science and technology. Halfway through the class, we started to learn about beef cattle and it was then that I realized that agriculture and the FFA were right for me. Over the next year or so, I fell absolutely in love with the FFA and wanted to get involved in every way possible. So, I applied for a chapter officer position for my junior year, and I got a secretary. I also began competing in CDEs such as Turf Grass, Tractor Operations, and Ag Mech. I never would have imagined how deeply involved I would become with the FFA, spending nights and weekends preparing for CDEs or going to workshops. The FFA has shown me how I could grow as a person in my school, community, and in my home. I always thought that FFA just ended after high school, but when I found out about being a State Officer. I was thrilled to know that there was a way for me to get involved after high school and a way for me to give back to an association that has done so much for me. I cannot wait to see where this year takes me, and I cannot wait to meet so many SCFFA members this year!!!!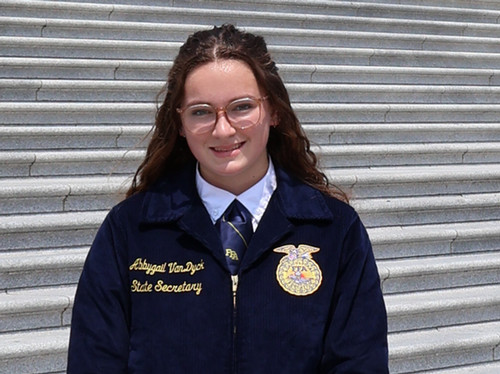 State Secretary: Abbygail VanDyck
Hometown: Camden, SC
Chapter: WTC Kershaw FFA
SAE: I have had many different SAE projects throughout the years including pet-sitting, working at a local farm store, and working as a vet tech but the project I have worked the most in is working as herd manager on my family's dairy goat farm. As herd manager I am responsible for helping with the daily care of all livestock, administering basic veterinary and preventative care, and helping run our breeding program.
Education: Freshman at Central Carolina Technical College with plans to transfer to Clemson University to major in animal and veterinary sciences
Career Goal: I plan on attending vet school after graduating from Clemson and one day I plan on starting my own large animal veterinary clinic including a mobile and permanent office.
Biography
I knew I wanted to do FFA going into high school because I was involved in 4-H and some of my friends had told me about FFA, however, I had no idea just how many opportunities there were for me within FFA. During my freshman year, I joined FFA and I started signing up for different events such as CDE's, workshops, and plant sales; I even ran for a chapter officer position. Growing up in a military household has not been the easiest because of constantly moving and having to start all over, and for the first time in my life, I had a group of people with similar interests to me. This all changed during my sophomore year when we found out we were moving to South Carolina.
The first thing I did when I got to my new school was join their FFA chapter and it truly changed my life for the better. While my old chapter provided me many opportunities, my advisor, Mrs. Cathcart, and SCFFA opened even more doors for me that I didn't know were possible. From the moment I stepped foot in the classroom, Mrs. Cathcart saw potential in me and pushed me to do my best. She got me involved and made sure I knew that I had a place within SCFFA. Throughout the last two years I've competed in many CDE's and LDE's, and was a chapter officer this last year. I got involved in everything I could and I learned just how many opportunities there were for me in FFA, at the chapter, state, and national levels.
I hope that I will be able to help all members of SCFFA realize their full potential and help them take advantage of the opportunities they have in FFA. I also hope to make sure all members know that they have a home and support through the SCFFA Association.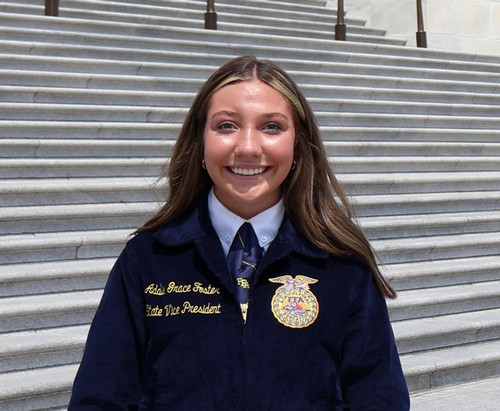 State Vice President: Addie Grace Foster
Hometown: Seneca, SC
Chapter: West Oak FFA
SAE: My SAE project consisted of working on my family beef cattle and poultry farm. I was able to experience first hand the hard work and dedication that goes into our farm on a daily basis. I completed tasks including, but not limited to, feeding cows, tagging calves, and changing feed bins.
Education: Freshman at Clemson University, majoring in Agricultural Education
Career Goal: After I obtain my degree in Agriculture Education, I plan to become a high school Ag teacher.
Biography
I knew when I started high school that I wanted to be a part of FFA. I grew up being involved in Agriculture so I knew FFA was a place that I would feel like I belonged. FFA has brought me so many opportunities and is continuously supportive of all my decisions. While being a part of FFA, I have created lifelong friendships and some of the best memories. Being involved in FFA has allowed me to step out of my comfort on many occasions which has led me to great success. Being involved in FFA has helped me gain a new passion for agriculture, and has helped me make my choice of majoring in Ag Ed. I am forever grateful for all of the life lessons that I have learned from FFA and I strive to create the same experience for all FFA members. I am so excited to serve the SCFFA association and help all members feel like they have found the place they belong.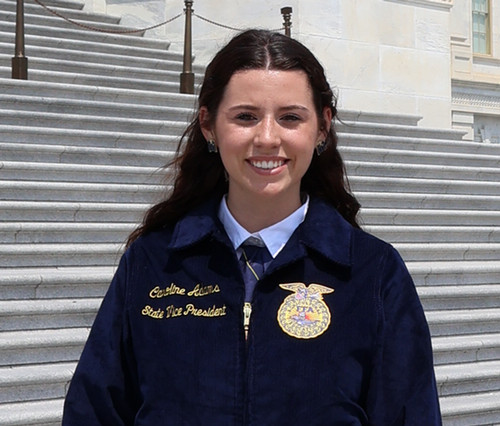 State Vice President: Caroline Adams
Hometown: York, SC 
Chapter: York FFA 
SAE: My SAE is doing research on the effect of urbanization on small town agriculture. My responsibilities in this consisted of finding trustworthy sources, attending planning commission meetings, and becoming familiar with the land transfer process. I chose this SAE because I saw the small town I love fall victim to urbanization swiftly, and wanted to make an effort to bring that to a halt.
Education: Freshman at Wofford College, majoring in International Affairs
Career Goal: I plan to obtain my degree in international affairs, attend law school after college, and work as a lawyer to represent small town farmers.
Biography
When I was in middle school I heard they offered an agriculture class, and I decided to take it. At first I didn't really see why it pertained to me and thought I wouldn't pursue it. When I got to high school I needed to choose one more elective and I saw Ag Science and thought, "why not?". In that classroom my freshman year I made so many connections and life long friendships and knew that this environment was the place for me.
In Ag Science I had to learn the FFA Creed and I figured out that I picked up on it pretty quickly. My advisor told me I should compete in the Creed Speaking competition and I accepted. After placing first in the region it ignited a fire and a passion for me to continue in FFA to see what all Ag has to offer.
When I started learning about all of the different aspects of agriculture I started thinking of what I could do to give back to the organization that I had grown to love so much. When I figured out I could be a lawyer that still works in agriculture I knew that's what I wanted to do for the rest of my life.
Joining FFA my freshman year was the best decision I could have ever made. It introduced me to some of the closest people in my life that I will always consider family, as well as showed me my passion in life. Without the encouragement from my peers and advisors I wouldn't be able to say I am at where I am now, and I will forever be thankful for this organization and the people within it.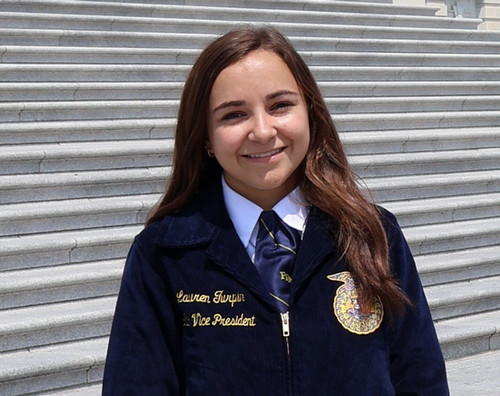 State Vice President: Lauren Turpin
Hometown: Easley, SC 
Chapter: Pickens County Career & Technology Center FFA 
SAE: I have two different SAEs. My first SAE is diversified livestock where I have been training my rescue horse, Oakley. I also raise ducks and turkeys for egg production. I am responsible for looking after these animals by feeding and watering them. My other SAE is Paid Placement where I work at a dog boarding facility. During this job, I learn more about animals and also get to work with clients checking in and out dogs.
Education: Freshman at Anderson University, majoring in Nursing
Career Goal: Graduate from Anderson University with a bachelors in Nursing and then start working in a local hospital. Later on I plan to get my masters so I can be a Nurse Practitioner.
Biography
My name is Lauren Turpin and when I'm not doing things with the FFA I enjoy clogging, fishing, hunting, and trail riding. When I first joined the FFA I did it because my friends were doing it. I had no idea that it would bring me this far or how much I would love it. Even after first joining the FFA, I told myself I would never be a Chapter Officer, let alone a State Officer. But over the years, the FFA and my advisors have brought me out of my comfort zone, pushing me to try new things. I am so thankful for the extra push. I was scared to do alot of CDEs but I stepped out of my comfort zone and did Tool ID, Livestock Judging, and Public Speaking. After trying these I learned I loved them. I also got to experience several things such as State Convention, National Convention, Miss FFA, and more. I am so thankful for the FFA providing me with unforgettable friends and memories. Although I got to do a ton through my FFA career, covid stopped me from doing so many things, therefore if I had to give one piece of advice to FFA members it would be to step out of your comfort zone and do that new thing. Take that unfamiliar opportunity because in the blink of an eye, that opportunity will be gone and you'll never know what could have been. I am so excited to meet members throughout South Carolina and can't wait to serve our community!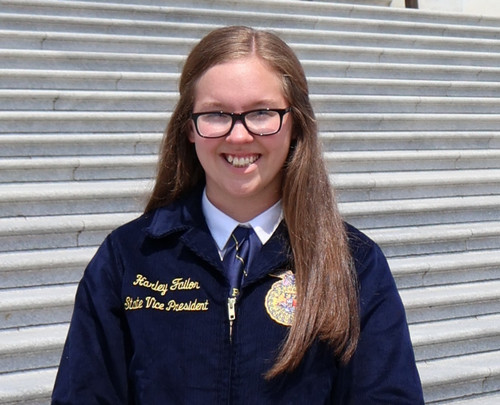 State Vice President: Harley Failor
Hometown: Williamston, SC 
Chapter: Palmetto FFA 
SAE: I have multiple SAEs, all of which I love. They include bettering my horsemanship and learning farm management at Start 'Em Right Ranch, being a "Corn Cop'' at Denver Downs Farm where I learned a wide variety of skills useful in and out of an agribusiness career, and working in Mr. McCannon's agriscience and technology class for my teacher cadet field placement. Working with these students was my favorite of my SAEs because it showed me how deep my passion for agriculture and teaching others about agriculture was. My field placement was what truly made me realize I desired to be a SC FFA State Officer .
Education: I plan on attending Piedmont Technical College to study agribusiness
Career Goal: I strive to continue with my passion for agriculture, photography, graphic design, and working with people by going into the marketing side of agribusiness.
Biography
I am so excited to use my passion for FFA and agriculture to teach others in my year of service! I was a chartering member of my chapter that started only a few short years ago in 2020. Being a chartering member, I didn't truly have a lot of experienced people to look up to because everyone was new to the program. Thankfully, I met the state officers. The last few years, the state officers have been the ones who helped me and kept me going in FFA when I didn't see any reason and I am so glad they did. Through FFA, I have grown more than I ever imagined possible in leadership, public speaking, friendships, memories that will last a lifetime, and so much more. Without the encouragement and the time taken to create a real relationship with me from the past SC FFA state officers, I wouldn't be where I am today. Although I was still in my "box" at first, my ag teacher, Mr. McCannon, pushed me to try new things by always reminding me that "there's no growth in a comfort zone and no comfort in a growth zone." I didn't notice at the time, but the more I got out of my comfort zone and got involved the more fun I had, friends I made, and memories I created. FFA is an organization that will truly change you inside and out, but you only get out of it what you put into it, so make the most of it.
SC FFA Association
SC FFA Association | P.O. Box 1746, Clemson, SC 29633