The South Carolina FFA Convention is a highlight of the Association's year. Nearly 1,000 FFA members, advisors, administrators, parents, and agricultural partners come together to celebrate the many achievements of SC FFA members from around the state.
While attending State Convention, FFA members are recognized for their hard work and dedication to the future of agriculture through award recognitions such as top placements in CDEs, STAR proficiencies, and being TAGGED to Teach Ag. State FFA Degree recipients are presented their pins during a ceremony, and the top chapters in the state are recognized with a Governor's Citation. Members attend motivational workshops, participate in a career and college expo, and listen to inspirational keynote speakers. Perhaps the greatest opportunity of all is simply the chance to gather in fellowship and fun with FFA members from all over the state.
  June 6-8, 2023         $50 per person         Greenville Convention Center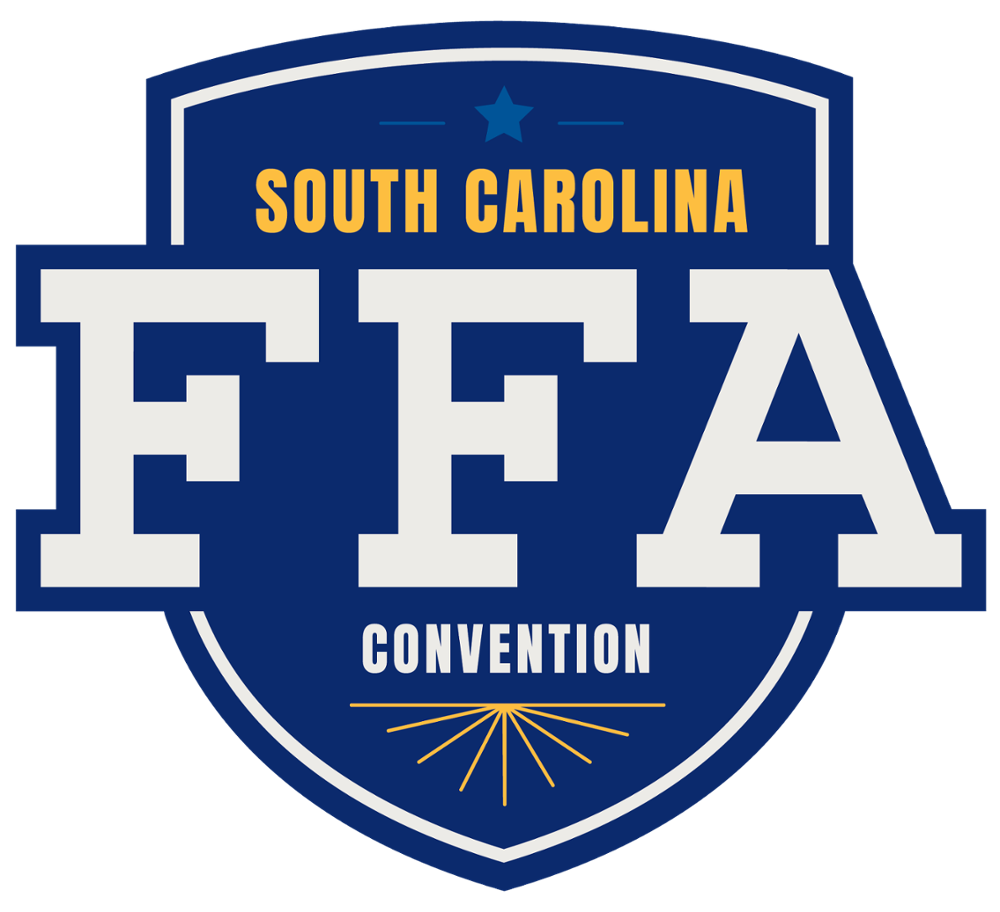 Keynote Speakers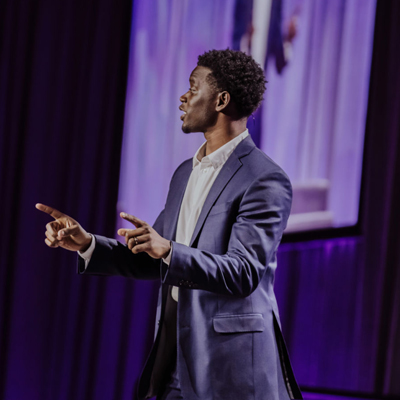 Chris Singleton
Tuesday evening Speaker.
"Embracing Love Over Hate"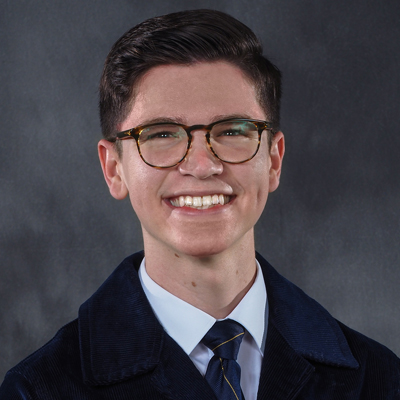 Ryan Williamson
Wednesday evening speaker
National FFA Western Region Vice President
Convention Dress Code
During General Sessions, LDE's and CDE's student attendees should be in official dress. Any FFA member going on stage must be in full official dress is outlined in the Official FFA Manual:
An official FFA jacket zipped to the top
Black slacks and black socks/nylons or black knee length skirt and black nylons
White collared blouse or white collared shirt
Official FFA tie or FFA Scarf
Black dress shoes with closed heel and toe
Student Workshops: Business casual attire is appropriate
Registration
State Convention registration is $50 per person. Registration includes a convention t-shirt all convention experiences & a gift.
Daily registration is available for $15 per day. (Does not include t-shirt and gift)
Convention Registration
SCFFA Convention Recommended Hotels
Hotel
Rate
Amenities
Booking

Hilton Greenville
45 W. Orchard Park Dr
Greenville

$134

Includes Breakfast

(864)–429-8645
Group Discount Code: FFAA22
Booking Cutoff Date: 5/30/22
Make Reservation

Courtyard Greenville
Haywood Mall
70 Orchard Park Dr.
Greenville

$109

Pool

(864)–234-0300
Booking Cutoff Date: 5/30/22
Make Reservation

Sleep Inn
231 N. Pleasantburg Dr.
Greenville

$104

Free Breakfast

(864)–240-2006
Booking Cutoff date: 5/30/22
Make Reservation

Embassy Suites Golf Resorts
670 Verdae Blvd.
Greenville

$149

Free Breakfast & Pool

Booking Cutoff date 6/1/22
Make Reservation

Crowne Plaza Greenville
(State Staff Hotel)
851 Congaree Rd.
Greenville

$112

Indoor Pool

(864)–297-6300
Group Code: FFA
Make Reservation

Hyatt Place Greenville
Haywood
40 W. Orchard Park Dr
Greenville

$124

Free Breakfast & Pool

(864)-232-3000
Make Reservation
State FFA Convention Schedule
Tuesday, June 6, 2023
11:00am - 2:00pm Registration & Expo Opens
2:00pm CDE Registration Opens
2:15pm Delegate Enrichment Doors open (Main Ballroom)
2:30pm Delegate Enrichment: Main Ballroom
(Required for all delegates)
2:15 pm - 3:55 pm Workshops
3:00pm Delegate Session: Main Ballroom
6:15PM Presession Begins
6:30PM First General Session (6:30pm)
National Chapter Awards
Retiring Address: State Vice President, Caitlyn Krout

Scholarship Presentations
Entertainment: Chris Singleton
Wednesday, June 7, 2023
9:00am CDE's Begin
9:15-11:00 am Workshops
1:30pm  Second General Session
Recognize 2022-23 CDE winners
Retiring Address: State Vice President, Cally Simpson
State Officer Candidate Introductions
TeachAg Presentation
Retiring Address: State Vice President, Lauren Knight
State Degree Ceremony
5:00pm Honorary Degree Dinner
(State Officers Advisors and Parents & Honorary Degree Recipients)
6:30pm Third General Session
Announcement of American FFA Degree Candidates and Honorary American FFA Degree
State Officer Advisor Recognition
Stars Over South Carolina
Retiring Address: State Vice President, Bailee Ferich
Honorary State Degree Ceremony
National Officer Keynote: Ryan Williamson, National FFA Vice President
Thursday, June 8, 2023
8:30am Fourth General Session
Individual Awards
Convention T-shirt design winner
Proficiency Award Presentation
Retiring Address: State Secretary, Lance Brown
State Officer Parent Recognition
Chapter Membership Awards
Retiring Address: State President, Drake Ariail
Top 3 CDE Teams and Individuals (from Convention)
Nominating Committee Report
Installation of the 2023-2024 State Officer Team
Closing Ceremony (2023-2024 State Officer Team)
11:00am  Post Convention Luncheon
(State Officer parents, advisors, and Past State Officers)
SC FFA State Convention Sponsorship
The FFA is a youth leadership organization that is administered through school-based agricultural education programs. The FFA has a mission of developing member's potential for premier leadership, personal growth, and career success through Agriculture Education.
This year, approximately 1,000 FFA members, advisors and guests will travel to Greenville, SC for this 3-day event. The 2023 convention is scheduled to take place June 6-8, 2023. Student members will be competing in career development events, attending leadership workshops and be recognized for their accomplishments throughout. FFA advisors and guests will attend the expo and multiple award sessions.
Please complete the linked form if you are interested in being a sponsor for the SC FFA State Convention held June 6-8, 2023.
The deadline to submit the sponsorship form is May 19, 2023.
Sponsorship checks are due by June 5, 2023.
Once submitted, an invoice will be emailed to you.
Sponsorship Levels

All sponsorship levels will receive:

The company logo/name shown on the projector screens prior to the general sessions
A SC FFA Association Gift

Friend of the FFA: ($300 sponsorship) receives:

One 6' table and display area at the convention expo 

Corduroy Sponsor ($500 sponsorship) receives:

One or Two 6' tables and display area at the convention center
Sponsor name on an Honorary Degree Reception Program & recognized as a sponsor during the Honorary Degree ceremony 

Blue Sponsor ($1,000 Sponsorship) receives:

One or Two 6' tables and display area at the convention expo
Sponsor name on the Honorary Degree Reception Program and recognized as a sponsor during the Honorary Degree Ceremony
Opportunity to announce the winner of a related Award during a General session

Gold Sponsor ($2,000+) sponsorship receives:

One or Two 6' tables and display area at the convention expo
Sponsor name on the Honorary Degree Reception Program and recognized as a sponsor during the Honorary Degree Ceremony
Sponsor logo placed on the back of over 1,000 FFA Convention shirts (which is some of the greatest advertisements you can ask for!)
Extra Convention T-shirts (shirt sizes will be requested prior to convention)
Opportunity to announce the winner of a related Award during a General session

 

Sponsorship checks can be mailed to:

SC FFA Association
PO Box 1746
Clemson, SC 29631

Expo Details

Expo Set Up
(choose a date/time that works best for you)

Monday, June 5th from 12:30pm – 6:00pm
Tuesday, June 6th from 8:30am – 10:30am

Expo Hours

Tuesday, June 6th from 11:00am – 6:30pm (break from 2:00-5:00pm)
Wednesday, June 7th from 9:00am – 1:30pm (break 11:00am – 1:00pm)

Airports

Greenville-Spartanburg Airport (GSP)
17 minutes from Convention Center

Charlotte-Douglas Airport (CLT)
1 hour and 36 minutes from the Convention Center 

Convention Center Address

1 Exposition Drive, Greenville, SC 29607

Recommended Hotel

Crowne Plaza Greenville, 851 Congaree Rd, Greenville, SC
SC FFA Association
SC FFA Association | P.O. Box 1746, Clemson, SC 29633