The National Science Foundations' Louis Stokes Alliance for Minority Participation (LSAMP) program has awarded $1 million to establish the inaugural Clemson University Bridge to Doctorate Graduate Fellowship Program (CUBD). Through this funding, along with additional resources provided by the University, full financial support will be provided to a cohort of 12 incoming underrepresented Ph.D. students enrolled in select programs in the College of Engineering, Computing and Applied Sciences (CECAS) or the College of Science.
The CUBD cohort will be comprised of diverse scientific leaders with expertise in advanced materials research. This effort will drive fundamental advances in inorganic and organic materials to inform and define future research directions for developing advanced materials and systems across a spectrum of applications.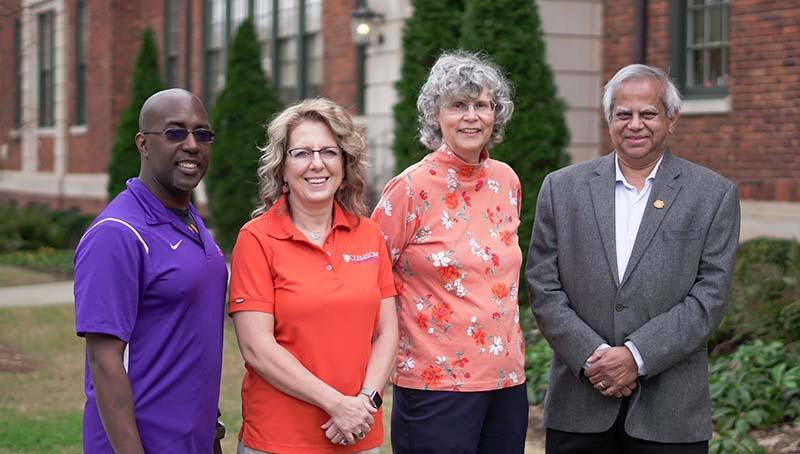 $32,000 stipend for student's first two years of education and research through the NSF's funding.
The University will cover the cost of education and fees for student's remaining three years at Clemson.
Faculty and peer mentoring, advising and advocacy.
A built-in network for professional development and support.
Access to leaders from Clemson's STEM ALL-IN program.
Dedicated research advisor.
We are currently not accepting applications at this time - Please check back January 2024 for Fall opportunities.
Students will begin in the Summer or Fall 2022 semester in one of 12 programs available. Those interested in participating in the '22 CUBD cohort must meet the following admissions requirements:
Requirements
Verified participation in LSAMP Undergraduate programs.
Bachelor's degree in STEM discipline.
3.4 minimum GPA.
Admitted to Clemson University STEM Ph.D. program.

U.S. Citizen or permanent resident.
College of Engineering, Computing and Applied Sciences
College of Science
Meet our Bridge to Doctorate students:
CECAS
Vincent and Jasmine Davidson
Deon Wallace, Jr
Jesus Badal
Ryan Mbagna-Nanko
Sevrina Tekle
Makayla Headley
Destinee Cooper
SCIENCE
Jakini Kauba
Brandon Sanders
Ryan Watts
Samirah Muhammad
Their Stories:
About the National Science Foundation's Louis Stokes Alliance for Minority Participation:
The LSAMP program honors the life and legacy of Congressman Louis Stokes.  He was the first African-American congressman in Ohio who was a champion for the social and economic justice and was a tireless advocate for expanding opportunities for underrepresented groups.  Clemson University is proud to have been selected to continue the commitment and legacy of Congressman Stokes through this Bridge to Doctorate Program.
LSAMP