Diversity, Inclusion, and Equity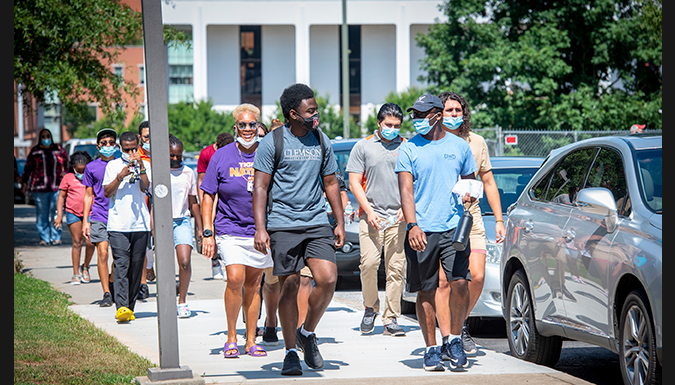 Diversity, Inclusion, and Equity
Our mission is to enhance Clemson's reputation as a world-class research institution, while promoting a culture of discovery and excellence in a collaborative, diverse, safe and inclusive environment. Each person brings unique perspectives, values, opinions and experiences that are highly valued here. Diversity is essential to research and scholarship, allowing us to view matters through a different lens, to tackle problems from numerous angles, and to think more critically. Diversity makes our community stronger. To support diversity, inclusion and equity, the Division of Research established a committee of peers and enacted an Inclusive Excellence Strategic Plan.
Read the Plan
DEI Definition and Offerings
Definition
---

AAC&U (American Association of Colleges & Universities) endeavors to develop "equity-minded practitioners" who are willing to engage in the necessary, and sometimes difficult, conversations and decision-making that can lead to transformational change for student learning and achievement.
Diversity: Individual differences (e.g., personality, prior knowledge, and life experiences) and group/social differences (e.g., race/ethnicity, class, gender, sexual orientation, country of origin, and ability as well as cultural, political, religious, or other affiliations)
Inclusion: The active, intentional, and ongoing engagement with diversity—in the curriculum, in the cocurriculum, and in communities (intellectual, social, cultural, geographical) with which individuals might connect—in ways that increase awareness, content knowledge, cognitive sophistication, and empathic understanding of the complex ways individuals interact within systems and institutions
Equity: The creation of opportunities for historically underserved populations to have equal access to and participate in educational programs that are capable of closing the achievement gaps in student success and completion
Equity-Mindedness: "The term 'Equity-Mindedness' refers to the perspective or mode of thinking exhibited by practitioners who call attention to patterns of inequity in student outcomes. These practitioners are willing to take personal and institutional responsibility for the success of their students, and critically reassess their own practices. It also requires that practitioners are race-conscious and aware of the social and historical context of exclusionary practices in American Higher Education." (Center for Urban Education, University of Southern California)
Services and Programs
---
Campus Support Services
---
Current Initiatives
If you are seeking business opportunities as a potential minority business entity and need help conducting research and receiving consultation on a grant proposal, you can look for prospective partners at Division of Small and Minority Business Contracting and Certification (SMBCC). The S.C. division has resources that can help you with your efforts while also supporting DEI efforts at Clemson and within the state of South Carolina.

 

Clemson University is undergoing a process whereby every academic, administrative and governance unit are implementing strategic plans that focus on diversity, equity and inclusion. The "Discovering Me" Program is a part of our Division of Research's Inclusive Excellence Plan.

The goal of this program is to recognize and celebrate the unique and varied backgrounds of the people who make the Division of Research run! Feature articles will be included in the Division of Research Newsletter and on the website as well.

We invite you to nominate someone (maybe even yourself) from our division to be featured in this fantastic new program by visiting this link "Discovering Me" Nomination Form. This same link may be used for traditional or self-nominations. Once a nomination is received, a link to a set of questions will be forwarded to the nominee to complete. We will initially spotlight individuals on a quarterly basis, but hope to have enough nominations to increase the frequency to monthly. If you have any questions regarding the "Discovering Me" Program, please contact Dr. Terri Bruce at  terri@clemson.edu or Kathy Gibson at kathyg@clemson.edu.

Thank you! We look forward to "discovering" all about our amazing team members!

Read more below.... 
Discovering Justin E. Scott
About Justin
How many years have you been at Clemson (if you are an alumni of Clemson, please indicate that and include your major)
I have been at Clemson in my current position for 6 years now. I am an alumni, I received my B.S. in Electrical Engineering in May of 2015 and my Master's of Business Administration in May of this year (2022).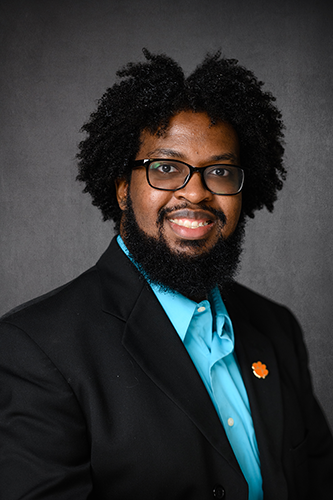 What do you do for Clemson? (Tell us your role at the University)
I am a Research Specialist in the Clemson Light Imaging Facility (CLIF) under the Division of Research. We are a multi-functional Microscopy core facility on the main campus. I am responsible for scheduling, troubleshooting and conducting all experiments performed on the BioRad S3e Cell Sorter. In the years since joining the CLIF full-time, my duties have expanded and I now serve as point of contact for new user registrations and facility access, primary training technician for various instruments such as the Leica SPE Confocal and LEXT Optical Profiler, ensuring new facility users gain a sufficient grasp of equipment operation and offering assistance as needed. In addition to other daily operational & administrative duties I manage all facility billing of customers. Beginning in 2020 I now serve as the primary Institutional Administrator for all campus users, research labs, and core facilities utilizing the iLab Scheduling Software.
Have you held more than one position at Clemson? If so, what were your past roles?
As an undergrad, I held various operations staff positions with TigerPaw Productions and Campus Activities & Events. I also served as a UPIC intern with the CLIF for the 2014-2015 term.
What do you LOVE about Clemson?
The opportunity to meet people from all walks of life. Be it as a student or employee, I've found myself encountering so many individuals and sharing stories. Particularly in my job, there is no shortage of fascinating backgrounds and I enjoy getting to know users and customers while we're running any number of analyses on their insects, asphalt, fish cell, plant leaves or mouse brain samples that they bring through our door.
What do you consider to be a defining moment for you at Clemson and/or how do you feel you have contributed to the mission of the university?
To speak on the iLab software I mentioned earlier. Once it was decided that the core facilities underneath the Division of Research would standardize their billing and reporting workflows, iLab by Agilent was selected as the platform vendor for the service we all would join. That project was a massive undertaking, requiring collaboration with university Peoplesoft and Clemson Accounts Receivables in order to integrate various grants and projects in an accessible and efficient manner. Each core had to examine workflows and determine how best to coordinate their user registration and scheduling with the new platform. There were months of site building and implementation meetings, and while the CLIF served as a pilot facility I took on the task of learning the ins and outs of the entire software from the perspective of a Clemson user. I attended the implementation meetings for not only the CLIF but the Electron Microscopy, Godley-Snell Animal Research, and Aquatic Animal Research cores, and other campus centers who would all be utilizing the new platform. I spent the better part of a year compiling the most common questions asked of my counterparts in other labs and from customers themselves into a comprehensive series of FAQ pages that is now hosted on the Division website. I remain a point of contact for my counterparts to investigate & troubleshoot iLab errors, escalate to Agilent service representatives when necessary, assist campus Principal Investigators in setting up their labs and registering members/allocating project funds for usage in the core facilities plus a host of other iLab related tasks. It is a constant process and I am always learning something new about the platform or figuring out a more efficient way to streamline existing processes. It has certainly been a daunting and yet fulfilling venture to take on and I'm pleased for the positive feedback and opportunity to assist across the board, not just in-house within the CLIF. This to me has helped in some part to advance the University and Divsion missions of binding together researchers to move industries forward and promoting excellence in a collaborative environment.
What accomplishment are you most proud of in your life? (Can be at Clemson or not)
This answer could change next week or next year, but at present I'll say making the decision to return to school for my MBA while working both full-time here at Clemson & part-time near Anderson where I reside. During my second semester of grad school, the Pandemic forced all of us to adapt to new challenges. I'm proud that I was able to continue on during such a stressful time, and worked my way through back to back spring summer and fall terms on top of other obligations and responsibilities. I couldn't be happier to have completed that accomplishment and I probably slept for about 2 weeks straight after graduation!
What do you consider the next ideal steps in your career?
I would love to continue advancing my skillset in my current role and apply concepts and ideas gained from my MBA to continue operations as smoothly as possible for as long as possible. With a facility like the CLIF, we get to establish pretty solid relationships with our Sales and Service reps for the different instruments we house. Over the years I've also had a few conversations with various service technician's. I could certainly see myself in the future as a Field Service agent with similar imaging equipment distributors, getting the chance to travel and perform installations and preventative maintenance and keep facilities like the CLIF running their equipment without issue.
What is your favorite TV, movie, or book?
Now these are impossible to answer! In recent years I've gotten heavily into superhero tv shows and network sitcoms. I have made a point lately to find Fantasy, Mystery, and Thriller novels written by African American and other minority authors, who were not always well represented in the books I consumed growing up. The pandemic has unexpectedly seen me get into the audiobook realm. Since 2020, I probably have about 130 audio titles in my listening history. Most of which came from the free apps from my local libraries! Libraries are amazing resources and deserve the world.
Do you have a guilty pleasure? We'd love to know it if you're willing to share!
It's not even guilty. I collect Funko Pop bobblehead & vinyl figurines. They're like my Beanie Babies. My collection is so large (I won't share the growing number though) and represents the artists, musicians, book, tv, and movie characters that really hold sentimental value to me.
What is something that most people don't know about you? (Again...we'd love to know it if you're willing to share!)
I will always look weird during the Pledge of Allegiance. I was born with a condition called Dextrocardia, and my heart actually developed on the right side of my body instead of the left at a slightly altered position. When they say place your hand over your heart....get the picture? But my ticker's ticking and hasn't given me trouble through life.
I define my gender as...
Male
I prefer the following gender pronouns for myself (for ex: he/him; she/her; they, etc.)
He/Him
Race and/or Ethnicity - Insert what you feel best describes you
African American/Black
Division of Research
Division of Research | 230 Kappa Street, Clemson, SC 29634