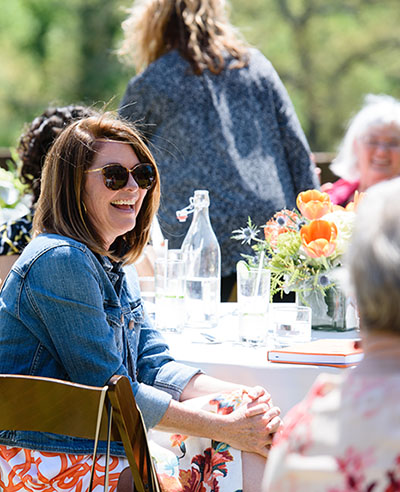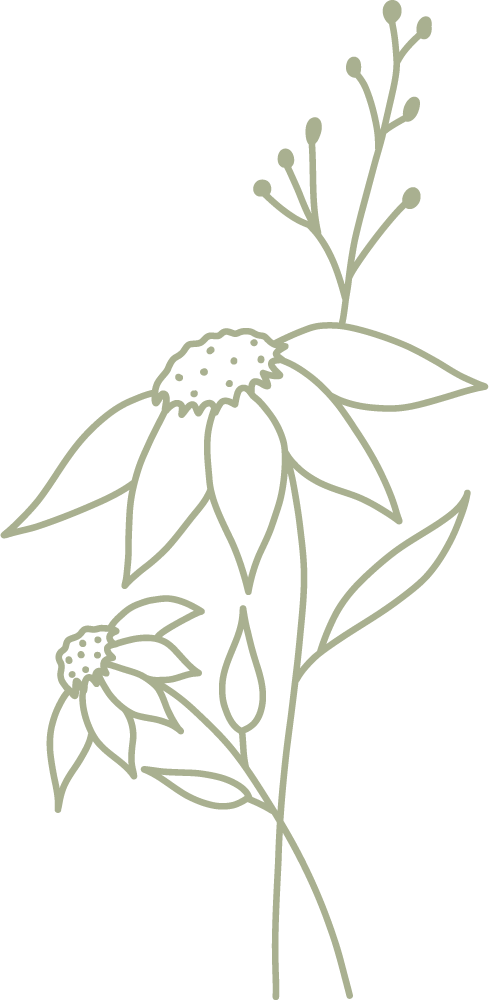 Book Your Event
The South Carolina Botanical Garden offers a beautiful natural backdrop for weddings, workshops, meetings, lectures, concerts and receptions. Groups from 10 to 400 will have a memorable time in this captivating setting conveniently located near Clemson University and major highways. We suggest that bookings be made well in advance for popular rental months such as April, May, June, September and October.
Our staff will help you create an event to remember! To check availability and schedule a consultation call 864-656-2536, or email the garden: scbgrentals@clemson.edu.
The Xeriscape Garden
This semi-formal lawn area is perfect for smaller gatherings and can easily be utilized for both wedding ceremonies and intimate receptions. The lush backdrop and unique wooden arch provide a private garden area seemingly tucked away from the rest of the world. If couples prefer to follow the ceremony with an indoor reception, the Hayden Conference Center is just a short stroll away.
Capacity: Seated - 75; Standing - 100
Best color: Late May to November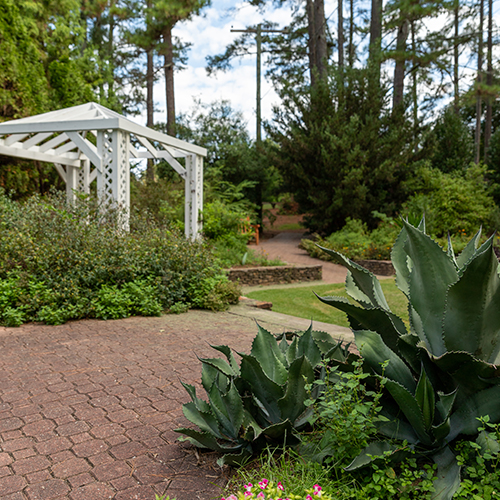 Heritage Amphitheater
Located in the Heritage Garden, this large venue offers terraced seating surrounded by a woodland setting. Its stone steps and stage area provide a ready-made venue for performances and ceremonies, including concerts, lectures and weddings. The site offers access to electrical units and nearby public restrooms.
Capacity: Seated - 400
Best color: Late March to November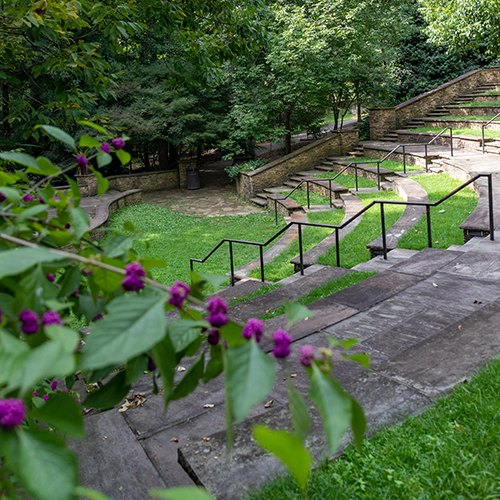 The Hosta Garden
This intimate setting is surrounded by lush hostas and waterfalls and is ideal for simple ceremonies. No chairs or tents can be set up in this area - standing only (except for handicap).
Capacity: Seated - 40
Best color: Late March to mid-November
Hayden Lecture Area
Located near the Display Gardens and Duck Pond, this peaceful, intimate setting under a pine tree canopy is ideal for small performances, lectures or receptions.
Capacity: Seated - 40
Best color: Late March to mid-November
Fran Hanson Visitor's Center's Upper and Lower Lawns with Carriage House
Upper Lawn
Surrounded by hydrangeas and flower beds, the upper lawn is ideal for a wedding ceremony in the intimate Fuller Reflection Garden. The picturesque lawn includes a stone terrace, sweeping green lawn ideal for tented or non-tented events, and a raised garden for easy viewing.
Capacity: Upper Lawn - Seated - 250; Standing - 400
Best color: Late March to mid-November
Lower Lawn
Located a few steps from the Upper Lawn, this lawn is ideal for a larger reception or gathering. The patio beside the Carriage House is included, offering a quaint cafe-like retreat.  The lawns are connected by stone pathways.
Capacity: Lower Lawn - Seated - 200; Standing - 300
Best color: Late March to mid-November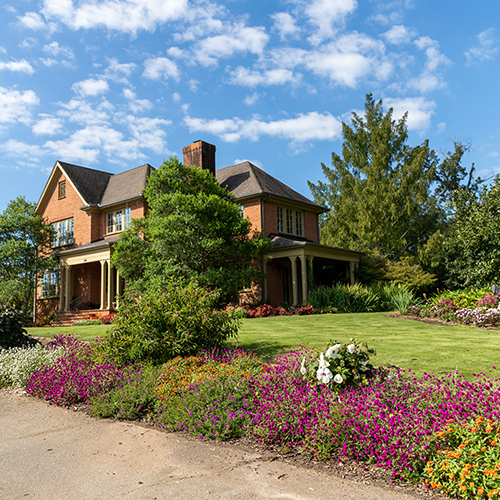 The Hayden Conference Center

This lovely center offers two large rooms (19'x38') that may be arranged to accommodate lectures, workshops, group meetings, small receptions and meal functions.  Business and university groups often occupy both rooms: one for meetings and the other for break-out groups or catering services. The Agnew room has three large conference tables that may be arranged to accommodate your group size and needs. The Lecture Room offers flexible set-up as well.  Wireless internet is available in both rooms.

Capacity: Lecture Room - Seated 30; Standing 40

Agnew Room - Seated 25 (conference style); Standing 50


The Fran Hanson Visitor's Center

The Fran Hanson Visitor's Center, formerly the 1998 Wren House    Southern Living Showcase Home, is a unique, welcoming and truly Southern facility for a variety of functions. On the main floor, guests are greeted by an elegant foyer, enchanted by the Garden Discovery Room, and impressed by the enormous stone fireplace in the Garden Gathering Room (a great location for cocktail parties or cake cutting). Through double French doors, the garden terrace and lawns are available for a true garden party. The ground floor of the Visitor's Center is often reserved in conjunction with the Upper or Lower outdoor lawns to allow guests an outdoor experience with indoor comforts.

The top floor offers three large gallery rooms and a hall foyer with picturesque views of the wildflower meadow and the Garden's lush rolling landscapes. Each room may be reserved individually for meetings or events, or utilized as dressing rooms for wedding parties (a bride is able to look out upon her arriving guests).  An elevator accommodates guests with special needs.

Capacity: Seated - 25 per separate upstairs room; 50 for seated meals in separate rooms; up to 100 standing for receptions

Carriage House

The Betsy Campbell Carriage House features a large room with doors that open to an adjoining patio overlooking formal gardens.  It is a great gathering place for parties, luncheons or as a staging area or dressing room for larger events held on the lawns. 

Capacity: Up to 36, 24 seated, 12 outside
South Carolina Botanical Garden
South Carolina Botanical Garden | 150 Discovery Lane Clemson, SC 29634