Staffed by licensed pharmacists who are available to assist any Clemson student, spouse of student or employee with prescription or medication needs.
Fill prescriptions prescribed by Student Health Services providers and/or outside providers, located in-state or out-of-state.
Provide professional, confidential and courteous service in a time-saving environment at cost-effective, competitive prices.
Specialize in student health care needs, including immunizations, over-the-counter recommendations, travel questions and addressing any health-related concerns.
Easy Ordering and Pickup
Easily and quickly refill prescriptions using the MobileRx app (download in Apple App Store or Google Play). In the app you can see all active prescriptions and refill without needing a refill number. You can also set up reminders to take your medication. Other ways to refill prescriptions are listed below.
A valid government-issued photo ID is required for all controlled substance prescriptions and pseudoephedrine purchases.
Pharmacy Insurance and Prescription Transfer

We file as an in-network provider for most pharmacy insurance plans. Our goal is to have your prescriptions ready when you need them, so please use our online form to: 

You may also complete the Pharmacy Prescription Card Information Form and/or Prescription Transfer Form and fax or mail them to the pharmacy in Redfern Health Center:

Redfern Health Center
Clemson University
735 McMillan Rd.
Clemson, SC 29634-4054
Fax: 864-656-2500

Please note: Our pharmacy at Redfern is a preferred pharmacy for the Clemson Student Health Insurance Plan. Here, enrollees have no deductible and lower copays. 

Prescription Refills

Request refills 24 hours a day, seven days a week: 

In the mobileRx App:

By calling the pharmacy: 864-656-3562 (follow the Interactive Voice Response (IVR) prompts)

Drug Take-Back Box

Safely dispose of your unused or expired medications in the drug take-back box, located in our pharmacy at Redfern.

Accepted

Prescriptions
Vitamins
Prescription Ointments
Pet Medications
Prescription Patches
Over-the-Counter Medications

Not Accepted

Needles
Inhalers
Aerosol Cans
Thermometers
Lotions or Liquids
Hydrogen Peroxide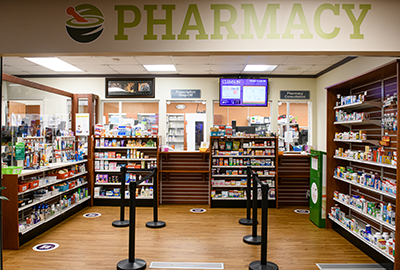 Hours of Operation
Monday-Friday – 8 a.m.-4:30 p.m.
Wednesday – 9 a.m.-4:30 p.m.
Frequently Asked Questions
Student Health Services
Student Health Services | Redfern Health Center, 735 McMillan Road, Clemson, SC 29634