Digital Art and Design Media Studio
Establishing a BA in Art with Digital Art & Design emphasis addresses a recommendation from the 2015 NASAD Visitors Report: "The department should strategically consider how digital approaches could be further integrated into its curricula." The B.A. in Art with Digital Art & Design Media emphasis proposal supports and builds on this recommendation. The title uses "&" deliberately and with intention, as the three disciplines are linked and overlap as digital media, and can be responsibly offered as a cluster within our current instructional capacity.
Art, BA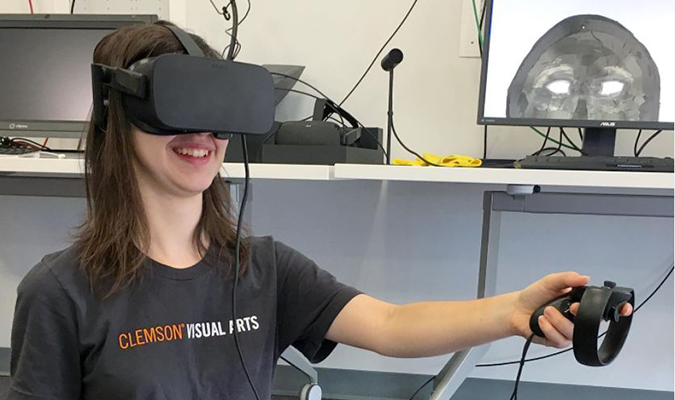 Digital Art & Design Media Overview
B.A. Art with Digital Art & Design Media emphasis students combine emerging technologies and new artistic strategies with traditional forms, materials and methods. They explore unconventional strategies in image generation, sound, installation, performance, time-based art, design and virtual spaces. The three primary disciplines within the Digital Art & Design Media are New Media, Animation, and Graphic Design. This emphasis responds to distinct student interest in these disciplines, and the department possesses a full sequence of courses in each area, but they are not yet offered within our BFA Visual Art degree as stand-alone concentrations. In order to provide students with a program to permit initial study within these dynamic and evolving genres, we have developed this emphasis cluster as a first step toward potentially new BFA degrees, and to address the changing and expanding techniques, approaches, and concepts of contemporary digital media in artistic practice.
Through combination of these discipline courses, the curriculum will encourage students to explore various media within the Art Department, and synthesize studio art practice with interdisciplinary coursework across the university through a required minor or a second major. This reflects the BA's integration with and application to other fields - students will be asked to identify, evaluate, and analyze disciplinary knowledge in the larger academic context and disciplinary interaction with society-at-large. BA in Art Digital Art & Design Media emphasis students are exposed to a broad array of artistic accomplishments and encouraged to hone their connections between concept and media in the pursuit of individual, creative development.
Student Outcomes for Digital Art & Design Media emphasis:
Develop creative artwork that utilizes digital design tools and technology in a range of contexts and applications.
Develop creative practices combining emerging technology and applied design coursework in discourse with traditional artistic and STEM disciplines through problem solving and experimentation.
Access emerging technologies and design tools, platforms, and materials in order to provide a skill set based on problem-solving.
Establish a range of knowledge and abilities to pursue a range of dynamic career opportunities with emerging technologies and design application, and leave the program with a level of digital literacy for a future of evolving digital communication, as well as means of digital dissemination of information.
Understand contextual discourse across traditional and emerging visual arts disciplines, through critique, readings, and critical writing.
Establish knowledge for career opportunities and entry to various fields in digital art and design media.
Create focused research in a final signature assignment during professional preparation experience.
Department of Art
Department of Art | 2-121 Lee Hall, Clemson, SC 29634