Director: Kimberly Souther | Class: MUSC 3640 | Audition required
Come play with Clemson's very own symphony orchestra, a mostly student ensemble, that performs four to six times throughout the year. The repertoire ranges from Baroque classics to Romantic masterpieces, exciting new works and music for the movies. Most concerts feature a terrific soloist.
Orchestra auditions for seating, scholarships, and the Clemson University String Quartet are held in August. All interested students should bring their instruments to the first rehearsal at which time short excerpts will be distributed.
Auditions will include excerpts and a selection of the musician's choice. Auditions are five minutes long and can be scheduled with the conductor.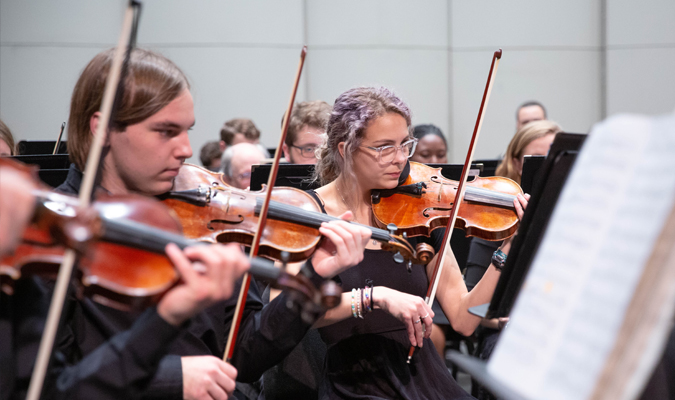 Director:  Leslie Warlick | Class: MUSC 3330 | Audition required
The Clemson University String Quartet is one of the ambassadors of the Department of Performing Arts, playing regularly at university, college and Brooks Center events. This fine group is heard off-campus as well, performing for benefit events and local social activities.
Quartet members are required also to play with the Clemson University Symphony Orchestra and earn a grant-in-aid for their hard work and expertise.
Auditions are held in conjunction with orchestra auditions during the first week of fall classes. The chosen players are appointed for the entire school year.