Director: Paul Buyer | MUSC 3360 | Auditions required
Percussion Ensemble is offered in the fall and spring semesters and is open by audition to all interested students. The ensemble rehearses Tuesdays and Thursdays from 12:30 - 1:45 p.m. in the Fall and Spring semesters. Membership in one of the following large ensembles is required: Tiger Band, Symphonic Band, Jazz Ensemble, Symphony Orchestra, Concert Band or Basketball Pep Band.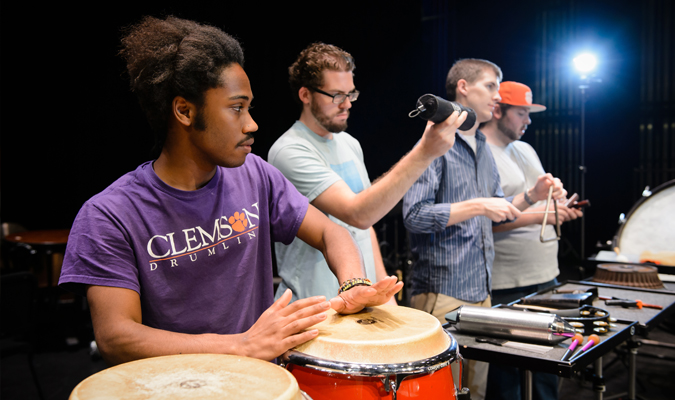 Director: Paul Buyer | Class: MUSC 3370 | Audition required
The Steel Band includes 18 players and features four lead pans, two double seconds, two cellos, one bass and engine room. The band performs a variety of musical styles including calypso, soca, pop, classical and Latin. 
 
The Gigging Steel Band is a select group of six players and is a professional ensemble available for hire. The Gigging Steel Band is active in the fall and spring semesters and performs on campus and in the community. The Gigging Band was founded in 2003 and featured on Michael Feldman's "Whad'Ya Know" radio show for an estimated 1.5 million listeners during a live national broadcast in 2004.
 
The Clemson Steel Band has recorded three CDs: Steelin' the Spotlight," "One Small Step for Pan" and "Pan Overboard."
The Clemson Steel Band performed with steelpan virtuoso Liam Teague in April 2016 and has also performed with Tom Miller, Chris Tanner, Chris Wabich and Arthur Lipner among others.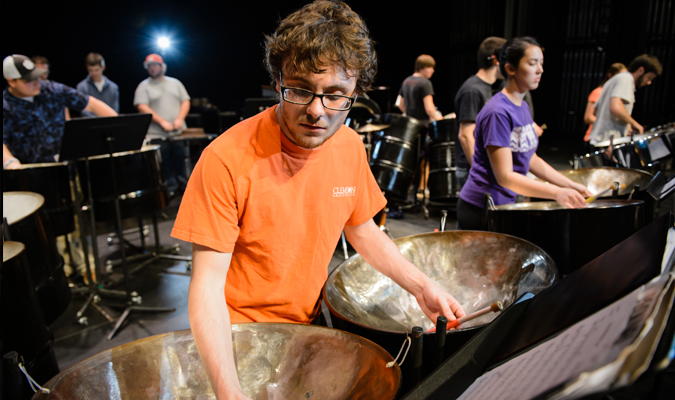 Director: Paul Buyer | MUSC 3300 Sec 001 | Audition required
The Clemson University Drumline (CUD) is Clemson's premier marching percussion ensemble  and is a section of the Clemson University Tiger Band - known as "The Band That Shakes The Southland." Being part of the drumline at Clemson not only teaches students how to have confidence and perform to an audience, it also teaches value of teamwork, provides character development, and builds leadership skills. Rich tradition, high standards, and performance excellence are trademarks of both the Clemson University Drumline and Tiger Band.
The mission of the Clemson Drumline is to exhibit the core values that define CUD, to demonstrate excellence in everything we do, and to improve from rehearsal to rehearsal, game to game, year to year.
The Clemson Drumline is sponsored by Yamaha Marching Percussion, Sabian Cymbals, Remo Drumheads and Vic Firth Drumsticks. We greatly value the relationships we have with all of our sponsors.
All returning members and new auditionees will submit a video for the first round of auditions, due June 1. For complete video audition information and timeline, visit the Clemson University Drumline website.