The Department of Performing Arts offers a variety of dance classes each semester. A performing arts dance fee is assessed.
DANC 1300 – Tap Dance I
DANC 1400 – Jazz Dance I
DANC 1500 – Contemporary Dance I
DANC 1600 – Ballet Dance I
DANC 2300 – Tap Dance II
DANC 2400 – Jazz Dance II
DANC 2500 – Contemporary Dance II
DANC 2600 – Ballet Dance II
DANC 3100 – Dance and Society
DANC 3110 – Dance Composition I
DANC 3120 – Dance for Musical Theatre I
DANC 3130 – Dance Composition II
DANC 3140 – Dance for Musical Theatre II
DANC 3300 – University Dance Company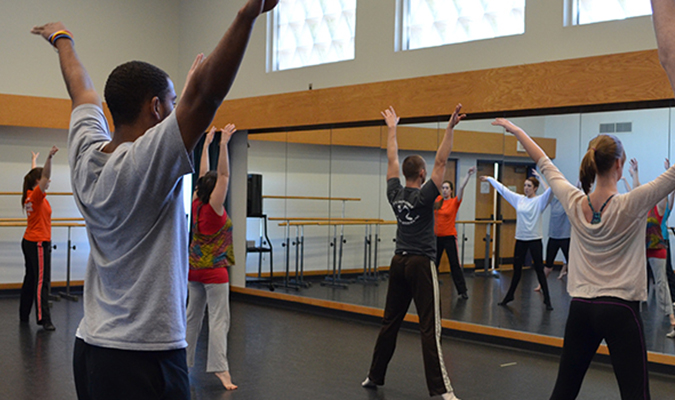 Director: Cheryl Hosler | Class: Dance 3300 | Audition required
The University Dance Company is designed to offer students the opportunity to learn and perform choreography at an intermediate to advanced level. The Company's members meet twice a week, Tuesdays and Thursdays, 11:00-12:15, and perform an annual recital each spring. Auditions are held twice a year - at the beginning of the fall semester and during the spring semester.