Building People and Communities
The College of Behavioral, Social and Health Sciences joins together a unique combination of schools and departments: Communication; Nursing; Parks, Recreation and Tourism Management; Political Science; Psychology; Public Health Sciences; and Sociology, Anthropology and Criminal Justice. 
While each area is distinctive, we work together as a 21st-century land-grant college – addressing health and wellness challenges, tackling human impacts on the environment, and better understanding human, political and social behavior and the impact of an ever-connected world. These efforts in teaching, research and service further our mission of "building people and communities" in South Carolina and beyond.
"The influential work that our researchers do across the country and the globe is vitally important. We also focus on what is going on in our own backyard. There are underserved communities across the state and we use our research, learning and service opportunities to address critical needs throughout South Carolina, fulfill Clemson's land-grant mission, and position ourselves as a 21st-century land-grant college."

Leslie Hossfeld

Dean

College of Behavioral, Social and Health Sciences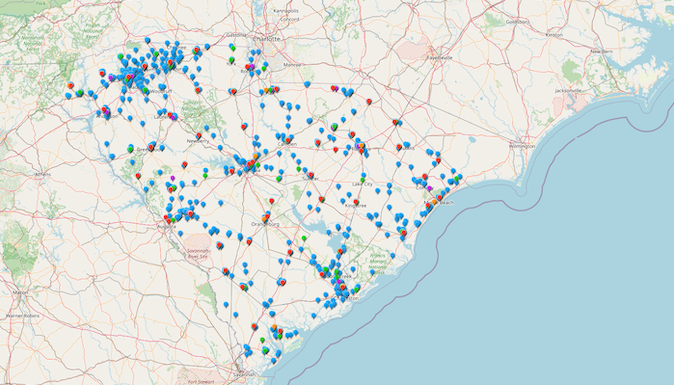 South Carolina Food Access Map
In 2020 the College of Behavioral, Social and Health Sciences' Land Grant Local program created a Food Access Map as part of its efforts to aid Upstate residents in ten counties facing food insecurity during the COVID-19 pandemic. The map included information on organizations and the type of assistance they provide as well as operating hours and availability. The Land-Grant Local team worked with the United Way of Pickens County, the nonprofit organization Ten at the Top, and Clemson's Joseph F. Sullivan Center interdisciplinary health center on the project, to provide information on different food resources across the Upstate. Now, in 2022, the map has been updated to include partners and agencies across all the 46 counties in South Carolina through a grant with the South Carolina Department of Health and Environmental Control (SCDHEC) Office of Environmental Affairs. Clemson Students have worked to verify and update information on over 882 food pantries and food resources, as well as locations and contact information for Department of Social Services, SCDHEC Offices, and United Way locations for all 46 counties.
Explore the Map
College of Behavioral, Social and Health Sciences
College of Behavioral, Social and Health Sciences | 116 Edwards Hall