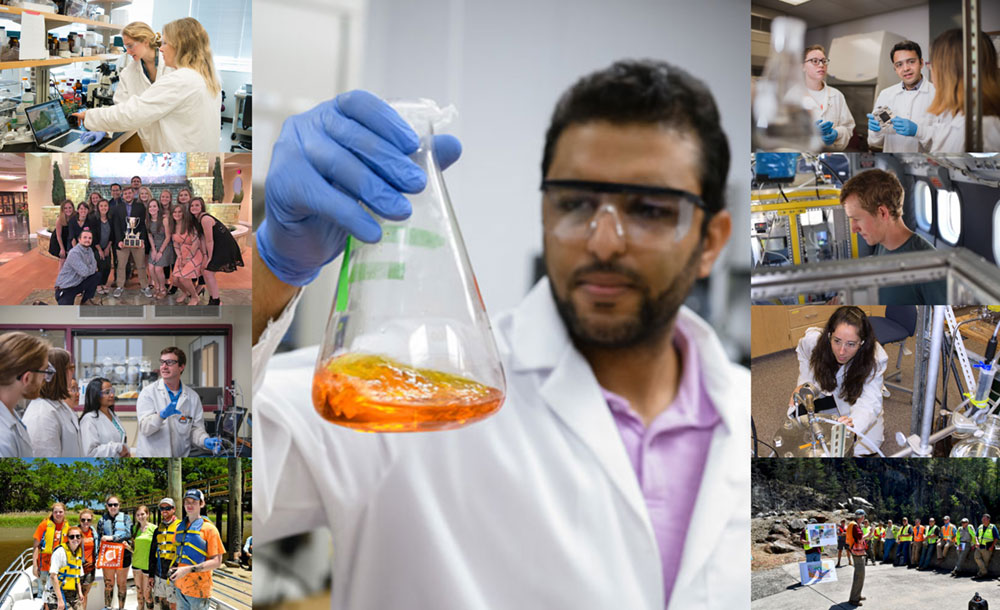 Faculty and students in EEES form a vibrant research community tackling a wide array of multidisciplinary problems spanning basic research to unravel the complex processes in our environment to applied science and engineering to find solutions to real-world problems.
Many of our faculty investigate interactions and feedback between physical, biological, and chemical processes in natural and human-influenced environmental systems. Examples of active research include modeling contaminant behavior in aquifers, remediation of hazardous waste sites, and control of emerging contaminants in drinking water.
Focus Areas
Our faculty is highly dedicated to advancing earth and environmental education. We are continuously involved in efforts to improve our academic programs, engage undergraduate students in research, provide outreach opportunities to K-12 teachers and students, and enhance the stewardship of the Earth by the public.
Sustainability

Sustainability is another central area of research in our department. Faculty active in this area are finding ways to minimize the release of pollutants to our environment. Understanding the characteristics of emerging contaminants, site assessment, physical and biological treatment system design, life cycle assessment, the development of best management practices, and policy-based engineering are some of the many topics being pursued in this area.

Environmental Contaminants

The chemistry, characterization, and remediation of environmental contaminants is another major area of research in our department. Our faculty are leading the way across the range of contaminant sciences, from developing novel environmental sensors and characterization techniques to understanding fate and transport in natural media and defining the cutting-edge of in-situ remediation technologies.

Earth Resources

We are also active in the characterization and management of earth resources, including water, energy, minerals, and ecosystems. In addition to traditional mineral and petroleum geology, the unique cross-disciplinary background of our faculty is providing exciting opportunities for enhancing environmental sustainability, including work in the areas of biofuels, carbon sequestration, and water resources.
The Department of Environmental Engineering and Earth Sciences encourages undergraduates to participate in department research or Creative Inquiry projects. Geology majors are required to complete a research project to graduate. Students work with a faculty mentor to plan and develop their research, presenting it at a professional conference a the end of senior year.
Our faculty pursue a diverse range of environmental research topics benefiting all of our students by mentorship and planning and performing research projects compatible. To provide students with the optimal resources for research, our facilities are spread over two campuses: Brackett Hall on the main Clemson University campus and the Rich Lab at the Clemson Advanced Materials Research Park.
M.S. Theses and Ph.D. Dissertations
Clemson University has a repository of M.S. theses and Ph.D. dissertations published since 2006. These are available through TigerPrints, which is maintained by the Library. If you would like a copy of a thesis or dissertation from an EEES alum published prior to 2006, please contact Briana Peele. Departmental staff/faculty may access archived theses and dissertations via Box login.
"When I show [fellow students] how to do it, and they're trying to figure it out, and there are a lot of steps, but all of a sudden they get it– I love those moments. That's kind of my legacy here. This equipment is set up, and there are people who know how to use it when I'm gone."

Jessica Deaver

EEES Ph.D. '22
Environmental Engineering & Earth Sciences
Environmental Engineering & Earth Sciences | 342 Computer Court, Anderson, SC 29625