Safety is Priority No. 1
Dear Clemson University Community:
There is no higher priority for Clemson University than the safety of our students, faculty, staff and campus visitors. This has always been true, but in the last few years Clemson has focused even more attention on our efforts to keep you safe. Those efforts are paying off — a recent report in USA Today named Clemson the safest college campus in the nation.
The CU Safety website provides crucial information on all aspects of safety and security, from emergency preparedness to crime prevention. On the website, students and others can watch safety videos, report a safety issue, sign up for CU Safe text alerts, find directions on how to install the Rave Guardian application on a device and learn about hazardous weather, disaster warnings, evacuation procedures, victim services provided on campus and much more.
This publication, the annual Security and Fire Safety Report, which documents all safety programs and policies, is part of that larger effort. It reports crime and fire safety statistics, tells you who to call, what to do if you witness or are the victim of a crime and offers tips to increase your safety awareness.
Although Clemson is safe, no campus in America is completely crime free. We need your help to make sure that everyone at the university remains safe and secure. Thank you for giving your careful attention to this important information.
Sincerely,
James P. Clements, Ph.D.
President
Clemson University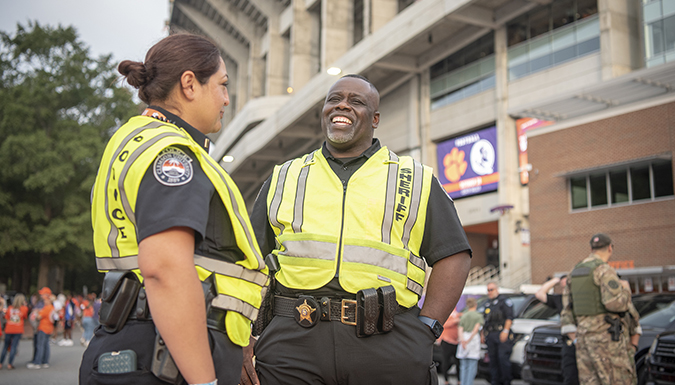 Annual Security and Fire Safety Report
The Clemson University Police Department (CUPD) prepares this annual Clemson University Security and Fire Safety Report to comply with the Jeanne Clery Disclosure of Campus Security Policy and Crime Statistics Act.
Current Security and Fire Safety Report (PDF)
Archived reports:
Clemson University Police Department Annual Report