Message from Chief Mullen
Welcome back Tigers!
A new academic year is here, and the energy level is high across campus. It was exciting to see all the new faces arrive during move-in, as well as returning students who are eager to continue their Clemson Experience.
For the members of Public Safety - Police, Fire & EMS, Emergency Management and physical security – this time of year reminds us of the critical roles that we play in ensuring a safe and secure environment for you to live, learn and enjoy all that Clemson and your college experience has to offer. We take this responsibility very seriously and want to partner with each of you to co-create a vibrant atmosphere grounded in knowledge, understanding and awareness, leading to crime prevention and a safety mindset.
As you engage in all the things that Clemson has to offer, please keep the following items in mind that will assist you.
Be responsible with alcohol
Alcohol and other substances can turn any situation into a nightmare. If you plan to drink, be responsible and follow these tips.
Monitor your drinks to prevent being impacted by date rape drugs and other harmful substances.
Avoid being alone when consuming alcohol in bars or at parties.
Make sure to have a friend along and agree to watch out for each other.
Being an active bystander can prevent tragedy from occurring that has lifelong impacts.
Do not drink and drive. CUPD takes DUI enforcement very seriously. Getting DUI drivers off the roadways is a key element in preventing injuries and death resulting from vehicle crashes.
Only take medications prescribed for you
It is also critically important to be aware of counterfeit prescription pills. Across the country, people of all ages are dying because of fentanyl poisoning. This most often occurs when individuals take pills they believe to be legitimate pharmaceuticals, which contain fentanyl or other dangerous drugs. These drugs are available on the internet or come from acquaintances and may contain a dangerous mixture of substances that cause serious medical emergencies or death. Our message on this topic is simple – do not take drugs that you did not receive from a doctor or pharmacist.
Sign up for CU Safe Alerts and download Rave Guardian
We also need your help preparing our campus to respond to incidents involving acts of violence or threats.
Sign up for emergency notifications, known as CU Safe Alerts! This system is only used for emergency notifications and you will only receive messages in the event of an emergency.
Download the Rave Guardian app! Rave Guardian provides a number of useful features designed to help keep you safe on campus.
See something, say something. Pay attention to suspicious circumstances and behaviors. Contact CUPD or any campus authority if you see activities that raise concerns. Our goal is to prevent bad actions before they happen, rather than simply respond should they occur.
Be prepared with Run, Hide, Fight principles
Understand your role during an active threat. Be familiar with the Run, Hide, Fight principles. Be informed, have a plan and follow instructions from emergency responders. These actions will assist you and allow you to assist others should a critical incident occur on campus or in the surrounding community. Visit the Active Threat Preparedness section of the CUPD website to learn more about Run, Hide, Fight and how you can prepare for an active threat situation.
Other important safety reminders
While these are key safety areas that are important for Clemson students, there are many more for you to consider:
Be mindful of the rules of the road when operating e-scooters and other micro-mobility devices. These devices can create fire hazards and are not allowed in any Clemson facility. Likewise, they are prohibited from being charged on campus.
Be aware of potential scams. Do not provide personal information to people you do not know and never send money to someone who is offering jobs or services that you cannot verify. If the offer seems too good to be true, it probably is a scam. Also, be careful about sharing personal pictures or images that can put you in compromising situations. Scammers will use anything to get money including extortion.
Protect your property. Clemson is a safe place but there are still those willing to take advantage of you should you leave your property unattended. Be smart, safeguard valuables and do not become a victim.
Finally, be a responsible member of the Clemson community. Every year, we engage with students who vandalize or destroy property. Often, the reason cited for this behavior is tradition. This is especially true when it comes to removing or damaging emergency equipment like exit signs. Please understand that this behavior is not only illegal but also costs money that could be used for other activities and places you and others in danger should an emergency occur. Do not negatively impact your Clemson Experience with a criminal or conduct charge for inappropriate behavior.
Our goal in Public Safety is to work collectively with each of you to create the No. 1 student experience. To accomplish this goal, we need your help as we strive to enhance safety, reduce risk and prevent harm. Let's partner together to make this your best year ever!
Go Tigers!
Gregory G. Mullen
Associate Vice President for Public Safety | Chief of Police 
Clemson Public Safety – Serving with Purpose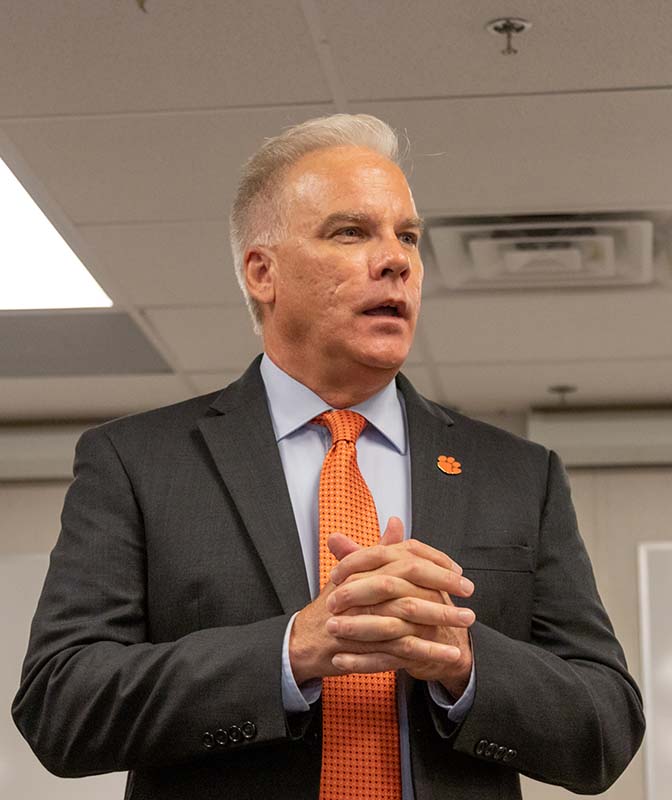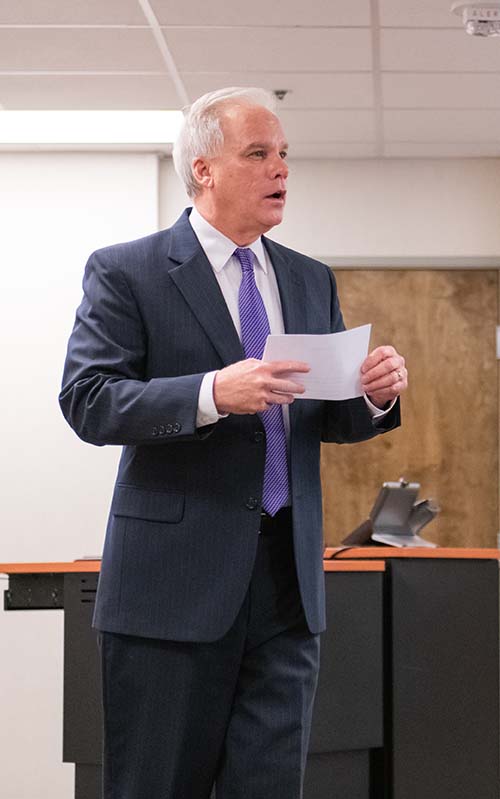 More Messages from the Chief