Join Our Team
The Clemson University Police Department (CUPD) provides an opportunity to serve at one of the nation's premier universities in beautiful Clemson, South Carolina and be a part of something greater than one's self. Working with us is a commitment to serve and protect students, faculty, staff, alumni and visitors who make Clemson unique and special. We value honor, integrity, courage, inclusion and respect as the foundation of our work. Earning the title of Clemson University police officer allows you to make more than just a living — you can make a difference!
If a challenging environment appeals to your personal values and career aspirations, consider applying to join our team!
CUPD affords employees many opportunities to develop their careers. With resources such as the university's college incentive program and the department's in-service training, officers can compete for promotional positions. All promotions are merit based as determined by a competitive promotional process administered by the department.
There are specialized sworn officer positions available in the following units: Criminal Investigations, Crime Prevention, Special Response Team, K-9 and Power Shift.
CUPD staff includes 70 employees (49 sworn and 21 professional staff). If you are interested in learning more about becoming a member of our growing team, please email Lieutenant Rashad Dwayne Murray.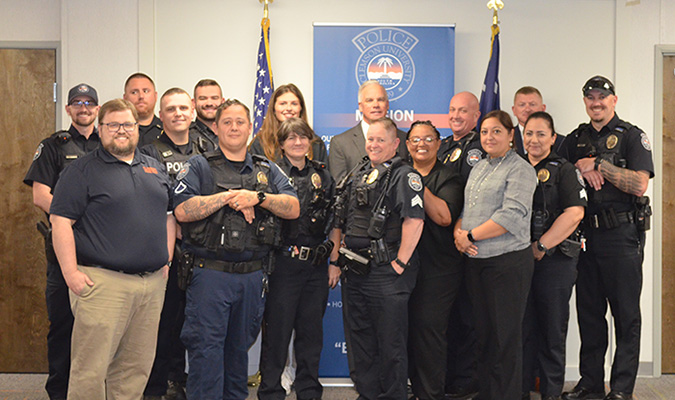 ELIGIBILITY
Candidates must meet the following requirements:
Be at least 21 years of age.
Be a U.S. citizen.
Have a high school diploma or equivalent.
Have or be able to obtain a valid South Carolina driver's license.
Have not had a driver's license suspension during the last five years for DUI.
Never been convicted of a felony or criminal domestic violence.
Never been convicted of a crime of moral turpitude or a misdemeanor carrying a sentence of more than one year.
Have not defaulted on a student loan.
Have a good credit history.
Once employed, sworn incumbents attend Basic Law Enforcement Training through the South Carolina Criminal Justice Academy. Training consists of four weeks of classroom training held locally, followed by eight weeks of in-person training at the South Carolina Criminal Justice Academy in Columbia, South Carolina. Certified officers from other states and military police officers may qualify for acceptance to the Special Basic Training program and attend an accelerated certification process. The CUPD Police Training Officer Program consists of 15 weeks of departmental field training with a certified Police Training Officer. This program may be modified for officers with prior law enforcement experience. All newly hired officers complete a probationary period of one year.
BENEFITS
Employees may be eligible to receive the following:
State Health/Dental/Vision Option
Retirement: Officers participate in the South Carolina Police Officers Retirement System (PORS). The university and the officer both contribute funds monthly to this program.
Tuition Assistance: Clemson University offers employees six credit hours of tuition assistance per semester after one year of employment.
Uniforms and Equipment: Provided at no cost to the employee
Holidays: Thirteen paid holidays provided per year
Annual Leave: Accrual at a rate of 10 hours per month
Sick Leave: Accrual at a rate of 10 hours per month
Insurance: Medical, dental, vision, pharmaceutical and life insurance policies are available through the South Carolina State Health Plan. Family members may be added to the medical insurance program at a group rate.
Military Leave: Visit the South Carolina Office of Human Resources webpage for full details.
Gym Membership
Updated Tattoo and Facial Hair Policy
Outer Vest Carriers
Comprehensive Duty Gear
Special Event Pay
Additional Training Available Above and Beyond Annual In-Service Training
No College Degree Required
SALARY
Salary levels are competitive and based on the results of periodic salary surveys. Salary levels are also dependent upon the officer's rank in the department. The starting salaries as of March 2020 are as follows:
ARE YOU ALREADY SOUTH CAROLINA CLASS I CERTIFIED?

$7,500 SIGNING BONUS!!
Non-Certified Officer (Pre-Academy) = $41,353
Certified Police Officer = $43,420
Police Officer I (1 year experience) $45,591
Police Officer II (3 years experience) $47,870
Senior Police Officer (5 years experience) $50,263
Master Police Officer (7 years experience) $52,775
Career Development Steps: Officers who meet promotion requirements involving time in service, training, process improvement initiatives or collateral assignments, and educational achievement are eligible for career development steps.
In addition to base pay - CUPD offers Shift Supplements for 12 Hour Shift Employees
Day Shift 12-hour Sworn Officers & TCO's - $2088 per year
Night Shift 12-hour Sworn Officers & TCO's $4176 per year
CONTACT US
Clemson University Police Department
124 Ravenel Center Place
Seneca, SC 29678-4012
Emergency: 911
Nonemergency: 864-656-2222
Fax: 864-656-0714
Email: police@clemson.edu