Mission
Our mission is to enhance safety, reduce risk and prevent harm from affecting the Clemson University community.
Vision
Clemson University Police Department (CUPD) is an organization setting the standard of excellence in law enforcement through integrity, compassion, service before self and honor above all.
Core Values
Honor, Integrity, Courage, Inclusion, Respect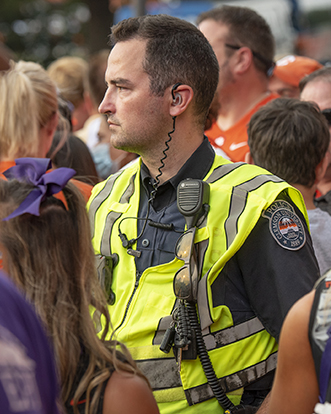 Guiding Principles
We will collaborate with university partners to create and foster a safe, secure campus through education, community service and strategic enforcement. We will utilize innovative technology, specialized training, community policing strategies and strong partnerships to enhance the university's living and learning environment.

We will create an environment that champions the success and well-being of our students, faculty, staff and visitors through professionalism and a commitment to service. We will foster a climate of trust and respect through a commitment to diversity, equity and procedural justice principles.