Public Safety Citizens Academy
ABOUT PUBLIC SAFETY CITIZENS ACADEMY
The Clemson University Public Safety Citizens Academy is an educational and informative opportunity for participants to learn about the issues impacting public safety efforts in our community. The program will provide insight into the philosophy and operations of CU Public Safety, to include Police, Fire/EMS, and Emergency Management. The Citizens Academy creates engagement opportunities to better understand public safety work in the community and develop stronger ties between our community and public safety departments.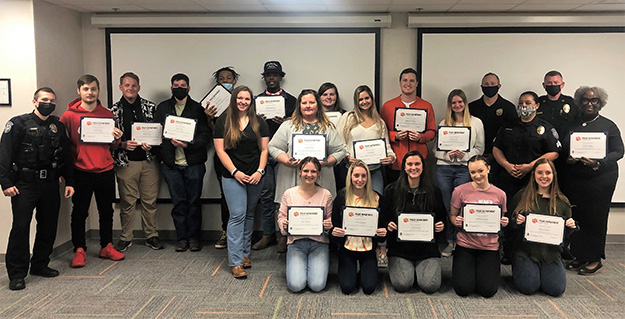 WHO CAN ATTEND
Students, Faculty and Staff of Clemson University who have an interest in learning about the workings of the police department. Must be 17 years or older. The class will be limited to 20 participants.
For additional information, contact:
Sgt. Michelle Young
864-656-2222
myoung@clemson.edu
WHEN
Spring 2023 Citizens Police Academy Meetings will begin on Tuesday, February 28th and run every Tuesday until April 25th from 6:00 - 8:00p.m.
Sessions will take place one day per week for eight weeks.
A graduation ceremony will occur after the final session.
Participants must attend 7 of the eight sessions to be eligible for the completion certificate.
WHERE
Clemson University Police Department
124 Ravenel Center Place
Seneca, SC 29678
COST
FREE! There is no charge to attend the academy. If you or anyone you know are interested in attending the virtual-online academy, please complete the application below.
Public Safety Academy Registration
Interested in attending the Public Safety Academy? Please fill out the form below to register.
The application will be sent to SGT Michelle Young when you click the SUBMIT button above.If you have any questions about the Citizens Academy, please contact SGT Young at myoung@clemson.edu or by calling 864-656-2222.