Principle 5: Garden Like a Local
Native plants are those that have evolved over thousands of years in a particular habitat without interference from man. Native plants play a vital role in protecting biodiversity and often require less water, fertilizer, and pesticides because they are adapted to local growing conditions. Keep in mind that it has become common practice for native topsoil to be stripped during new construction and replaced with fill material that may be very different from the original soil. It is important to take this into account so you can select plants suited to the current growing conditions in your yard.
The South Carolina Native Plant Society is a great resource for learning about native plants.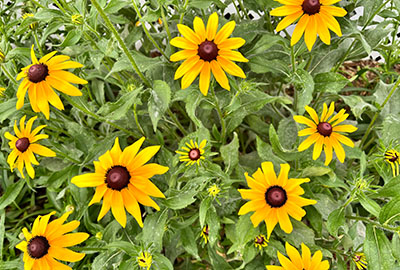 Choose native plants (flowers, trees, shrubs, vines and groundcovers) for your yard, considering those most suitable to site conditions.
 Protect native trees and shrubs in your yard.
 Avoid heavy traffic or storing equipment under mature trees and shrubs to help preserve established plant communities and prevent erosion or soil loss. When doing any construction activities in your yard, protect as much mature native vegetation as possible. Create a "do not disturb" area if necessary.
 Protect your native shoreline plants. Never prune or remove vegetation at the water's edge without first seeking proper guidance.
 Plant a buffer of native plants along your shoreline that is at least 2 feet wide or as wide as your buffer ordinance allows.
 Get creative. What else can you do to encourage native plants in your landscape?
Cooperative Extension Carolina Yards
Cooperative Extension Carolina Yards | 103 Barre Hall Clemson, SC 29634