Principle 4: Right Plant, Right Place
Good landscape design hinges on choosing the right plant for the right place. Select plants that fit the conditions of your yard to help reduce the need for irrigation, fertilizer, pesticides, and pruning. Take note of sunlight patterns, soil type, water availability, existing vegetation, and potential obstructions. Determine the purpose of the plants you are selecting, such as shade, focal point, and wildlife benefit, for example. Use the Carolina Yards Plant Database to find plants that meet these requirements.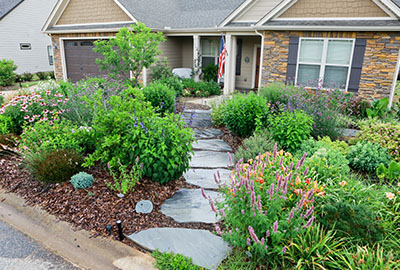 Design and maintain a yard that thrives predominantly on rainfall once plants are established.
 Reduce the need for water, fertilizer and pesticides by choosing plants suited to the site conditions in your yard.
 Save energy by using trees and shrubs to shade the eastern and western walls of your home.
 Use deciduous trees or shrubs on southern exposures to allow sunlight to passively heat your home in winter.
 Group plants according to their maintenance needs.
 Determine how much open lawn area is ideal for children, pets and recreation. Where possible, use low-maintenance groundcovers, shrubs, mulch or other pervious materials that allow water to infiltrate.
 Decrease soil erosion by planting groundcovers where lawn will not grow well, such as under trees or on steep slopes.
 Reduce yard waste by choosing plants that will not require frequent pruning when they reach maturity.
Cooperative Extension Carolina Yards
Cooperative Extension Carolina Yards | 103 Barre Hall Clemson, SC 29634