Principle 12: Provide for Wildlife
Plants serve many purposes in the landscape. Proper selection of plants can support local wildlife by providing the basic needs of food, shelter, and a place to raise young. You can select plants that will be attractive to the particular type of wildlife you would like to enjoy in your yard. The more variety in your plants, the more types of wildlife you can expect to enjoy.
The South Carolina Wildlife Federation is a great resource for supporting wildlife. If you're particularly interested in birds, try using Audubon's native plant database.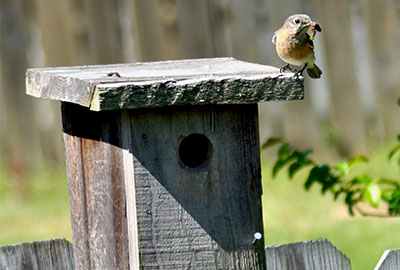 Learn to identify five kinds of wildlife that live in your yard.
 Plant native plants to provide wildlife habitat.
 Provide a water source, such as a birdbath or a pond.
 Keep natural wildlife shelters in your yard that may include woodpiles and older trees. Insects are an important food source for other wildlife.
 Provide wildlife shelters such as a bird or bat house.
 Establish a butterfly garden by providing nectar and host plants for butterflies and beneficial insects.
Cooperative Extension Carolina Yards
Cooperative Extension Carolina Yards | 103 Barre Hall Clemson, SC 29634