Clemson University is a tobacco-free campus as of Jan. 1, 2016.  The policy was approved by the University's administrative council, based on input from a task force comprised of faculty, staff, undergraduate and graduate students.
All forms of tobacco and smoke-related products are prohibited under the policy. Along with cigarettes, the ban includes chewing tobacco, smokeless tobacco and electronic cigarettes/vapping, which have gained popularity as a tobacco alternative.
The policy applies to all university faculty, staff, students and campus visitors and is in place for all Clemson campuses, as well as university-owned and leased facilities.
Clemson joins more than 2,000 colleges and universities that have tobacco-free policies.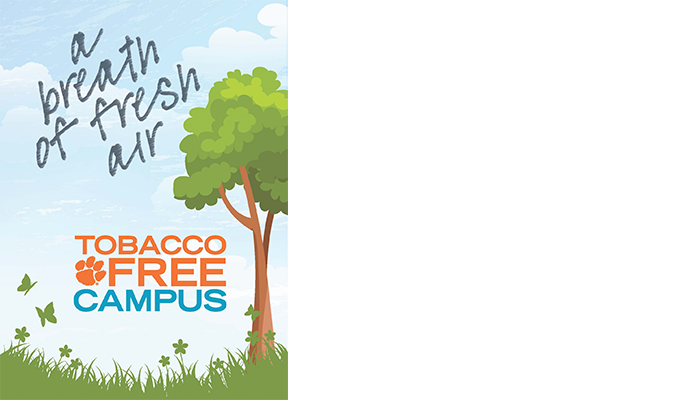 Clemson University Tobacco Policy
Tobacco Cessation Programs, Support and Resources
There are great campus, state and national resources and support available to help you quit. Different quit options include tobacco cessation counseling, medication and text/phone/Web support.
Tobacco cessation programs provide support and encouragement to help tobacco users quit. Nicotine replacement therapies and other tobacco cessation products can help reduce withdrawal symptoms that make it harder to quit.
Tobacco-Free Campus Window Clings
Clemson University departments can request tobacco-free campus window clings. To place a request, please contact Lauren Pollard.
Campus

Students

Counseling and Psychological Services (CAPS), located in Redfern Health Center, offers free and confidential tobacco cessation counseling and is available for students who are dealing with stress and anxiety related to quitting tobacco. 

Medical providers at Redfern Health Center can write prescriptions for nicotine replacement therapies such as nicotine patches, gum, lozenges, inhalers and nasal spray. Providers can also write prescriptions for Bupropion (Zyban). Students can fill prescriptions in the pharmacy at Redfern Health Center, and the cost of these medications is covered by most insurance plans.

Faculty and Staff

Contact the Sullivan Center to set up an appointment with a counselor in the CUQUIT program who will help you choose the best plan for you to quit using tobacco. They offer a variety of options, from medical to psychological, to  help you quit today! Most major insurance companies will cover the cost of nicotine replacement therapy, too. These services are available to Clemson employees, faculty and staff and covered dependents. 

Prevention Partners offer tobacco-cessation programs specifically designed for subscribers of the State Health Plan, BlueChoice Health Plan and CIGNA HMO.

For subscribers of the State Health Plan or BlueChoice Health Plan, The Quit for Life Program is a FREE program designed to help you get ready to quit, take action to quit, and never smoke again. There is no cost to eligible enrollees.

For CIGNA HMO subscribers, the CIGNA Quit Today Tobacco Cessation Program is available by calling the number on the back of your CIGNA ID card. You will be able to work one-on-one with a dedicated health advocate to create a personal quit plan and improve your lifestyle.

Phone

South Carolina Tobacco Quitline 

1-800-QUIT-NOW (1-800-784-8669)

8 to 3 a.m., seven days a week

The S.C. Tobacco Quitline is a FREE counseling service that helps South Carolina smokers and tobacco users quit.

Services include

One-on-one coaching

Phone or web-based counseling and support

Development of a personalized quit plan.

DHEC offers free nicotine patches, gum and lozenges to South Carolinians without health insurance.

National Cancer Institute's Smoking Quitline

1–877–44U–QUIT (1–877–448–7848) 

8 a.m. to 8 p.m., Monday through Friday 

The National Cancer Institute's Smoking Quitline offers a wide range of services, including individualized counseling, printed information, referrals to other resources and recorded messages. Smoking cessation counselors are available to answer smoking-related questions in English or Spanish. Smoking cessation counselors are also available through LiveHelp, an online instant messaging service. LiveHelp is available Monday through Friday, 8 a.m. to 11 p.m.
Student Health Services
Student Health Services | Redfern Health Center, 735 McMillan Road, Clemson, SC 29634