Tiger Commute
Tiger Commute supports students, faculty and staff commuting between Clemson, Easley and Greenville. This service connects Clemson and Easley to CU-ICAR and Clemson's Greenville campuses. It also includes two connections with the Greenlink System for bus service in Greenville.
A paid transit fee is required to board the Tiger Commute bus. Students who have paid the transit fee as part of their University bill may ride by showing their CUID card. Faculty, staff and students who have not paid the transit fee must purchase Tiger Transit Access Cards by the day, semester or year. Once you purchase a Tiger Transit Access Card, your CUID will show "green" when you board and scan your ID.
View the Tiger Commute Service Calendar (PDF) View the Accessible Tiger Commute Service Calendar (PDF)
Route details
Hours of operation
6:15 a.m.- 9:30 p.m.
Route stops and map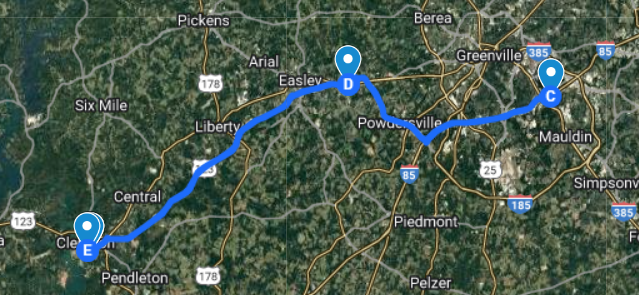 Route schedule
Tiger Commute Summer Schedule
Tiger Commute Schedule
Departs Clemson University
Departs Easley
@ 142 Rolling
Hills Circle
Departs CU-ICAR
Departs Easley
@ 142 Rolling
Hills Circle
Estimated Arrival at Clemson University
 5:50 AM
6:20 AM
7:00 AM
7:25 AM
8:10 AM
8:00 AM
8:30 AM
9:00 AM
9:25 AM
10:10 AM
Mid Day Break 
 
 
 
 
2:50 PM
3:20 PM
4:00 PM
4:25 PM
5:10 PM
5:00 PM
5:30 PM
6:10 PM
6:35 PM
7:20 PM
Parking Permit Options for Tiger Commute Riders
For those customers who have already purchased an annual permit and may no longer want it, here are some options.  
Exchange an Annual Permit for a $50 Park-N-Ride permit

Tiger Transit operates two Park-N-Ride routes from the P-5 or P-7 parking lot (located behind First Citizens Bank) and the P-6 parking lot (located at the Snow Center at Y-Beach). These permits are $50 for the year and permit users to park in the designated Park-N-Ride lot Monday–Thursday. After 4:30 p.m. each day and all day Friday, users may park on the main campus in either employee (if you an employee) or commuter (if you are a commuter) spaces. 

To exchange out your annual parking permit: 

Bring your parking permit to Parking and Transportation Services 
Complete the payroll deduction form to change the deduction amount (only required if you are in payroll deduction). 
If you paid in full for your permit, the refund amount of your permit can be used to pay for the new permit. 
Pay the $6 permit exchange fee. 

Return an Annual Permit

If you wish to return your parking permit in full, you may do so at Parking and Transportation Services. 

Bring your parking permit to Parking and Transportation Services.
Complete the Payroll Deduction Termination Form (only if you are on payroll deduction). 
Complete the Refund Request Form (only if you paid in full for your permit). Please note that the refund will not be immediate. 

Purchase Daily Permits for $4 Per Day or Several Temporary Scratch-Off Permits

For those that ride the bus frequently or rarely drive to campus, there is a temporary parking permit option for you. 
 

Online Temporary Permit for $4 per Day: 

If you know you are going to be coming to campus, you can purchase online an employee temporary permit for $4 per day.  

Follow the same steps above to access your Parking Portal and click "Get Permits."
Select "Employee Temporary Permit," check the boxes and click "Next."
Select the date(s) you want your permit to be effective. If you only need one day, your Effective Date and Expiration Date will be the same day. These permits expire at 11:59 p.m. on the date of expiration. 
Complete the purchase process. 
Print and display the permit on your dash. 

Temporary Scratch-Off Permits: 

For those that want to plan ahead or have added flexibility, you can purchase Temporary Scratch-Off Permits in Parking and Transportation Services for $4 each. You can buy 1, 5, or 10 and keep them in your glove box. When you need to use one, take one out, scratch off the date you are using it (just like a lottery ticket), and hang it on your review mirror.  These permits will allow you to park according to the standard rules and regulations of any employee permit.