The Glenn Department of Civil Engineering is located primarily in Lowry Hall and houses graduate and undergraduate laboratories, graduate student offices, and teaching and research labs. Labs and facilities extend beyond the main campus to include thousands of square feet devoted to the different research areas. Our Wind Load Test Facility laboratory houses one of the largest boundary layer wind tunnels in the nation. The Civil Engineering Department had 5.4 million in research expenditures for the academic year 2020-2021.
Focus Areas
The Department is subdivided into the six traditional areas within civil engineering. Each area is represented by faculty, who serve as members of the Graduate Program Committee, and are also the primary point of contact for their respective areas.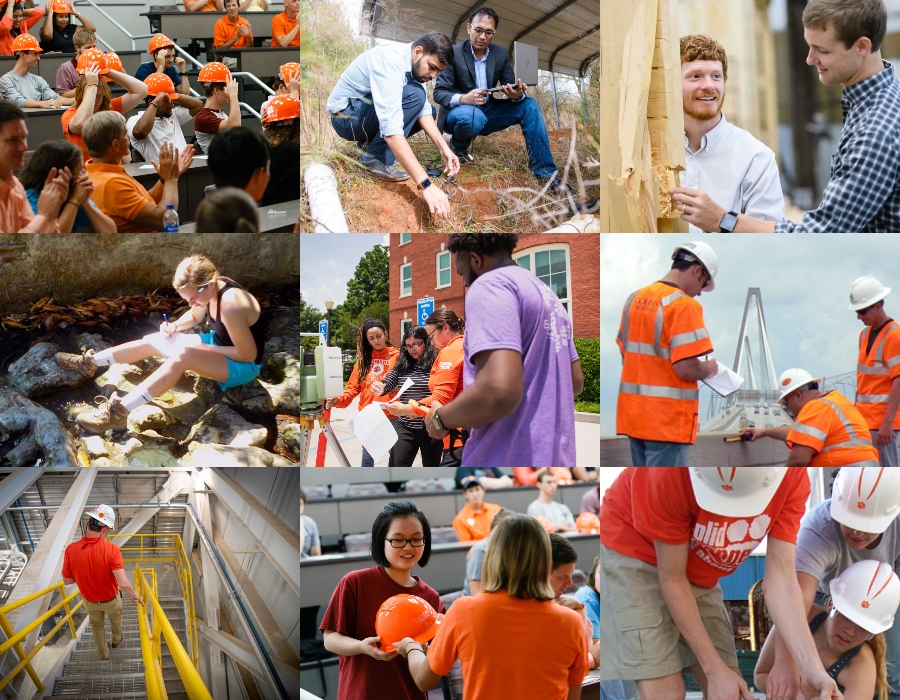 The Glenn Department of Civil Engineering encourages undergraduates to participate in department research or Creative Inquiry projects. About 25 percent of our students are involved in research throughout the year and work closely with faculty, peers, and industry on hands-on research projects.
The graduate program focuses on convergent research related to global grand challenges involving infrastructure and the environment. The degree programs emphasize engineering practice and the advancement of engineering knowledge through research.
"The summer before my freshmen year at Clemson, I had the privilege to start work as an undergraduate research assistant under both Brandon Ross and Thomas Cousins. The research was interesting, but it was Dr. Ross' and Dr. Cousins' leadership that cemented my desire to pursue structural engineering. Since that summer, I have continued to perform research under both professors. As a result of my work, I will have a paper I authored presented during an engineering conference in Portugal next summer."

Sam Dodd

Structural Engineering
Glenn Department of Civil Engineering
Glenn Department of Civil Engineering | Lowry Hall, Clemson, SC 29634