IE Research
The Department of Industrial Engineering serves the State of South Carolina and the nation through teaching, research and outreach in industrial engineering. A particular focus for industrial engineering at Clemson University is to be a nationally top-ranked industrial engineering department emphasizing the education, research, discovery and application of knowledge in the following information technology-driven emphasis areas.
The IE Department emphasizes the education, research, discovery and application of knowledge within four primary areas. Each area is further branched into ways industrial engineering can analyze real-world systems and provide insights that improve processes through research methodologies.
Research Methodologies
Research Applications
The College of Engineering, Computing and Applied Sciences at Clemson University is building several strategic, cross-disciplinary faculty clusters to advance research and education in four thrusts: Next Generation Computing, Infrastructure & Sustainable Environment, Future Materials, and Health Innovation & Human Performance. This increasing emphasis on cross-disciplinary collaborations makes joint appointments with multiple departments feasible.
As a Carnegie R1 Institution, the University has excellent research resources, including the Palmetto Cluster – a top 500 global high-performance computing cluster. CECAS encourages impactful interdisciplinary work, and this culture of collaboration includes joint appointments in other departments and schools on campus and extensive work with several industry partners.
From logistics to robotics, significant research occurs across the research methodologies and applications within Industrial Engineering. Faculty members and graduate students team up within specialized labs to put data findings and ideas into practice.
Research Labs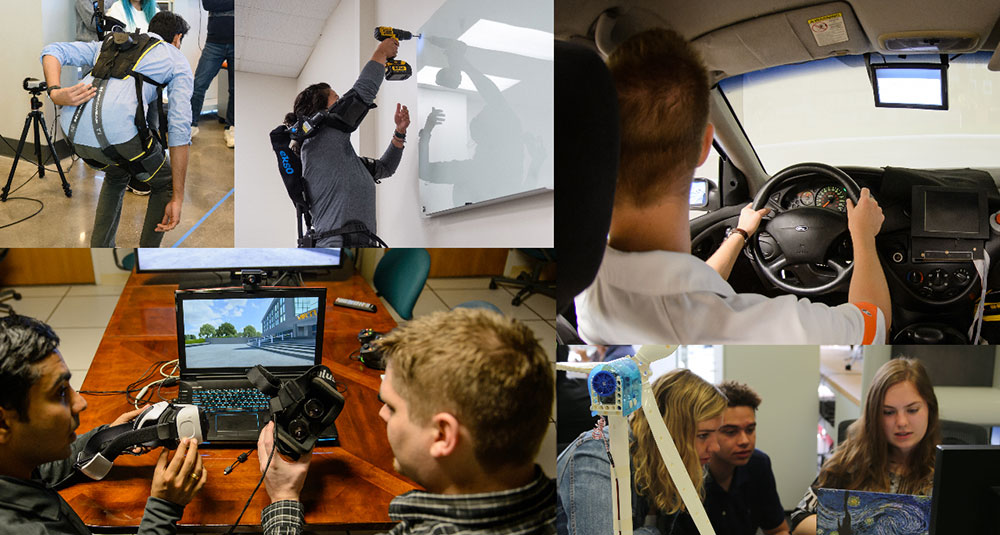 Graduate students are afforded the opportunity to participate in research projects funded by prestigious federal agencies (e.g., NSF and NIH), as well as industry partners. Our faculty frequently partner with interdisciplinary collaborators and focus on methodological advances and pragmatic solutions that impact local manufacturing and service organizations. Students can choose to specialize in a variety of IE areas, including manufacturing, operations research, or human factors engineering. The results of their research are often published in the top journals of our field, including Operations Research, IISE Transactions, Human Factors, and many others.
Tom Sharkey and his collaborators are drawing from law enforcement case files, stakeholder interviews, and guidance from sex-trafficking survivors, including Forliti, to gather data on trafficking. The data will be fed into interdiction models aimed at giving researchers, law enforcement and policymakers a bird's eye view of how sex-trafficking networks operate. Sharkey said the long-term goal is to have an impact on policy that aims to break up sex-trafficking networks and bring new hope to its survivors. The models will be designed to help show how traffickers react to disruptions in their networks and account for the different types of networks that are involved, such as money and communications.
"I've been conducting undergraduate research with Dr. Thomas Sharkey for about three years. Through this research, my focus has been on youth sex trading in Minnesota. Having the opportunity to participate in a project of this magnitude has not only allowed me to gain IE experience but also to see the more uncommon ways IE can be used in today's society, such as reducing the prevalence of sex trading."

Eliza Macaulay

Industrial Engineering '23