The Gift from Dan and Nancy Garrison
Dan ('72) and Nancy Garrison of Houston donated $2.5 million to establish the Sales Innovation Program at Clemson University.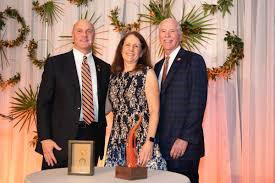 Dan Garrison is a member of the Clemson University Foundation board of directors. He received a Bachelor of Science in business administration from Clemson in 1972 and is a retired senior vice president of sales for Service Corporation International (SCI).
Nancy Garrison is a native of Houston and has lived in Texas most of her life outside of the 15 years that she and Dan were in Georgia and Florida. Her occupation and most important role has been full-time mom - and now a grandmother. She is an avid tennis player and traveler. Dan and Nancy Garrison have been married for more than 35 years and have three children, Brooke (Travis) Archenhold, Rachel Garrison and Colby (Michelle) Garrison; and three grandchildren, Aubrey (12), Eddie (9) and Walker (6).
"With their heartfelt gift, Dan and Nancy Garrison have raised the bar of business education at Clemson University for generations to come," Wendy York, dean of The Wilbur O. and Ann Powers College of Business, said. "Their generosity will make a difference far greater than they could have ever imagined for our students and faculty. That kind of commitment by a successful alumnus demonstrates their belief in the future of the Wilbur O. and Ann Powers College of Business and Clemson University."
The Garrisons are the first donors to be Cornerstone Partners for academics and athletics, demonstrating their intense dedication and passion for Clemson and offering groundbreaking opportunities for student leaders in the future. The resources from this gift go towards supporting:
J. Daniel and Nancy Garrison Sales Lab
J. Daniel and Nancy Garrison Endowed Professorship in Sales Innovation
Sales Scholarship Program
Sales Innovation Program Endowment to support student engagements, travel, and research collaborations.
J. Daniel and Nancy Garrison Sales Innovation Program
J. Daniel and Nancy Garrison Sales Innovation Program | Wilbur O. and Ann Powers College of Business, 225 Walter T. Cox Blvd., Clemson, SC 29634