How can I become a SIP student?
All students start their journey in the SIP by applying for the Ascent Track. Upon acceptance, Ascent offers students a one-semester onboarding track to prepare for membership in SIP by participating in professional development workshops, networking, and mentoring activities. After completing all the requirements within the Ascent track, students will be certified as active members of SIP and earn eligibility for SIP coursework.
Applications are currently closed.
Who is Eligible?
Students university-wide are eligible to apply to the SIP Ascent Track.
The SIP application is a competitive process that includes submitting your resume (PDF) and a brief video (paste a link to your recorded YouTube video) describing why you are a great candidate for the SIP Ascent Track. Please prepare accordingly to submit these items and build a strong case for your application.
We encourage all interested students to apply as soon as possible because SIP membership is required to register for any SIP courses and complete any sales certificate.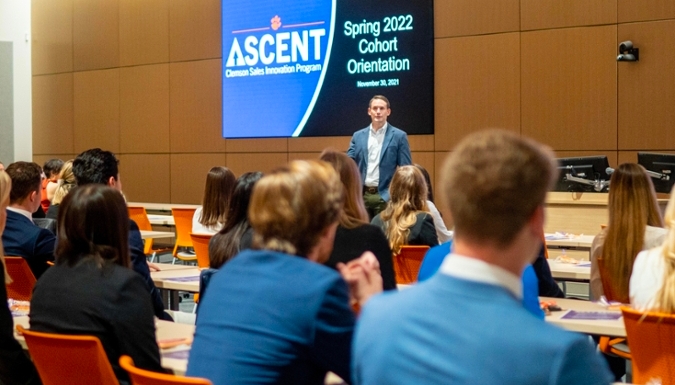 Ascent
Our Ascent track allows students to be exposed to professional development opportunities while learning what a sales career entails. Upon completion of the Ascent track, students are able to become full-time members of the Sales Innovation Program.
More About Ascent
"As a Program Manager and member of the Sales Innovation Program, this program opened my eyes to a whole new career path that I had not previously planned for myself. Through sales-related courses, sales competitions, networking opportunities, role-play exercises and sales-related topics discussed in the Sales Club, I have become more equipped and prepared for a career in sales. I have benefited from the meaningful relationships I have been able to form with other SIP students, dedicated faculty and our industry partners. Earning a Sales Certificate by meeting program requirements gives SIP students an advantage when interviewing for sales jobs. If students take advantage of all the opportunities available to them through SIP, they will feel well-prepared for a future career in sales, as I do. With more than 50% of college graduates beginning their professional careers in a sales role, having a program like SIP available to help educate students about working in sales is invaluable."

Tripp Tucker

Senior Marketing Major
J. Daniel and Nancy Garrison Sales Innovation Program
J. Daniel and Nancy Garrison Sales Innovation Program | Wilbur O. and Ann Powers College of Business, 225 Walter T. Cox Blvd., Clemson, SC 29634