Leadership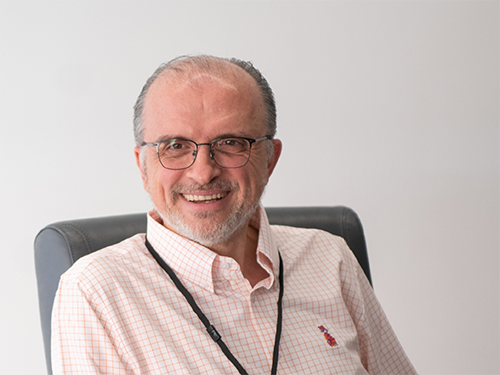 About Dr. Tanju Karanfil, Vice President for Research
Dr. Tanju Karanfil became vice president for research in February 2016. A renowned environmental engineer, Dr. Karanfil leads Clemson's research strategy and oversees technology transfer, sponsored programs, compliance and other support services for a portfolio that tops $219 million in research revenue.
Meet Division Of Research Leadership Team
Leadership Team
Profile

Penny Reid

Executive Assistant to the Vice President

864-656-7701

Penny serves as the Executive Assistant to the Vice President for Research as well as operations manager for the Strom Thurmond Institute Research offices. Penny joined the Division of Research in 2017. Prior to joining the Division, Penny served in financial and HR roles with Student Affairs and the College of Computing, Engineering and Applied Sciences (previously College of Engineering and Science). Outside of the office, you will find Penny spending time with her family on their family farm.

Shelia Cotten

Associate Vice President For Research Development

864-656-1299

Shelia joined Clemson in August 2020 to manage the university's Office of Research Development, foster large multidisciplinary research projects, advance faculty development efforts, and help generate new streams of research support. She is also provost's distinguished professor and has joint faculty appointments in the sociology, anthropology and criminal justice department and the department of communication.

Sheila T Lischwe

Director of Sponsored Programs (Pre-Award)

864-656-0814

Sheila has directed the Office of Sponsored Programs since 2013, leading Clemson's pre-award activities. She works to develop, interpret and enforce policies and procedures related to proposal submission, electronic research administration, and non-financial post-award activities; as well as to supervise research contract review.

Robin S Tyndall

Director for Research Compliance

864-656-1525

Robin works to promote integrity and regulatory compliance in research by leading the Office of Research Compliance, which administers the Institutional Review Board (IRB), Institutional Animal Care and Use Committee (IACUC), and Institutional Biosafety Committee (IBC). She also serves as the Research Integrity Officer (RIO) and her office promotes education in the Responsible Conduct of Research.

JoAnna Floyd

Director of Industry Contracts

864-656-3989

Since 2013, JoAnna has directed Clemson University's Office of Industry Contracts, which supports Clemson researchers in their pursuit of research funding from private industry and manages and negotiates sponsored research contracts and other related agreements with companies. JoAnna joined Clemson in 2008 as the Assistant Director of Licensing and Contracts with the Clemson University Research Foundation (CURF) and has more than 15 years of experience in technology transfer and sponsored research administration.

Tracy T Walters

Director of Grants and Contracts Administration (Post-Award)

864-656-4532

Tracy has directed the post-award office of the Division of Research since 2018, assisting Clemson faculty and staff with the post-award financial and administrative matters related to sponsored projects. The office has University-wide responsibility for ensuring that project expenses and reports to sponsors are compliant with Federal, State, and University laws and regulations as well as specific sponsor guidelines.

Chris Gesswein

Executive Director of the Clemson University Research Foundation

864-656-0797

Chris works to maximize the societal impact of Clemson University's research and innovation by facilitating the commercialization of Clemson technology through industry sponsored research and licensing activities. Having more than 25 years of experience bringing various technologies from concept to market, Chris joined CURF in 2014 as Director of Licensing for technology transfer, becoming Interim Executive Director of CURF in 2017, and assuming the role of Executive Director in 2018.

Alisha Oxendine

Conflict of Interest Program Director

864-656-0923

Alisha has been program director for the Conflict of Interest office since 2015, working to identify and address real and apparent conflicts of interest within the University community while managing the university's Conflict of Interest training program that helps faculty and staff engage in appropriate external research and consulting opportunities.

John Parrish

864-656-1850

John has more than 30 years of experience supporting infectious disease, toxicology, vaccine, trauma, vascular and other areas of medical research and teaching important to the military, contract research and academia. After a distinguished 20-year career in the U.S. Army, he led programs of animal care and use at the National Institutes of Health and two contract research organizations before joining Clemson.

Lax Saraf

Director of Electron Microscopy Facility

864-656-7535

Lax directs user services at the Electron Microscopy Facility, which features world-class surface science and imaging capabilities. In addition to serving users at Clemson University, his team works with many regional, national universities and industries representing aerospace, automotive, pharmaceutical, textile, electronics, environmental and medical science. Lax joined Clemson in 2013 after spending more than a decade as a senior research scientist at the U.S. Department of Energy's Pacific Northwest National Laboratory in Richland, WA.

Stephen Lance

Director of the Youth Learning Institute

864-878-1103

Stephen leads the Youth Learning Institute (YLI), which strives to create best practice program models that help individuals and organizations reach their full potential. YLI collaborates with other state agencies and non-profits who may not have the resources to evaluate and improve existing services primarily for youth and families.

Terri Bruce

Clemson Light Imaging Facility Director

864-656-1264

Terri manages the multi-user Light Imaging Facility, which features a number of advanced light microscopes, cell-sorting equipment and a multi-user specimen preparation laboratory. Terri has advanced degrees in chemical engineering and biological sciences, along with vast industry experience in process design engineering and product development.

Daniel Harris

IT Administrator

864-656-4488

Daniel manages various systems in use by the Division of Research with a focus on InfoEd. He also provides general technical assistance and desktop support to Division personnel by acting as the area's TSP (Technical Support Program) Provider.

Coming soon..

Lori Frager

Director of Research Data Analytics

864-656-6114

 

Scott Miller

Communications Director

864-656-3970

Scott works to promote Division of Research services and programs and to highlight the many accomplishments of the Clemson University research community. Scott joined Clemson in 2014 after spending more than a decade as a newspaper and magazine editor and writer.

Tony Dickerson

864-656-3165

Tony has served as the director of business affairs since August 2016. His areas of responsibility include financial planning and analysis, budget development, HR management, and InfoEd administration and reporting. Tony works closely with the vice president for research to develop strategic financial/operational plans to maximize the division's support of the university's research activities. Previously, Tony was the business officer for Student Affairs.

Meredyth Crichton

Executive Director, Dominion Energy Innovation Center

843-730-5076

Meredyth joined Clemson in 2021 as executive director at the Dominion Energy Innovation Center at the Clemson University Restoration Institute campus in North Charleston. She had previously worked with GE Energy in various capacities since 2007 and most recently managed the company's onshore wind test labs.

Windsor Westbrook Sherrill

Associate Vice President for Health Research

864-656-0263

A member of the Clemson faculty since 2000, Windsor serves as Associate Vice President for Health Research, is Provost Distinguished Professor in the Department of Public Health Sciences, and is Chief Science Officer at Prisma Health, leading Clemson's health research partnership with the state's largest health system. As the founding director of the Clemson University School of Health Research, Windsor works with University leadership to build and coordinate Clemson's health research and education agenda.

Rhonda Shaner Ryals

Director, Export Control and Research Security

864-656-4084

Rhonda Shaner Ryals joined Clemson in 2021 after a decade at Georgia Tech. Rhonda leads the Office of Export Compliance and Research Security, working closely with University leadership, faculty and staff to enhance fruitful research collaboration both in the United States and abroad.