| Timing | Activity |
| --- | --- |
| 8:00 a.m. | Breakfast and coffee available |
| 8:15 a.m. | Welcome from the Symposium organizers, Dani Herro (Digital Media and Learning) and Chris Saski (Plant and Environmental Sciences) |
| 8:30 a.m. | Research Update and Clemson Strategic Planning Forum (Dr. Tanju Karanfil, Provost Dr. Bob Jones) |
| 9:30 a.m. | Refreshment Break |
| 9:45-11:00 a.m. | Plenary Session: The Future of Research and Scholarship in a Changing Climate |
| 8:15-11:00 a.m. | ZOOM LINK |
| 11:15-12:15 p.m. | Breakout Session 1 |
| 12:15-12:45 p.m. | Lunch |
| 12:45-1:45 p.m. | Remarks from President Clements and VPR Awards Ceremony |
| Join Zoom Meeting | ZOOM LINK |
| 1:45 p.m. | Grad 3-Minute Thesis Presentations |
| Join Zoom Meeting | ZOOM LINK |
| 2:00-3:15 p.m. | Breakout Session 2 |
| 3:15 p.m. | Afternoon Break |
| 3:30-5:00 p.m. | Breakout Session 3 |
| 5:00-6:00 p.m. | Networking and Social Hour |
11:15-12:15pm, Session 1

WFIC 218
ZOOM LINK
Chair: Brian Powell
Gary Machlis (Forestry and Environmental Conservation), A Framework for Research on Recurrent Acute Disasters

Brian Powell (Environmental Engineering and Earth Sciences), Large rainfall events cause pulsed release of trace metal and radionuclide contaminants from riparian wetlands

Andrew Brown (School of Mathematical and Statistical Sciences), Functional Calibration of Computer Models
WFIC Auditorium
ZOOM LINK
Chair: Andrew Metcalf
Adolph Beyerlein (Chemistry), Stability of Magnetic Skyrmions as Candidates for Dense Information Storage Devices

Carl Blue (Graphic Communications), Computer-to-screen application using an inkjet printer to apply a printed stencil directly to the mesh as a hybrid screen-printing process

Andrew Metcalf (Environmental Engineering and Earth Sciences), Using Microfluidics to Create Devices for Future Research
WFIC 203
ZOOM LINK
Chair: Chris Saski
Jose Payero (Agricultural Sciences), Measuring Crop Evapotranspiration Using the Eddy Covariance and Surface Renewal methods in South Carolina

Sachin Rustgi (Plant and Environmental Sciences), Facing the fear of accidental peanut exposure with reduced-immunogenicity peanuts
WFIC 106
ZOOM LINK
Chair: Dani Herro
Poster Session #1:
Alexander Adogwa
Allison Traylor (virtual)
Anna Morrison
Cristina Tica
Daniel Moore
Deepak Sapkota
Delaney O'Tuel
Emily Howell
Ewa (Richard) Chukwu
Junior Langa
Leah Holcomb
WFIC 208
ZOOM LINK
Chair: Erin Goss
Poster Session #2:
Longxiang Guo
Lu Zhang (virtual)
Maher Algalayini
Omar Hussein
Prasanna Valavanur Shekar
Pravin Nath
Reagan Ross
Rohan Goli (digital)
Salman Naveed
Samantha Scott
William T. Pennington
Zehua Jin

2:00-3:15, Session 2

WFIC 218
ZOOM LINK
Chair: Dani Herro
Golnaz Arastoopour Irgens (Education and Human Development), Designing Critical Machine Learning Educational Programs with and for Children

Dani Herro (Education and Human Development), Pathways for their Futures: Engaging Rural Elementary Students in Authentic Data Science Practices

Shanna Hirsch (Education and Human Development), Innovations in Teaching Critical Content to Undergraduate Teacher Candidates

Joseph Ryan (Education and Human Development), Recognizing the Benefits and Versatility of Single Case Research Design for Interdisciplinary Research
WFIC 106
ZOOM LINK
Chair: Thomas Britt
CUSHR Health Research: A Focus on Innovation in Addiction and Substance Use Disorders

Mary Ellen Wright (Nursing)

Brian Miller (Sociology)

Corrine Sackett (Education and Development)

Kaileigh Byrne (Psychology)

Moonseoung Heo (Public Health Sciences)

Irene Pericot (Public Health Sciences)
WFIC 208
ZOOM LINK
Chair: Jeremy King
Academic Analytics' Faculty Insight and External Discovery Site tools (roundtable)

Jeremy King (Clemson U)

Julie Wilson (Academic Analytics)

Beth Falwell (Academic Analytics)
Virtual
ZOOM LINK
Chair: Berrin Terim
Architecture, Society and the City (roundtable)

Berrin Terim (School of Architecture)

David Franco (School of Architecture)

Peter Laurence (School of Architecture)

Andreea Mihalache (School of Architecture)

Ufuk Ersoy (School of Architecture)

Amy Trick (School of Architecture)
Virtual
ZOOM LINK
Chair: Puskar Khanal
Climate Smart Forestry & Artificial Intelligence (lightning talks & seminar)

Geoff Wang, Forestry & Environmental Conservation

Puskar Khanal, Forestry & Environmental Conservation

Feng Luo, School of Computer Science

Venkat N. Krovi, International Center for Automotive Research

Matthew Browning, College of Behavioral, Social and Health Sciences

Whitney K. Huang, School of Mathematical and Statistical Sciences

3:30-5:00pm, Session 3

WFIC 106
ZOOM LINK
Chair: Erin Goss
Seth McKelvey (English), Analyzing Narrative Voices in Fiction with Computer Help

Hudson Smith (Watt Family Innovation Center), In-the-wild detection of coordinated social media accounts using message narratives and account characteristics

Eric Touya (Languages), French laïcité: Feminisms, Cross-Cultures, and the Common Good (virtual presentation)

Kendra Allison (School of Nursing), Adolescent mental health assessment in primary care settings of Appalachia, South Carolina to include sexting frequency and depression indices
WFIC Auditorium
ZOOM LINK
Chair: Zhicheng Dou
Microbial Pathogenesis and Resistance (seminar & lightning talks)

Zhicheng Dou, BioSci

Emily Rosowski, BioSci

Anna Seekatz, BioSci

Lior Rennert, Public Health Sciences

Lukasz Kozubowski, G&B

James Morris, G&B

Daniel Whitehead, Chemistry
WFIC 208
ZOOM LINK
Chair: Emily Howell
Future of Learning

Emily Howell (Education and Human Development)

Rachel Wagner (Higher Education and Student Affairs)

Golnaz Irgens (Learning Sciences)
Virtual
ZOOM LINK
Chair: Steve Creager
Full panel: Electrical Energy Storage (5-10 minute papers)

Steve Creager, Chemistry

Apparao Rao, Physics

Srikanth Pilla, Automotive Engineering

Jeff Zhang, Automotive Engineering

Mark Roberts, Chem & bimolecular Engineering

Dillip Panda, Materials Science

Morteza Sabet, Automotive Engineering
Virtual
ZOOM LINK
Chair: Cameron Bushnell
Full panel: Communication Across the Curriculum

Karen High, Engineering and Science Education

Carl Blue, Graphic Communications

Shanna Hirsch, Education and Human Development

Lesly Temesvari, Biological Sciences

Lea Jenkins, Mathematics and Statistical Sciences

Cameron Bushnell, Pearce Center/English, Moderator
The annual Research Symposium demonstrates the breadth of creative endeavors undertaken by Clemson's diverse community of scholars and serves as a launching pad for inter-disciplinary research collaboration. Faculty from each college and the libraries participate, as do members of Clemson's executive leadership team. The daylong event, planned by the Vice President for Research Faculty Advisory Board includes oral and poster presentations and panel discussions on targeted topics of broad interest suggested by faculty.
Thank you to everyone who participated in the 2021 Research Symposium on May 4th at the Watt Family Innovation Center. Abstracts from the session presentations are available below for your records, if needed. We hope to see you at next year's Research Symposium. Details to come at a later date.
For questions reach out to Sarah White or Erin Goss or Penny Reid
Session 1, 11:15-12:00pm

WFIC Auditorium
WFIC 208
WFIC 106
Virtual Session

Topic: Water 

Chair: Brian Powell
Presenters:

Mani Rouhi Rad, "Managing Water Resources: An Interdisciplinary Approach"
J. Todd Petty, "Freshwater species conservation at the interface of land use and climate change in Appalachian watersheds"
Brian Powell, "Geochemistry of iron and trace metals in wetlands and monomictic ponds"
Tom O'Halloran, "Managed Ecosystems as Natural Climate Solutions" (poster)

Topic: On Health: Medical Applications

Chair: Thompson Mefford
Presenters:

Sara Sarasua (poster), "Searching for the Genetic Cause of Language Delay in Phelan-McDermid Syndrome"
Luigi Boccuto, "IGF-1 therapy: a new translational approach for treatment of developmental delay" (virtual)
H. Bryan Riley (poster), "Global Manufacturing Within Automotive OEM Adaption for Design and Production of Medical Ventilators"
Pingshan Wang, "High-throughput and label-free radio-frequency flow cytometry"
Thompson Mefford, "Collaborative efforts utilizing magnetic nanoparticles"

Topic: Within a Pandemic

Chair: Lior Rennert
Presenters:

Andrew Metcalf, "Using Air Pollution as a Tool for Research"
Lior Rennert, "Effective strategies for SARS-CoV-2 mitigation"
Rachel Getman, "Reducing Out-of-Pocket Costs for Our Students through Open Educational Resources"
Amalia Leifeste, "Drawing Buildings in a Pandemic: changing pedological sequence" (virtual)
Delphine Dean (poster), "Beyond COVID-19: Collaborative Research Opportunities and Available Resources at Clemson's New On Campus Diagnostic Lab (the REDDI Lab)"

Topic: Rural Geopolitics

Chair: Lee Morrissey (virtual)

Presenters:

Rebecca Stoil, "Reassessing the Rural from the Upstate to the Global"
Archana Venkatesh, "Activism and Rurality in 21st century India: A Transnational perspective"
Lee Morrissey, "'Rural' Upstate South Carolina and the question of 'the Creative Economy'

View Abstracts
View Abstracts
View Abstracts
View Abstracts

Session 2, 1:30-3:00pm

WFIC Auditorium
WFIC 106
WFIC 208

Topic: Considering Collaboration

Co-Chairs: Jean McKendry and Melinda Fischer

Presenters:

Marissa Shuffler, "Training to Team: Evaluating the Impact of Team Development Interventions on Inclusive Teamwork Behaviors across Collaborative Spaces" (lightening talk)
Jennifer Ogle, "Training Teachers to Incorporate Inclusive Collaboration Opportunities into Courses" (lightening talk)
Lighting Rounds "Collaboration, Technology and Learning Across Educational Environments" (5 talks where faculty will pitch key ideas for their project)

C.C. Bates, Dani Herro and Carl Ehrett, Leveraging AI to improve literacy in elementary-aged students
Jeff Marshall, Stephanie Madison, Michelle Cook, Leigh Martin, Luke Rapa, Nathan McNeece and Bart Knijnenburg, STEM teacher learning progressions using a recommender system
Golnaz Arastoopour Irgens, Modeling and measuring critical data literacies in informal learning environments
Dani Herro, Shanna Hirsch, Golnaz Arastoopour Irgens, Computational Thinking-STEM Pop-Ups for All: A Research-Practice Partnership for agile learning in elementary schools
Kris Frady and Karen High Developing engineering experiences and pathways in engineering technology

Laine Mears, "THINKER: NSF NRT for Collaboration between Humans and New Manufacturing Technologies"

Topic: On Health

Chair: Thomas Britt

Presenters:

Jeryl Jones, "AVS One Health Research Group" (virtual)
Arwen Declan, "Science & Medicine Through the Emergency Department Lens: A Spectrum of Collaborative Opportunities" (virtual)
Marissa Shuffler, "Addressing Emergency Clinician Well-Being and Burnout During the COVID-19 Pandemic"
M. Gabriel Sava, "Diabetes Patient Surveillance in the Emergency Department: Proof of Concept and Opportunities"
Lawrence D. Fredendall, "Creating Nurse Standard Work in an Emergency Department"
Kevin Taaffe (new), "Identifying Optimal Staffing Levels to Improve Patient Flow and Patient Safety in the Emergency Department"
Arelis Moore de Peralta, "A CBPR Approach to Combatting Childhood Obesity in the Greenville County Latinx Community: Community members' perspectives on barriers and facilitators to healthy eating and active living."

Topic: Of Public Memory


Chair: Allison Kidd

Presenters:

Allison B. Kidd, "Bringing Equity to Institutional Memory"
Krista Oldham, "Rewriting Our Wrongs: Integrating Reparative Work in the Archives" (virtual)
Rachel de Cuba, "Windswept Memories"
Jonathan Beecher Field, "The Sleeping Historian"

View Abstracts
View Abstracts
View Abstracts

Session 3, 3:15-4:45pm

WFIC 106
WFIC Auditorium
WFIC 208
Virtual Session

Topic: Inclusion in Research

Chair: Robin Tyndall

Presenters:

Join a conversation around Inclusion in Research. A panel consisting of experts and advocates in building equitable and diverse collaborations, and researchers whose presentations focus on inclusive topics, will discuss how we ensure Clemson research includes all voices.Panelists:

Dr. Shelia Cotten, Assoc. VP for Research Development
Dr. Natasha Croom, Assoc. Professor in Education and Organizational Leadership
Dr. Terri Bruce, Director of the Clemson Light Imaging Facility
Dr. Faiza M. Jamil, Assoc. Professor in Education and Human Development
Dr. Oriana Aragon, Assist. Professor in Marketing
Dr. Brian Powell, Professor in Environmental Eng. and Earth Sciences

Topic: AI& Machine Learning

Chair: Katherine Weisensee

Presenters:

Katherine Weisensee, "Building a Nationally Representative Forensic Taphonomy Database"
Apparao M. Rao, "Data-driven Design of Electrolytes Enabled by Computation, Machine Learning, and Experiments"
Zhen Li, "Multiscale Modeling and Machine Learning for Scale-Bridging"
Alex Feltus, "Discovering Patient-Specific Biomarker Systems Using Artificial Intelligence" (virtual)
Nicole Bannister and Bart Knijnenburg, "Teaching AI-related cybersecurity through metaphors and math.
Graduate Researchers contributors: Shahan Iqbal, Sushmita Khan, & Khushbu Singh (virtual)
Carl Ehrett and Lucian Ghita, "Using AI to Understand Shakespeare's Drama"

Topic: Changing Climate

Chair: Puskar Khanal

Presenters:

Whitney Huang, "Estimating Concurrent Climate Extremes: A Conditional Approach" (virtual)
Brook Russell, "Developing Statistical Methodologies to Investigate Extremes in the Earth's Climate" (virtual)
Ming Yang, "Single-Site Catalysis for Efficient Fuel Gas Processing and Clean Transportation"
Sachin Rustgi, "Turning perennial cotton into an annual: Remobilizing end-of-season"

Topic: Politics and Religion

Chair: Lee Morrissey

Presenters:

Lee Morrissey, "Have any of us ever been modern?: Religion in recent discussions of modernity."
John Tracy Thames, "Empire and Religious Integration in Late Bronze Age Syria"
Kevin Gregory Vance, "A Liberal and Generous Toleration: John Adams and the Freedom of Religion"
Mashal Saif, "Traditional Islam and Modernity in Pakistan"
Peter Eisenstadt, "Howard Thurman, the Interracial Church, and the Travail of Black Religious Modernity"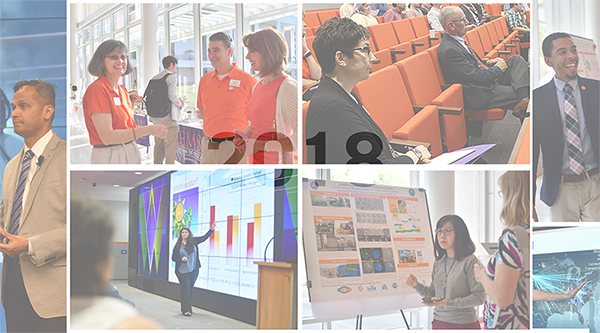 Overview
Faculty members from each College gathered at the 2018 Research Symposium to learn about research happening across campus and spark conversations about collaboration. The symposium served as a medium for dialog generation, for change, and for participation from the audience. It provided an opportunity for research work to be showcased and known across a growing audience each year.