Employment Opportunities at CORE
Why Work at CORE?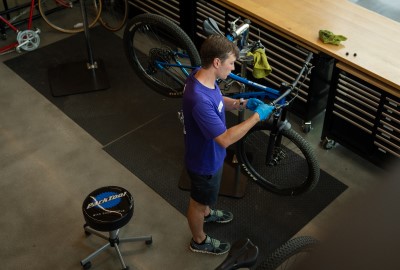 Here at CORE, all of our programs are run by an incredible group of student staff, and we are always on the lookout for great new people to come join our program! Here are just some of the benefits of being a part of CORE:
Build your résumé with practical experiences using transferable skills such as leadership, communication, collaboration, and adaptability

Opportunities to learn and develop outdoor recreation technical skills through trainings and clinics

Being part of a community of passionate outdoors people

Free or discounted rates on CORE trips

Free outdoor equipment rentals from CORE

Access to discounts for purchasing personal outdoor equipment

Eligibility for professional development funding for certifications, conferences, etc.
Employment Opportunities
There are two primary employment opportunities at CORE: Trip Leaders and Equipment Specialists. Trip Leaders are in charge of facilitating the many different outdoor adventures that we put on for Clemson community. Equipment Specialists work in our rental office and/or bike shop taking care of the gear and helping people with all of their outdoor equipment needs.
All students will begin their time at CORE working as both an Equipment Specialist. While coming in with outdoor experience is preferred, you don't have to be an expert when you arrive! CORE offers many different training opportunities, such as in-services and SKILLS courses, that will provide you with the opportunities to learn and grow as an outdoor leader. What we value most when looking for new staff is a passion for serving our Clemson University community by getting them into the outdoors!
Students who are interested in becoming a CORE Trip Leader will be required to shadow trips and attend clinics before becoming a trip leader. Students are eligible to become a trip leader after their first semester with the CORE program.
For those who are looking for even more, CORE also offers an Internship through Clemson's UPIC office as well as opportunities to move into leadership positions as Outdoor Recreation Managers.
How to Apply
If you are interested in applying to CORE, you can submit an application online using the link below. Applications are accepted year-round, but application reviews and interviews will be conducted based on the following schedule:
Fall Start: Applications reviewed in March-May; Interviews conducted in April-June
Spring Start: Applications reviewed in October; Interviews conducted in October and  November
Summer Start: Applications reviewed in March; Interviews conducted in April
Campus Recreation
Campus Recreation | 110 Heisman Street, Clemson, SC 29634