Who Can Register for Trips: A person may register for a trip if they have an active Campus Recreation membership. Visit our Member Services page for more information on memberships. Trip size is limited and registration is on a first–come, first–serve basis. 
How to Register for a Trip: Click on the link for the Registration Portal to register for trips online. If you would like to register in person, please visit the front desk at the Andy Quattlebaum Outdoor Education Center during our normal hours of operation.
Trips are scheduled during Fall, Spring and Summer Semesters. If you missed one this semester look for similar trip offerings next semester. Don't forget to register well in advance as trips fill quickly!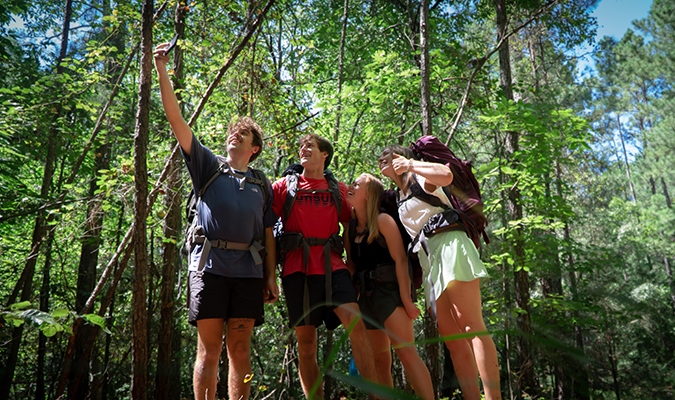 Spring Break Trips

Join CORE as we explore some of the best that the Southwest has the offer! We will spend the week touring the canyons of Arizona and sleeping under the stars as we embark on an adventure of a lifetime. Starting with a stop at the Grand Canyon, we will spend the first part of the trip at one of the most iconic national parks in the United States before heading to Paria Canyon Wilderness. The second half of our trip we will spend backpacking in the canyon walls along the banks of the Paria River.

This trip is tailored to the beginner! With our experienced staff as your leaders, we will teach you everything you need to know. Backpacked before? This will still be an exciting trip as explore one highly sought after trails of Paria Canyon.

Anticipated Itinerary:

Friday afternoon-Sunday: Travel

Sunday-Tuesday: Grand Canyon National Park

Tuesday-Friday: Backpacking in Paria Canyon Wilderness

Friday-Sunday: Travel back to Clemson

Your registration fee covers:

Group equipment (ex. tents, stoves)

Personal equipment (ex. backpacking packs, sleeping bags, but NOT clothing)

Transportation

Food (overnight trips ONLY unless otherwise specified by your trip leader)

Trained leaders

Outdoor instruction

You are more than welcome to bring your own equipment on a CORE trip. If you have questions about whether or not something would be appropriate for your activity, please contact your trip leader or the CORE office.

PLEASE NOTE: *There will be a mandatory pre-trip meeting at the Andy Quattlebaum Outdoor Education Center in advance of the scheduled trip.*

International Adventure Trips

CORE is returning to Dominica in 2023!

Does this cold weather have you dreaming of warmer climates? Join CORE (Clemson Outdoor Recreation and Education) May 13-22 as we travel to the Island of Dominica in the Caribbean for the trip of a lifetime. Immerse yourself in the Dominican culture as we work alongside members of the Cochrane united farmers group to help establish sustainable agriculture sites in their mountain community. Experience adventure activities that are only found on the Nature Island of the Caribbean, like remote rainforest waterfall hikes, natural hot spring soaks, and snorkeling barrier reefs. Check out the video and photos below from previous trips to Dominica.

Trip Information

The trip will take place May 13-22
A $200 deposit is is required to secure your spot on the trip. Pay the deposit online today!

Prices are still being finalized for this trip. Estimated total trip cost is around $2,200.00-$2,500.00. The non-refundable deposit of $200.00 will hold your spot and will go towards your total trip cost.

A passport is required for travel to Dominica

Want to learn more?

Come to a 30 minute info session in the lounge at Fike Recreation Center on one of the following dates:

February 13: 6 p.m. and 6:30 p.m.
February 21: 6 p.m. and 6:30 p.m.
March 8: 6 p.m. and 6:30 p.m.

Cancellations and Refunds

Trip Cancellation Policy: CORE reserves the right to cancel a trip or clinic due to inclement weather, natural disasters, or extenuating circumstances. If a trip or clinic is canceled, a full refund will be provided to those registered.

Trip Refund Policy: Participants are responsible for understanding the cancellation and refund policy for the CORE trip(s) they are registering for. A FULL refund will be given for day trips that are canceled more than 10 BUSINESS DAYS before the date of the trip. Cancellations that occur within 10 BUSINESS DAYS of the trip's departure will receive NO REFUND regardless of the circumstances.

Multi-day trip participants will receive a full refund if they cancel seven days before the scheduled pre-trip meeting date, minus the non-refundable deposit fee. Multi-day trip registrations are non-refundable for participants that cancel less than seven days before the scheduled pre-trip meeting date. A refund may be given after this time if a replacement can be found from the trip's waitlist.

CORE does not issue refunds for trips that are not attended. CORE reserves the right to not issue a refund at the discretion of the program administrators.

Outdoor adventure activities can be exciting and rewarding, but may also be physically demanding and potentially dangerous. While our highest priority is given to safety, participants need to be aware of the inherent risks associated with participation in outdoor recreation activities, as well as the responsibility they assume for their own safety and well-being. Participants are responsible for medical or other costs arising out of bodily injury, illness, or property damage that may be sustained as a result of their voluntary participation, and they are required to sign a Release and Waiver of Liability/Informed Consent. 
Campus Recreation
Campus Recreation | 110 Heisman Street, Clemson, SC 29634