Explore Adventure are outdoor orientation programs that are designed to provide incoming Clemson students the opportunity to build friendships with other incoming students, learn about life at Clemson from current students, gain experience in local outdoor recreation, and reflect on their transition to college in a fun and relaxed environment before their first semester at Clemson begins. The Explore Adventure program is designed for first-year Clemson students and is tailored towards the beginner! While we teach you the ropes on camping and backpacking, a base level of physical fitness is required.
Program Goals:
To participate in fun & challenging outdoor activities

To form relationships with other students, faculty, and staff

To develop an appreciation for the outdoors

To have an opportunity for reflection about the transition to Clemson University

To increase self–esteem and to gain the confidence needed to be successful at Clemson University
The program is a result of a collaborative effort between the Clemson Outdoor Recreation and Education Program, Clemson Leisure Skills, and the Center for Student Leadership and Engagement.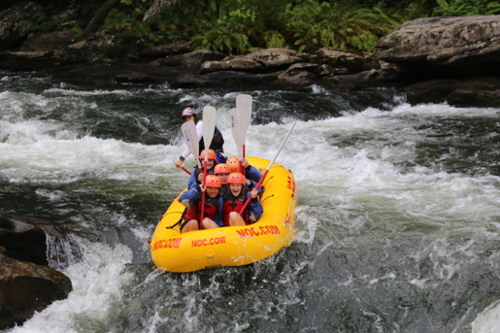 The Adventures:
Explore Adventure: Backpacking & Rafting

Clear your mind by spending a week in the woods before you begin you college career at Clemson! Join CORE for a week of backpacking and taking in the beautiful scenery with us as we adventure in along the famous Foothills Trails. We will spend our nights camping under the stars and our days traveling along the Chattooga River and the gorges of Lake Jocassee. Meet other incoming freshman and seek advice from current Clemson students as you explore the Upstate of South Carolina. We'll spend the last day rafting on the Chattooga River before heading back to Clemson. Explore Adventure will become on of your favorite memories at Clemson and help set you up for success during you transition to college. Just listen to our alumni!

"It is an incredible experience. I met my current best friends and friend group through the Explore Adventure program, and it made the transition to college very smooth."

This program includes a 1 credit academic component. Participants will be enrolled in the fall semester Explore Adventure Skills course. During the fall semester, the students will meet for 3–4 classroom sessions to reflect on their Explore Adventure trip, increase their knowledge about outdoor recreation, and further develop a supportive community at Clemson. These classroom sessions will provide the students with a positive environment to discuss the challenges and triumphs that occur during the first semester of the undergraduate experience. Daily journaling and educational sessions are incorporated during the Explore Adventure trip to prepare students for class. There will be light coursework throughout the semester. Further details about course registration and syllabus information will be provided after registration.

Includes: outdoor recreation equipment for backpacking, transportation during the trip, all meals, program instruction by trained CORE trip leaders, fall semester one-credit academic course, a great introduction to being part of the Clemson family, and new friends to start college with!

Sample Itinerary:

Saturday: Meet at the Andy Quattlebaum Outdoor Education Center; head to the trailhead

Sunday - Tuesday: Backpacking on the Foothills Trail. We will travel between 6-10 miles a day, each day

Wednesday: Whitewater Rafting and Return to Clemson.

*can accommodate 12 participants *
Additional Information:
Program Costs

Program Fee: $425, Class Fee $150, Total $575

The trip costs are broken down into separate payments:

Deposit:  For all trips, a $100 non–refundable deposit is due to CORE to register for the trip.

Second payment ($325):  For all trips, a second payment for the remainder of the registration cost is due to CORE. These payments are due no later than two weeks prior to the departure of the trip.

Academic course fee:  For all Explore Adventure trips, a final payment of $150 will be paid as a lab fee when registering for the Explore Adventure academic course on iRoar to cover the 1 hour of academic credit.

Registration

*Online Registration is not available at this time. We are actively working to solve the issue and hope to have it back up soon *

Registration is limited. Registration is taken on a first come first serve basis and is confirmed only after the deposit fee is paid in full. If the session you choose is full, you will have the option to be put on the waiting list for that session.

The deadline for registration is 2 weeks prior to the beginning of the trip. The deposit must be in by then. However, keep in mind that trips are likely to reach maximum capacity before this time.

The second payment is due no later than 1 week prior to the departure of your trip. You may pay by mail in the form of a check made out to Clemson University, or through the website by credit card. Instructions on making second payments online will be provided later.

For applicable programs, the final lab fee payment will be billed to your student account registering for fall semester classes.

You may register by mailing in a check to our office or paying online by credit card. Use the below link to register through our online portal. You should be able to login using your Clemson IROAR credentials. If not, you can create a new account and we will merge them with your IROAR account later. The Explore Adventure trips are listed under our Summer 2022 trips.

To pay by check, please use the following address:

Clemson University

Andy Quattlebaum Outdoor Education Center

Clemson, SC 29634

Print and fill out the registration form to send in with your check.

If you have any questions regarding registration please do not hesitate to contact our office.

Cancellation Policy

Deposits made for programs that require multiple payments are non-refundable

All refunds are subject to a processing fee. Refund amounts will be prorated based upon the number of days remaining until the program.

Refunds made fewer than 7 days in advance of a scheduled program will not be provided

All refund requests are subject to approval and are not a guarantee of a refund.
Campus Recreation
Campus Recreation | 110 Heisman Street, Clemson, SC 29634