Opportunities to Participate
Alumni play a critical role in supporting the college and building the future generation. Whether you were a member of the first class in 1962 or a recent graduate, you can be proud to be associated with Clemson's nationally competitive Wilbur O. and Ann Powers College of Business, whose 35,000 graduates span the globe. Our mission is to connect our alumni, students, and friends to the college and with each other. To ensure this happens, we depend upon your engagement in volunteerism and intellectual exchange with other alumni and with current students.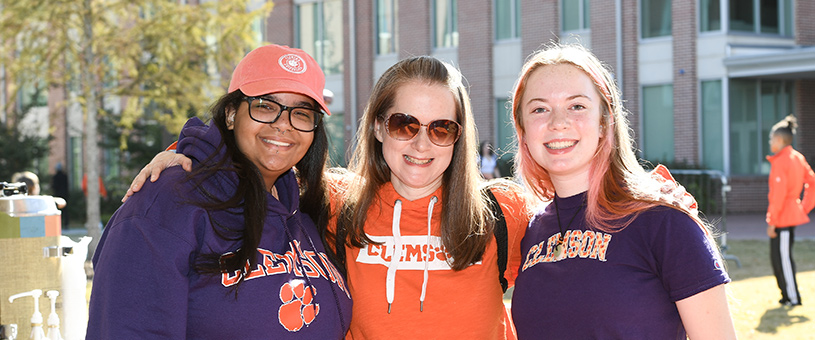 Tiger Ties Mentorship Program
Alumni are encouraged to reconnect by becoming involved in the Tiger Ties program, which creates a lifelong tie between the college and our alumni. Tiger Ties also symbolizes our students' transitions from the classroom into their careers in the "suit and tie" professional world. Find out more about Tiger Ties.
Leaders in the Classroom
Alumni can participate in speaking engagements with students and groups through the college's Leaders in the Classroom program. Our alumni panels provide a popular venue for students to ask questions about life after graduation. Students enjoy listening to alumni give a real-world perspective of what they can do with their major. For more information, email Allie Larson or call 864-656-3626.
Share Leads and Opportunities
Alumni play a key role in helping our students find internships and career leads. Through participating in our internship leads database or one of our departmental industry events, alumni can promote their businesses while recruiting top Clemson students. For more information, contact the Career and Global Engagement Office.
Giving Back
Investing philanthropically in the Wilbur O. and Ann Powers College of Business enables us to enhance the best efforts of our students, faculty and programmatic needs. Find out more about giving to the College.
For more information on how you can give back, contact Taylor Cook.
Alumni Resources
There are several resources that you may utilize as an alumnus. Listed below is information for the most requested alumni resources.
Alumni Updates
Send your home and company address changes to:
Clemson University Foundation: Records
110 Daniel Drive, Clemson, SC 29631-1520
Email: ALUMNI_RECORDS-L@CLEMSON.EDU
Fax: 864-656-1692
Alumni Directory
You must register as a Clemson University alumni to access this service.
Request Transcripts
Request your transcripts through the Registrar's Office.
Career Services
Clemson alumni who have been out of school 1-year or longer have access to an array of career resources through the Clemson Alumni Association.
Library Resources
Find and borrow materials, see what's happening in the libraries and help support the library's other services.
The Clemson MBA Alumni Society
Established in early 2009, the MBA Alumni Society's mission is to develop, maintain and strengthen relationships among Clemson University, its MBA alumni and current MBA students by providing professional and social events to ensure the continued excellence of Clemson's graduate business program.
Clemson World Alumni Magazine
Clemson World is published three times yearly, in January, May and September. The Summer/Fall issue (September) is mailed to all alumni and friends who have ever made a gift to the University and recent graduates. The other two issues are mailed to alumni, friends who have made a gift in the current or previous year and recent graduates.
Visitor's Center
Check out your old stomping grounds and see what's changed since you graduated. Contact the Visitors Center for details on tours.
For more information on ways to stay connected, visit the Clemson Alumni Association website.
Wilbur O. and Ann Powers College of Business
Wilbur O. and Ann Powers College of Business | 343 Chandler L. Burns Hall, Clemson, S.C. 29634