Research Centers & Institutes
APT focuses on translational, problem-solving science to advance crop agriculture in South Carolina. Our members include over 20 world-class researchers stationed throughout the state, who represent basic and applied sciences. Our current crops of interest are corn, cotton, peaches, peanuts, sorghum, soybean, and wheat. We also study crop pests, plant diseases, invasive weeds, and best-management practices for cultivation.
ACREC seeks to advance the science and technology of animal co-products and the rendering process.  In addition, the Center works to ensure microbial safety of rendered products for animal feeds and consumer protection, promotes environmentally sound practices, develops new market opportunities for the worldwide rendering industry and provides educational opportunities in animal co-product utilization.
This crop performance data provides information to growers, extension personnel, seed producers, seed dealers and agricultural workers and agencies in South Carolina and the world. These results should help growers select the most profitable cultivars for individual farm conditions and management programs.
The Clemson University Center for Flexible Packaging (CEFPACK) is a membership organization which offers testing and development services related to flexible packaging for industry consumer product companies and packaging suppliers, and also provides a wonderful educational environment for Clemson students.
Kennedy Center faculty, staff and students conduct teaching, research and outreach in waterfowl and wetlands ecology. The Kennedy Center's location at Clemson's Belle W. Baruch Institute for Coastal Ecology and Forest Science in Georgetown, South Carolina is one of the most ecologically vital wetland ecosystems along the Atlantic Flyway. 
The late Margaret "Peggy" Lloyd, a renowned and beloved philanthropist with a passion for science who spent a large portion of her life in Camden, gifted Clemson University with this sizable, picturesque stretch of forested property in the hopes that it would be harvested not for its wood but for its ethereal beauty and educational potential. Now, a group of committed representatives from Clemson University and other closely-aligned affiliates are utilizing Mrs. Lloyd's hope as a primary motivating factor as they glean all that Margaret's gift has to offer. From forestry to social science to education, the team led by Margaret H. Lloyd-SmartState Endowment Professor Rob Baldwin is taking advantage of the abundance of opportunities presented by Hardscramble, and, in the process, they are quickly making Margaret's dream a reality.
Research is conducted in laboratories, farms, and forests on the Clemson campus and at five research and education centers strategically located in the state's distinct soil and climate regions.
The Organic Research Center is a fully operational 16-acre research farm with facilities at both the Calhoun Fields Laboratory and Cherry Farm. The center, originally established as the Student Organic Farm in 2001, has remained USDA-certified organic since 2005. The Organic Research Center is used as an official university resource for ongoing organic research under the Piedmont Research and Education Center. 
Clemson University's South Carolina Water Resources Center serves as a liaison between the U.S. Geological Survey, the university community and the water resources constituencies across South Carolina. It is one of 54 institutes working collectively through the National Institutes for Water Resources (NIWR). The Center serves as a research facilitator and acts as a conduit for information necessary in the resource management decision-making and policy arenas of the state.
Clemson University's Wood Utilization + Design Institute (WU+D) is a multidisciplinary engine of innovation where foresters, architects, engineers, constructors and building industry stakeholders coalesce to design advancements in wood-based construction materials to compete with steel, concrete and other materials currently used in nonresidential construction.
The Clemson University Arthropod Collection (CUAC) supports the teaching, research, and extension activities of the University. The Collection consists of approximately 1.3 million specimens from Classes Insecta, Arachnida, Branchipoda, Copepoda, Diplopoda, and Chilopoda. The wet, alcohol-preserved collection is exceptionally rich, with over 1,000,000 specimens, nearly half of which are Trichoptera, or caddisflies, resulting from 40 years of work by Director Emeritus Dr. John Morse. The pinned, dry collection comprises only about 200,000 specimens, but also has strong regional representation of all the major orders.
The South Carolina Botanical Garden is a diverse 295 acres of natural landscapes, display gardens, and miles of streams and nature trails. Together with distinguished education and outreach programs, a nationally recognized nature-based sculpture collection, and the Bob Campbell Geology Museum, the SCBG is a premier site for experiencing nature and culture.
The South Carolina Crop Improvement Association cooperates with Clemson University, USDA, and other agricultural agencies and Experiment Stations in the development, testing, introduction, production, distribution, and use of superior strains and varieties of planting stock. We conduct a foundation seed program and make available foundation or registered planting stock.
The Clemson Experimental Forest's 17,500 acres are dedicated to education, research and demonstration in order to better understand and manage forest resources for the benefit of society. These essential resources include clean air, clean water, pleasing aesthetic qualities, abundant wildlife, protection of species and habitat diversity, recreation opportunities, along with commodity products from the forest. The forest is managed strictly for perpetual sustained or improved yield of these products. The Clemson Experimental Forest personnel, equipment, supplies, roads, recreation facilities and maintenance are solely supported by revenue generated by the Forest.
The state-of-the-art culinary research laboratory facility contains the following areas: sensory analysis, consumer focus group, bench top laboratory for developing new culinary applications, animal co-products center, retail test market center, and regulatory approved pilot manufacturing for frozen products. The space is used for a variety of classes, labs, and student projects. The research kitchen is a key part of the Food Product Development class as well as the culinary and baking labs. It is also utilized by undergraduate students in specified Creative Inquiry teams as well as by graduate students working on projects with culinary or sensory applications. In the past, it has been used for culinary nutrition outreach programs for students and faculty within Clemson and outside parties, such as school food service management and cooking with a chef programming for college students.
The Clemson University Greenhouse Complex is a support facility for basic and applied plant research housed in the Biosystems Research Complex. The Greenhouse Complex is intended to provide varied levels of controlled environment for plant growth. The greenhouses include state-of-the-art research and growing areas. Two sections have been designated for teaching; the other sections are available for research.
Multi-User Analytical Lab (MUAL) and Metabolomic Core is an analytical core facility in the College of Agriculture, Forestry, and Life Sciences primarily aimed at assisting researchers to undertake complex analytical experiments in biology and related fields. The facility primarily focuses on mass spectrometry-based experiments.
Provides diagnoses and management recommendations for plant problems, which include diseases, nematodes, weeds, and insect pests of plants. We also identify insects infesting structures, humans, pets and livestock.
The Package Dynamics Lab is equipped to conduct distribution packaging tests in accordance with the American Society of Testing and Materials (ASTM) and the International Safe Transport Association (ISTA). We can work with you to select the right test protocol for your packaged product or develop a test protocol to fit your specific needs. Our staff looks forward to working with you and your team to develop a better packaged product.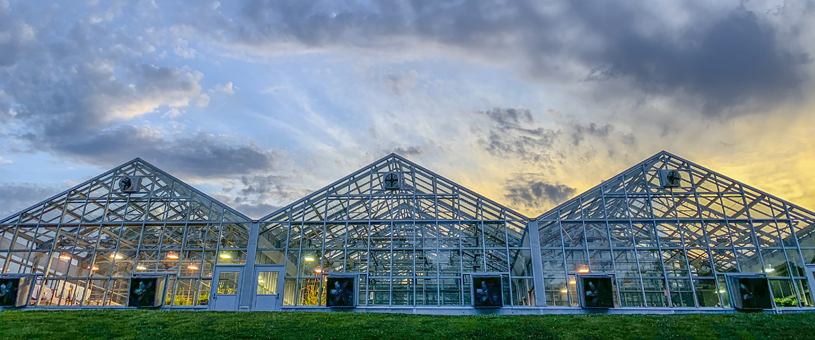 Greenhouses on Clemson campus. Clemson, S.C.
---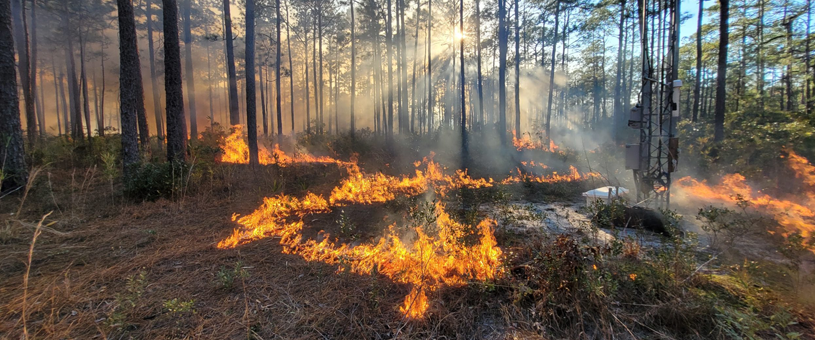 Controlled forest burn at Hobcow Barony. Belle W. Baruch Institute of Coastal Ecology and Forest Science, Georgetown, S.C.
---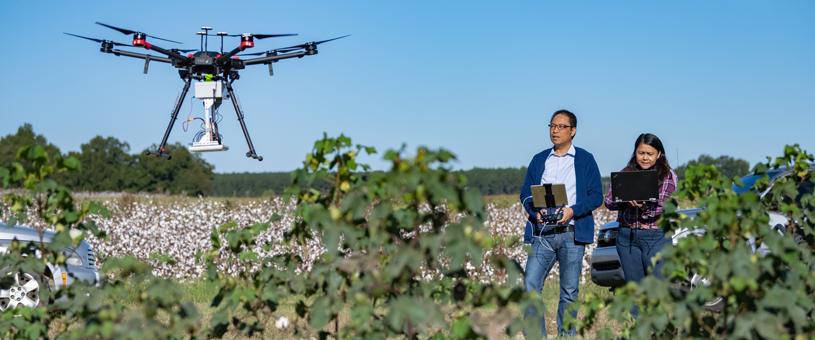 Joe Mari Maja and fellow researcher use a drone to survey agricultural crops. Edisto Research & Education Center, Blackville, S.C.
---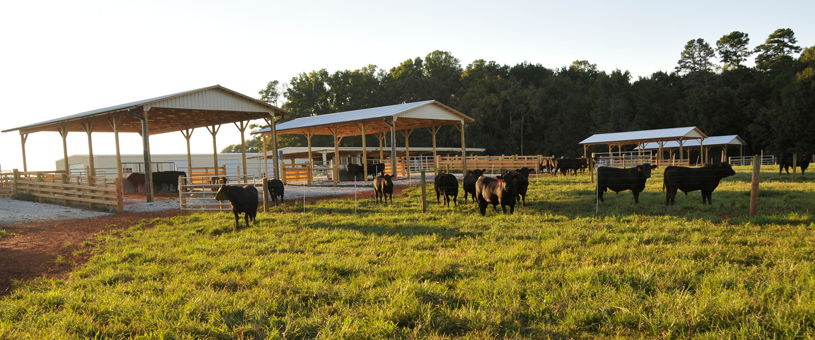 Simpson Research Farm at the Piedmont Research & Education Center. Clemson, SC. 
---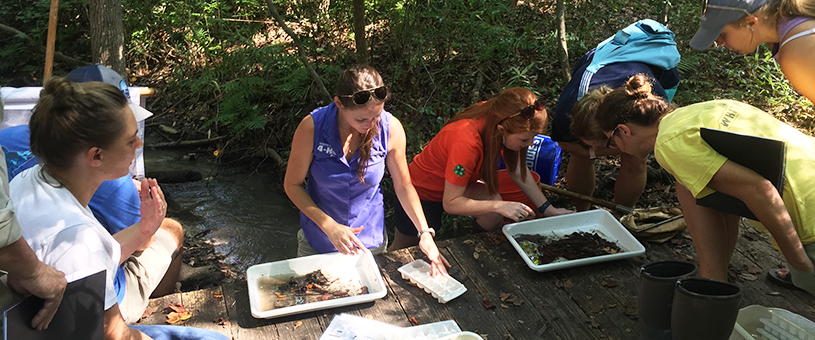 Stream ecology sampling at Sandhill Research & Education Center. Columbia, S.C.
---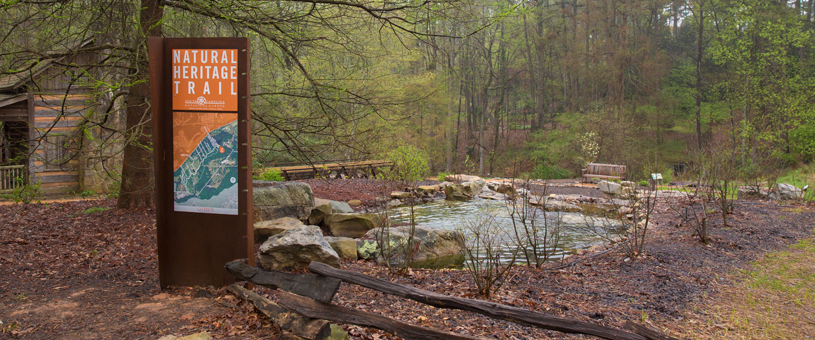 Heritage Trail at the South Carolina Botanical Garden. Clemson, S.C. 
---
James C. Kennedy Waterfowl and Wetlands Conservation Center. Georgetown, S,C.
---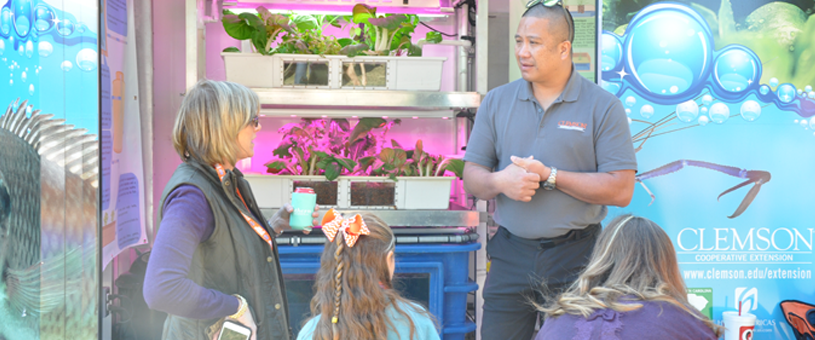 Aquaponics demonstration. Water Resource Center, Pendleton, S.C.
---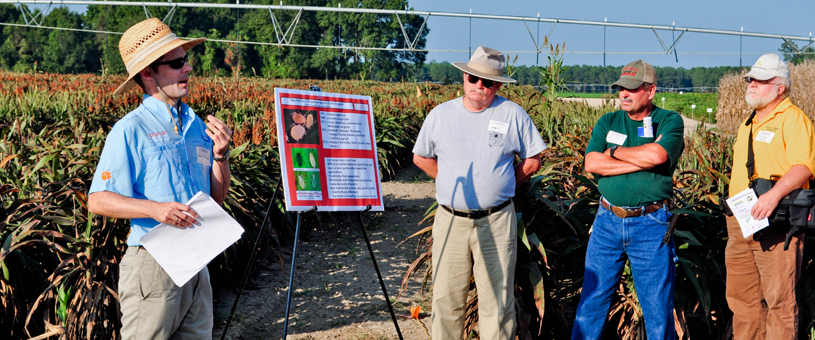 Francis Reay-Jones speaking to growers at a Pee Dee Research & Education Center Field Day. Florence, S.C.
---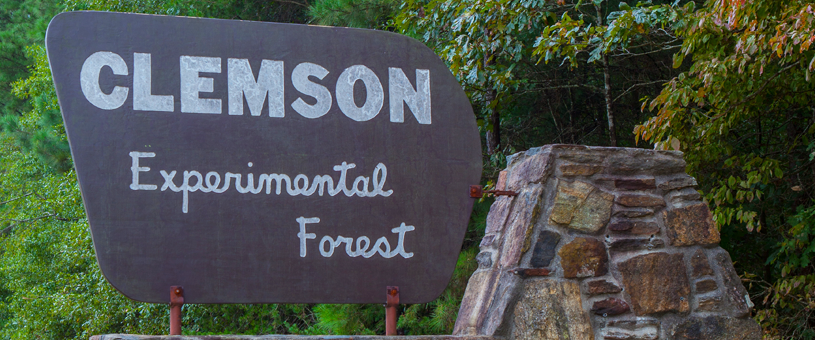 Clemson Experimental Forest. Pickens and Anderson Counties, S.C.
---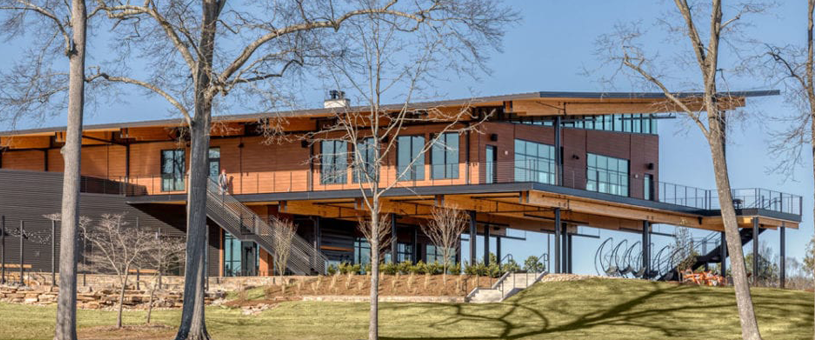 The Andy Quattlebaum Outdoor Education Center was built by utilizing research results and resources generated by Clemson's WU+D Institute. Clemson, S.C.
---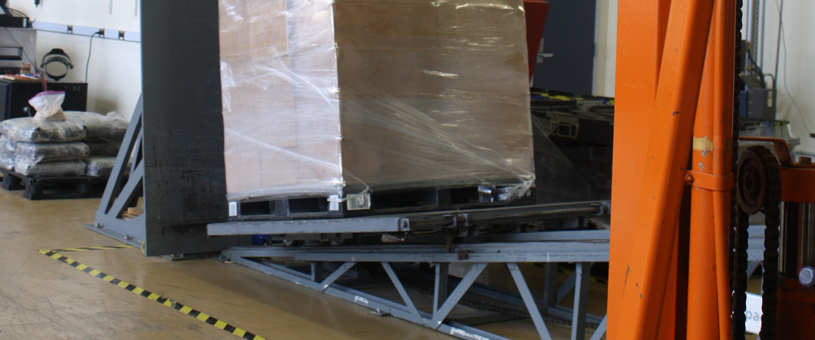 Shipping case being tested for transport in the Packaging Dynamics Lab. Clemson, S.C.
---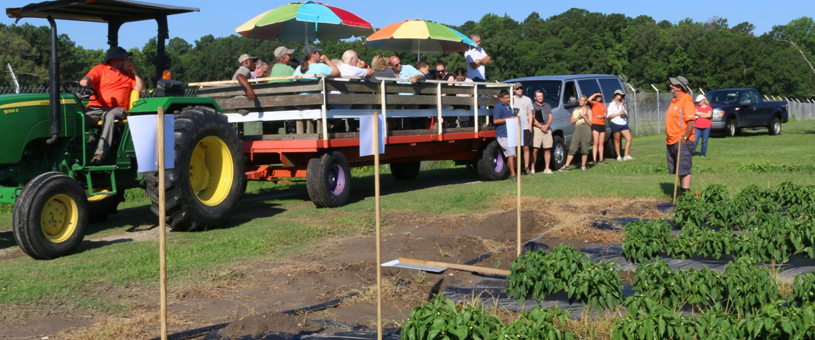 Growers' Field Day at Coastal Research & Education Center. Charleston, S.C.
CAFLS Research
CAFLS Research | 104 Barre Hall, Clemson, SC 29634-0303