Clemson University partners with multiple transit systems to provide public transportation from main campus to surrounding areas. Explore community routes to find convenient bus and shuttle transportation to and from off-campus destinations in Seneca, Pendleton, Greenville and more.
 CATbus
Clemson Area Transit (CATbus) provides safe, free, environmentally friendly transit from Clemson's main campus to surrounding areas through electric-powered buses that run year-round.
Visit CATbus to see route details and more
View route map and schedule for the New Gold Route
CATbus Routes that service campus
Red Route - Clemson and Central apartments, Ingles, Neighborhood Wal-Mart to campus
Gold Route - GrandMarc, Publix, Crawford Falls to campus
Pendleton Route - Thornhill, Douthit, to Tri-County Tech
View/Pier Route - View/Pier apartments to Strom Thurmond Institute
CU Nursing Route - Cherry Rd, P-7 to CU Nursing building in Greenville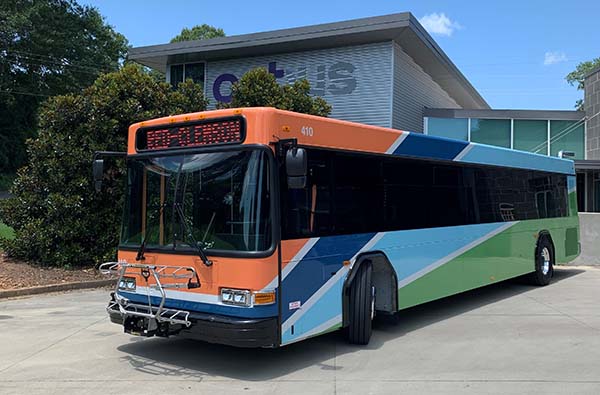 Lost Items
CATbus is not responsible for items left on a bus. If you lose an item, you may call 864-654-2287. Items are kept in lost and found for 30 days after which the items are given to a local charity. Lost items can be picked up at 200 West Lane, Clemson, between 8 a.m.-5 p.m., Monday-Friday.
Greenlink provides bus transportation in the Greenville area. Tiger Commute provides two connections to Greenlink for Clemson students, faculty and staff. Use your CUID to transfer to these two routes for free. Note: Fares are required on other Greenlink routes.

Route 602 — Woodruff Connector
Servicing
CU-ICAR.
Woodruff Road Shopping District.
Waterside Green Apartments.
Haywood Mall.
Patewood Medical Campus.
Route 510 — Laurens Road
Servicing
Downtown Greenville.
Greenville ONE Building.
CU-ICAR.
University Center.