Pedestrian, Bicycle and Traffic Safety
You're in the Driver's Seat
Your safety is Clemson's No. 1 priority, and pedestrian and traffic safety is an area of particular concern on a campus where people and vehicles share some of the same spaces. Please take a few minutes to read the questions and answers below and learn what you can do to make Clemson University a safer place to live, learn and work. If you have more questions or want to comment or make a suggestion, call 864-656-2222.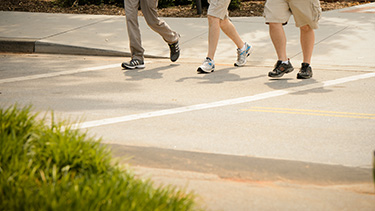 The Clemson University Police Department encourages bicyclists to follow these safety tips:
Always wear a helmet when riding a bicycle.
Wear brightly colored or reflective clothing
Attach lights and/or reflectors to your bike to help with visibility during poor weather conditions or at night.
Always check for traffic before entering an intersection or crossing a road.
Be considerate. Don't ride more than two abreast on roads.
Don't use mobile devices or iPods that might interfere with your ability to hear or see oncoming traffic. Pull over and get off your bike to use them.
Yield to pedestrians.
Give an audible signal before overtaking and passing a pedestrian.